I was talking to a friend on the phone today about how we both ended up making chicken cutlets over the weekend. He was telling me he fried up six pounds of chicken and they all disappeared in no time. His kids ate them all!
I told him I knew exactly what he was talking about because the same thing happens when I make them. Whenever I put a plate of chicken cutlets on the kitchen counter they are gone before you know it. People eat them like potato chips in my house.
Making cutlets, no matter what kind of meat you use, is always a very easy recipe that everyone loves. It usually involves some type of meat, pounded out really thin, then dipped in egg and a breading mixture.
There are many versions of a Cotoletta alla Milanese. The mass emigration of Italians to other countries has spread the love of thin cutlets around the world. South America in particular has several versions of a Milanese style dish.
In Buenos Aires, the Milanesas Napolitanas have tomato sauce and melted cheese much like the Chicken Parmesan we have in the United States.
Most Latin American countries have their own versions of Milanesa. They can be made with different types of meat.
If you're going to use beef, I suggest you use thin steaks. Get some sliced steak and give it a few good whacks with a meat mallet.
The same goes for pork cutlets. You can get some boneless pork chops and pound them out really thin.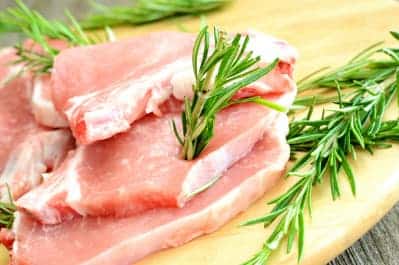 Whatever type of cutlets you decide to use, you'll be able to turn them into something delicious. If you want a great main dish you can try making Milanesa de Pollo, Milanesa de Res or Wiener Schnitzel.
If you're talking about a chicken cutlet, you can turn it into chicken Milanese with a simple arugula salad on the side. And let's not forget that Italian-American classic that everyone loves in the United States…Chicken Parm. Who doesn't love a crispy cutlet smothered in tomato sauce and melted cheese.
I know that a lot of people are concerned about gluten and eating too many carbohydrates these days, but they still want to enjoy a chicken milanesa or pork milanese recipe. I stumbled across a recipe where they said they got the same crispy cutlets by using pork rinds instead of breadcrumbs. I decided to give it a try to see if it's true.
Now you're probably wondering how pork rinds can replace breadcrumbs in recipes. Well, pork rinds become light, airy and crunchy when they are cooked. Because they are very low in carbohydrates, people have discovered that when crushed, they can be used in the place of breadcrumbs.
This makes them a perfect substitute for a low carb, high fat diet.
Let's make a beef Milanese recipe without breadcrumbs and see what happens!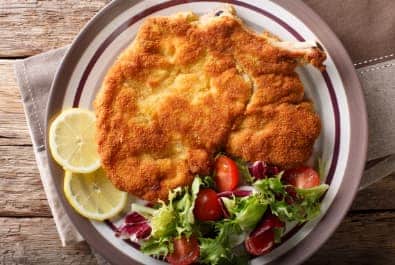 KEYS INGREDIENTS TO MAKE MILANESA without BREADCRUMBS
All of the ingredients you'll need to make this Milanesa recipe without breadcrumbs can be found at your local grocery store. For specific amounts of the ingredients to use check out the recipe card below.
Beef cutlets: A good cut of beef to use for a delicious milanesa is top round steak. Get it sliced thin and pound it out. A thin cut of meat always makes the best cutlets.
Olive oil: Use a good olive oil that you can fry with. If you don't have olive oil you could use another vegetable oil that can withstand high heat.
Pork Rinds: This is the trick to no bread crumbs. Normally you'd see this recipe call for panko breadcrumbs or another type of breadcrumbs. Not today.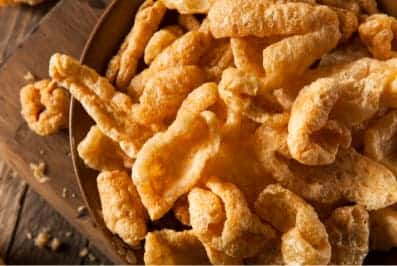 Eggs: I always like getting brown eggs at the supermarket.
Parsley: Make sure your parsley is nice and fresh. If for some reason you can't get fresh parsley, you can use dried parsley.
Salt: I like using Kosher salt or sea salt.
Parmesan Cheese: Buy a nice chunk of parmesan cheese and grate it yourself. It's always better than buying it already grated.
Black pepper: Use fresh cracked black pepper for the best results.
Garlic: I always like using fresh garlic cloves. If you don't have any fresh garlic available you can use garlic powder.
Arugula: A salad made with fresh greens is what you want. I like the peppery bite of arugula.
Cherry tomatoes: If you don't have cherry tomatoes you can use a bigger tomato and cut it into small pieces.
HOW TO MAKE MILANESA without BREADCRUMBS:
First you want to get a nice wide, thin slice of beef. If you're slicing it yourself, make sure you use a very sharp knife.
Put it between some plastic wrap and pound it until it's nice and thin. The thinner the better with this recipe.
Get a large bowl and beat your eggs.
Take your pork rinds and put them in a food processor. Crush them until they are about the same consistency as panko breadcrumbs. Add them to a separate bowl and mix in your dry ingredients such as salt, pepper, parsley and garlic powder.
Now bread your beef without breadcrumbs. What?! Yes. You read that right.
Use a simple dredging station with beaten egg and crushed pork rinds. Normally, breading stations have flour, eggs and breadcrumbs. We are making this recipe without the flour and breadcrumbs.
The pork rinds are going to give us the crispy crust that you would usually get from the breadcrumbs.
Make sure you season your eggs and crushed pork rinds well with salt and pepper.
For extra flavor you should dust steaks in garlic powder, salt and pepper. Now dip your thin slices of beef in the beaten eggs and let any excess egg drip off.
Next you want to coat your cutlets in the crushed pork rinds. I pushed the cutlets into the pork rinds to make sure they got completely coated. I think this also helps them get crispy.
Now heat some olive oil in a large skillet on medium-high heat. I have a nice heavy skillet made of caste iron that does a great job.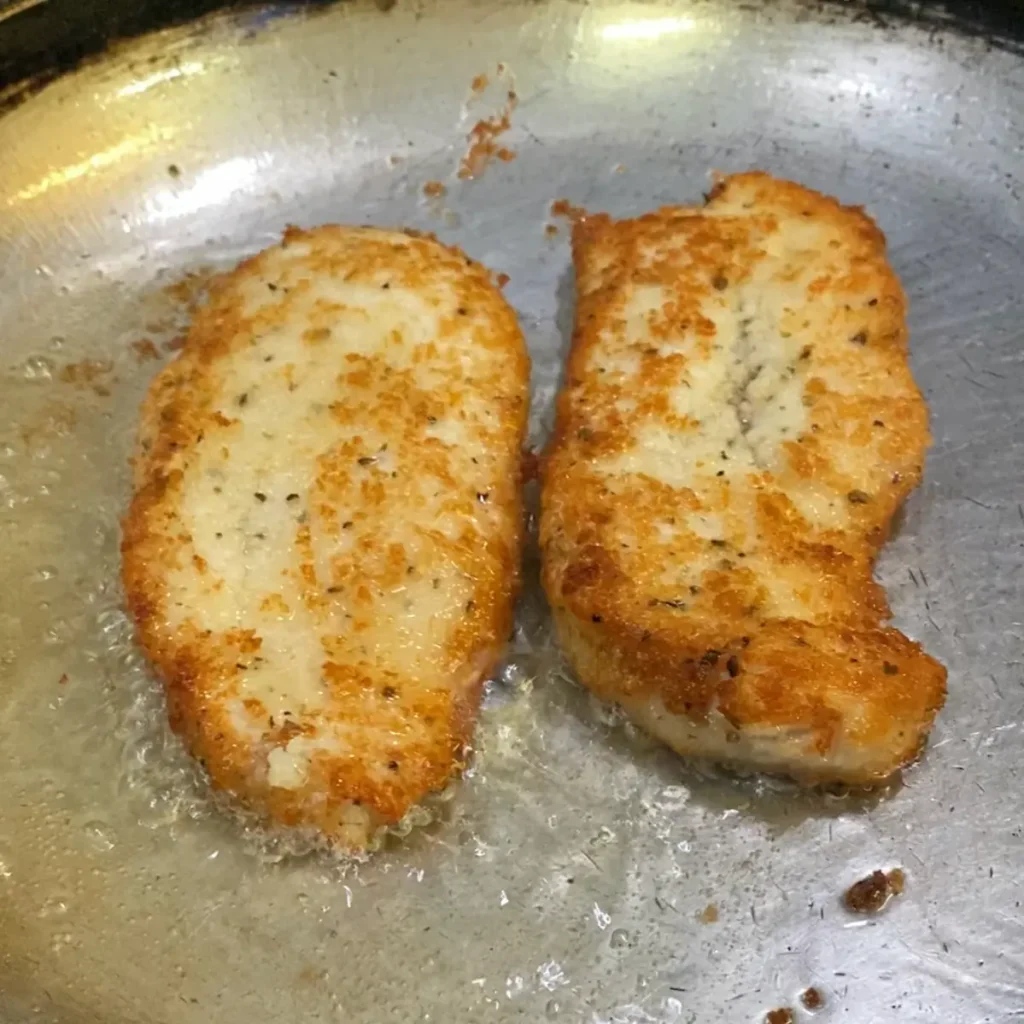 When the oil starts to shimmer, it should be ready. A good oil temperature for frying the cutlets is 350 degrees Fahrenheit if you want them to be golden brown.
Lay your cutlets into the hot oil. Leave them alone for about 3 minutes. Then flip.
When the cutlet is golden brown on both sides and completely cooked through, transfer them to a shallow dish lined with paper towels to remove any excess oil.
This is also the time to lightly salt your fried cutlets. It's best to do it while they are still hot.
Now it's time to make the arugula salad if you want it on the side.
Cut your cherry tomatoes in half. Slice your red onion into the thinnest rings possible. Whisk together some olive oil, white balsamic vinegar, lemon juice, salt and pepper.
Toss it with your arugula and tomatoes and the really thinly sliced red onion. Use just enough vinaigrette to lightly coat the salad.
Place your fried chicken cutlets over the bed of arugula salad and you're ready to eat!
Make sure you get some of the salad and chicken cutlet on every forkful. What a great combination!
Chicken Milanesa without Breadcrumbs FAQs
Q: What if I don't have white balsamic vinegar?
A: That's fine. You can use regular balsamic vinegar, red wine vinegar or just lemon juice.
Q: Do I have to use arugula?
A: No. If you prefer, you can use any type of mixed greens. Add some radicchio for a little bitterness.
Do I have to use beef cutlets?
A: No. I love making it with chicken cutlets, veal cutlets and pork cutlets too!
Q: What else can I do with my crispy cutlets?
A: Make a nice sandwich out of them!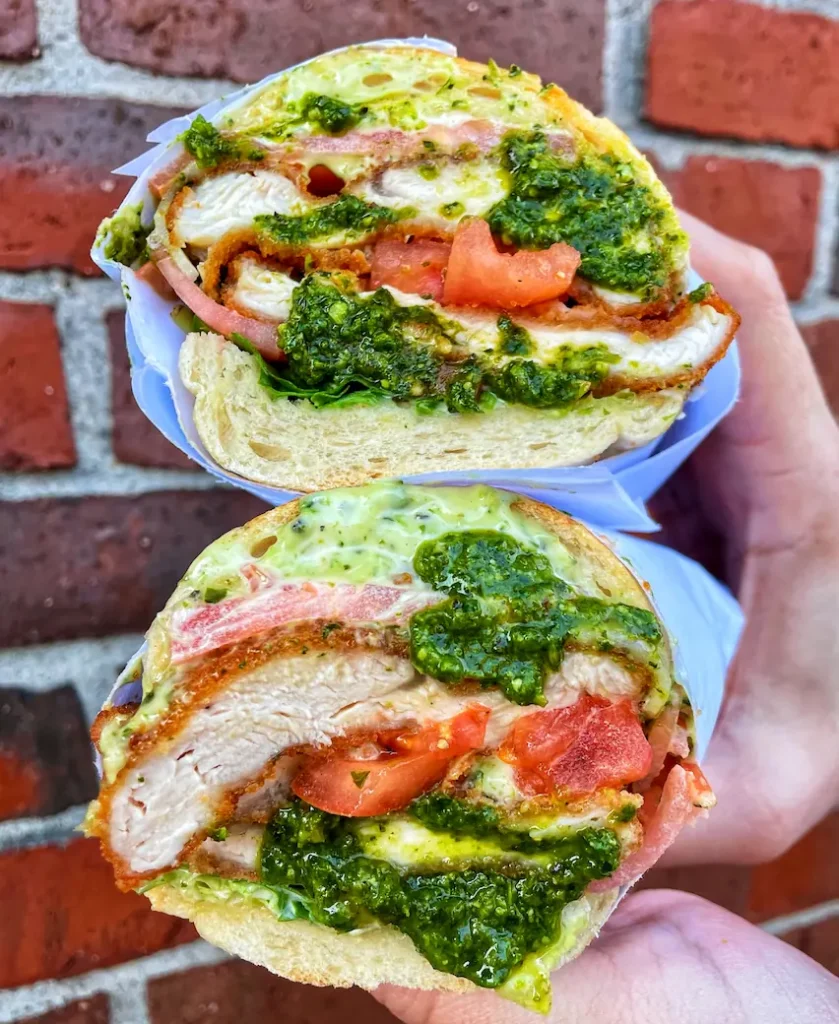 Ok. I'm going to let you in on what I get with my Milanesa at one of my favorite restaurants.
Wine: I love a nice glass of Italian Barolo with my Milanesa.
Appetizer: I usually start off with a Negroni and some marinated olives.
Side Dish: I love spaghetti with a really simple tomato and basil sauce on the side of my crispy Milanesa cutlets.
Print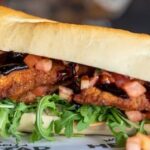 Chicken Milanesa without Breadcrumbs
---
Author:

Total Time:

36 minutes

Yield:

5

1

x
2 lbs of beef cutlets pounded thin
3 eggs
5 ounces of pork rinds
1 teaspoon of Kosher salt
1 teaspoon garlic salt
½ teaspoon of black pepper
5 ounces of arugula
1 cup of cherry tomatoes
½  red onion
8 ounces of Olive oil
1 lemon
2 ounces of white balsamic vinegar
---
Crush pork rinds in a food processor until they are the consistency of breadcrumbs

Beat eggs in a bowl.

Heat half of the olive oil on medium-high heat in a frying pan.  It should be about 350 degrees when frying the cutlets.

Dip cutlets in beaten eggs and let excess drip off.

Coat cutlets in crushed pork rinds making sure they are fully covered.

Fry in hot oil for about 3 minutes on each side until golden brown.

Place fried cutlets on a paper towel lined plate.

Whisk together the rest of the olive oil, juice of the lemon, white balsamic vinegar, salt, pepper and garlic powder.

Toss the arugula in the dressing with tomatoes and sliced onion.  Get it all coated evenly.

Serve cutlets and arugula in the same dish.

Enjoy!
Prep Time:

30

Cook Time:

6

Category:

Meat

Method:

Frying

Cuisine:

Italian
Keywords: chicken milanesa recipe without breadcrumbs, cotolette alla milanese without breadcrumbs, cotolette alla milanese recipe