One of the biggest qualms I have about Italian American food is the sodium count in much of it.
When you eat something like lasagna, the experience is very different in America compared to Italy, purely based on the health content in much of the food.
In America, when making lasagna, I'm sure you gravitate toward the basics: the cheapest lasagna noodles you can find. The tomato sauce your 0% Italian grandmother grew up using, the one that has as much sugar in it as a soda. Store brand bought beef and shredded cheese.
The problem is, just one tablespoon of even the sauce alone could have more mg of sodium than your daily recommended total contains.

When you're eating lasagna in Italy, or an authentic Italian American restaurant, the experience is much different.
Most of the food you'll be eating at these kinds of restaurants are homemade or locally sourced, often created the very day of consumption. This results in naturally healthy recipes and healthy cooking, even with your favorite Americanized "unhealthy" dishes.
The food is as natural as can be, ensuring a lack of preservatives and way less sodium.
Now, this might sound frustrating, as I'm sure you're wondering how to achieve the perfect low sodium lasagna recipe at home.
But luckily for you, you've come to the right place!
How can I make my lasagna healthier?
There are plenty of different ways to make a lasagna that hits all of your target daily values.
For starters, take a look at your tomato sauce.
Most store bought jarred sauces contain as much sugar, if not more, than your average cup of soda.
And of course, with that, comes the crazy sodium amounts from added preservatives.
Sounds crazy?!
If you want a way to reduce sodium in your sauce, check out our Low Sodium Marinara Sauce Recipe. This recipe contains fresh tomatoes, all fresh herbs and seasonings, and nothing like tomato paste that would increase the sodium content. I promise, you'll love it!
Another way to reduce the sodium count in your lasagna is by choosing the right noodle. 
Oftentimes, lasagna pasta sheets with extended shelf lives (even oven-ready lasagna noodles) can be ridden with sodium. 
Instead, opt for a fresh noodle from your local specialty products store, or nixing a layer of lasagna noodles and substituting for a layer of zucchini slices.
Other than using fresher ingredients (spend that extra money on the nicer mozzarella cheese, you'll thank us later), one final way you can reduce the sodium level in your lasagna is by using extra lean ground beef.
The sodium found in that will be practically nonexistent than that of your standard ground beef mixture, and you'll thank us later.
Of course, you can always use lean ground turkey or ground chicken instead, or nix the meat all together, making a Quattro Formaggi Lasagna.
Our Favorite Low Sodium Lasagna Recipe
Lucky for you, all of the lasagna we make at Mortadella Head is naturally lower sodium than the Americanized version of lasagna you would make at home, just based on the freshness of the ingredients we use alone.
But if you wanted to take a stab at making it yourself for dinner tonight, it's actually a pretty easy lasagna recipe.
Here's how we do it.
View this post on Instagram
Mortadella Head Lasagna
For the sauce:
Print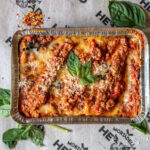 Ricotta Mix
---
2 cups

of ricotta cheese (not cottage cheese)

1/2 cup

grated parmesan cheese

1 cup

of the reserved sauce

1 tsp

fresh parsley

Salt and black pepper to taste

Optional: 1 tsp garlic powder to taste
---
Get a medium bowl

Put everything in bowl and mix thoroughly
Print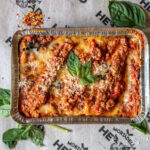 Lasagna
---
1

lb. lasagna sheets or fresh zucchini noodles

The ricotta mixture

1/4

lb provolone cheese, sliced

1 cup

mozzarella cheese (can be part skim mozzarella cheese)

1

lb lean ground beef, cooked in a large skillet over medium heat

2 tbsp

grated parmesan cheese or grated Romano cheese

Salt, pepper, and crushed red pepper flakes to taste
---
Pre heat oven to 400°.

Boil lasagna sheets until al dente or according to package directions, drizzling olive oil between each cooked lasagna noodle (skip this step if using zucchini noodles).

Spray a casserole dish or glass baking dish with nonstick cooking spray.

Spread tomato sauce on the bottom of the baking dish.

Cover sauce with lasagna sheets or zucchini noodles.

Add ricotta cheese mixture, spread evenly.

Add provolone slices to fully cover the ricotta mixture.

Add sauce and some of the ground beef. Distribute evenly.

Add sauce and grated cheese over the top.

Repeat this process as many times as necessary, until your layers of noodles, sauce, cheese, and meat reach the top of the pan.

Once you reach your top layer, cover with a single layer of tomato sauce, shredded mozzarella cheese, grated cheese, and basil.

Bake for 40-50 minutes covered with aluminum foil. 

Remove foil for the last 15 minutes in the oven.

Let lasagna rest for about a half hour before cutting into it, topping with remaining sauce.

Store in an airtight container in the refrigerator for up to 4 days, or in the freezer for 6 months.