If you've been to Subway, odds are you've heard of the B.M.T.
Personally, I get this every time I come here.
There's just something about the different kinds of Italian meats used in this sub that blend perfectly together. It's one of the best Subway sandwiches there is.
But I'll have to be honest, I didn't even know what B.M.T. meant until very recently. One would think that it would have something to do with "bacon, mozzarella, tomato," but that's not what this sub is all about.
Upon further research, B.M.T. means "Biggest, Meatiest, Tastiest."
Rumor has it that it originally stood for Brooklyn Manhattan Transit.
Believe what you will, I'm going with the first option.
Now even though Subway's famous slogan is "eat fresh," NOTHING can be as fresh as the cold cuts in the fridge of a loudmouth Italian.
Which is exactly why I recreated my own version of the B.M.T, and wrote all of the steps down for you to follow.
Visualizza questo post su Instagram
What's The Best Part Of This Sub?
This sub is so easy to make.
All you need to do is get a few quality meats and cheeses from the grocery store.
Plus, who doesn't love all sorts of delicious deli meats?
Toss those together on a sub roll with a bit of veggies, and you'll be golden.
We decided to add a bit more meat and some cheese onto our's, but if it's not your thing, don't add them to it. This sub is just as good in its original form.
Visualizza questo post su Instagram
Show Us How It's Done!
As we said, this recipe is so easy. It's seriously one of our favorite sandwiches to make. We're going to switch up a few ingredients in this, but if you want to use the original Subway recipe, omit the provolone, and stick with the Genoa salami, Black Forest Ham, and Spicy Pepperoni.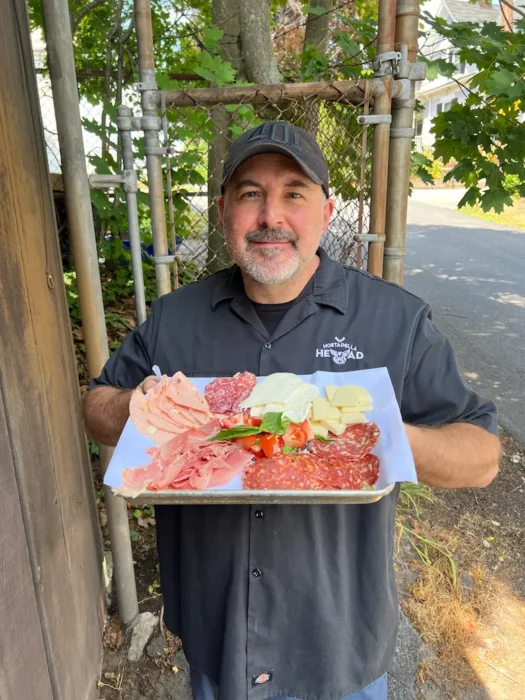 Here's what we added
Mortadella: Are you surprised? Mortadella replaces the ham and still brings the porky flavor to your sub. Make sure you get the good kind with pistachios in it, it really makes all of the difference.
Prosciutto: But pronounce it right! "Pro-Shoot!" This adds another level of porky dimension to your sub that'll be an absolute game changer.
Spicy Salami: At Mortadella Head, we only use the good stuff. Go to your local butcher and pick out something nice. In the wise words of Sebby, "Anything with the net you know is good. Anything with foreskin, you know it's gonna be good."
Genoa Salami: A fermented meat straight from Italy, Genoa salami is made with pork rather than beef. If you can't figure out which kind is which, a good rule of thumb to go by is the peppercorn. Genoa slices of salami will almost always have visible peppercorns.
Provolone Cheese: The original BMT doesn't have cheese on it, but in my opinion, if you're going to be making any kind of an Italian sub, It needs to have provolone. You can use slices of provolone cheese from the deli, or cut your own pieces of cheese off of a block of sharp provolone.
Roasted Red Bell Peppers: The staple of any true Italian sub! I like to go with this over slices of green bell pepper, because the red peppers are sweeter. We like to get ours from Boticelli, but any brand you can find in the grocery store works.
Tomatoes: Another classic staple! If you can find these fresh from your local farmers market, you're in business.
Shredded Lettuce: We know lettuce is a bit controversial on these, but we're going to do it anyway. Shred a head of iceberg lettuce and season with salt and pepper.
Olive Oil: Because no Italian sub is complete without a drizzle of olive oil at the end!
Red Wine Vinegar: If you haven't tried putting this on any of your Italian subs, you're missing out!
Mayo: Subway makes these with mayo. I always like to spread a tiny bit over each bun to hold the sandwich together. Of course, if you're not a mayo person, this step is totally optional.
Sub Rolls (A.K.A. hoagie rolls): You can get one from your local bakery or supermarket. Whatever you get, make sure it's a high quality Italian sub roll.
How To Assemble This Masterpiece
First, cut your sub roll in half, and spread a thin layer of mayonnaise over each part of the bread.
Then, on top of your mayo, goes the cheese. Make sure the bottom is completely covered so there's a piece of cheese in every bite.
After the cheese comes the meat. I like placing the meat on in this order:
Mortadella
Spicy salami
Genoa salami
Prosciutto
Once the meat is all over the roll, you can begin to add your veggies. Use as many or as little as you want.
Finally, at the end, sprinkle some basil and oregano on top of the sandwich, and drizzle with olive oil. Top with the other half of the sub roll, and voila! A Mortadella Head style BMT.
BMT FAQs
Q: How can I make this exactly like you'd get it at Subway?
A: You can get this end result by omitting the cheese, and replacing the mortadella and prosciutto with Black Forest Ham. In terms of the veggies, a common Subway staple seems to be shredded carrots, red onion, and cucumbers. You can also get the vegetables we topped this off with there, too. A lot of people will opt to add chipotle southwest sauce instead of the mayo, but that is entirely up to personal preference.
Q: What are some other kinds of Italian meats that I can add to this delicious recipe?
A: There are tons of great options out there for this Italian recipe. Capicola would be a wonderful option with this BMT. If you really want to take this up a notch and make an extra spicy Italian sandwich, you can add spicy capicola to it. You can also replace the Genoa salami with soppressata (hard salami), or add them both to the mix if you'd like.
Q: Are there any other types of veggies that would taste good on this sub?
A: Hear us out: Pickles. We get a lot of hate for adding pickles to our Italian subs, but honestly, it's genius. The vinegar adds a nice bite that you're not expecting, and really brings the flavors of this sandwich together. Another great option for the same vinegary effect would be banana peppers (pepperoncini pepper).
Visualizza questo post su Instagram
What To Pair With My BMT
Beer: A nice lager would be wonderful with this. My personal favorite is Landshark.
Soft Drink: Whenever I go to Subway for a sandwich, I always get an unsweetened iced tea as my drink. It's a right of passage for me. It's bland enough where it won't throw off the taste of the sub, but also has just the right amount of flavor that you'll know it's there.
Snack: What better way to enjoy a sub than with some kettle cooked potato chips?
Dessert: Do this the way you would at Subway—with a warm chocolate chip cookie.
Print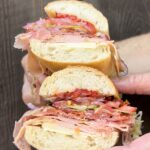 Italian BMT Recipe
---
Author:

Total Time:

10 minutes

Yield:

2

-

4

sandwiches

1

x
¼ lb provolone cheese

¼ lb mortadella

¼ lb spicy salami

¼ lb Genoa salami

¼ lb Prosciutto

1 jar roasted red peppers

1 tomato, freshly sliced

1 cup shredded lettuce

2–4 tbsp olive oil

2 tbsp red wine vinegar

2 tbsp mayo (optional)

1 bag of sub rolls

1 tsp oregano

1 tsp Italian seasoning

Salt & black pepper to taste

---
Cut a sub roll in half, and spread a thin base layer of mayo on each end of the bread.
Start off the bottom half of the bread with provolone cheese slices.
Add in the following order: mortadella, spicy Salami, Genoa Salami
Prosciutto
Add your shredded lettuce, seasoning with salt and pepper.
Add seasoned tomatoes, and then the roasted red peppers.
Drizzle with olive oil and red wine vinegar and top with oregano and Italian seasoning.
Cover with the top half of the sub roll.
Make this easy recipe the next day with the leftover lunch meat and sub buns you have!
Prep Time:

10

Category:

Subs