If you're a matcha lover looking for a refreshing drink to enjoy this summer, look no further than this iced matcha latte recipe with oat milk. 
This is a perfect drink to beat the heat while satisfying your craving for something sweet and creamy. With just a few simple ingredients and 3 minutes of your time, you can make a delicious and healthy beverage that will quench your thirst and boost your energy.
Matcha tea has a unique flavor and is well known for its health benefits. With this recipe, you can easily include it in your diet while treating yourself to a tasty treat. 
Another great thing about this drink is that it uses oat milk, which is a dairy-free alternative that is low in calories, high in fiber, and rich in nutrients. Oat milk is also easy to digest and has a creamy texture that complements the earthy and grassy flavor of matcha.
Also, with this recipe, you can enjoy a delicious iced latte spending way less than what you'd spend at Starbucks. It will probably taste better, too. 
There are really no reasons not to start making this drink right now! Here's what you need to do.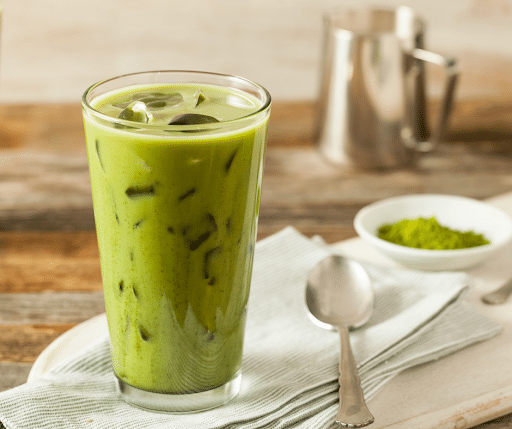 What is Matcha?
Matcha is a type of green tea traditionally consumed in East Asia. It has gained popularity in the US in recent years due to its unique flavor and health benefits, and is used in many drinks, including lattes. 
Unlike traditional green tea, which is steeped using tea bags or loose green tea leaves, matcha tea is made from a fine powder that is whisked with hot water. This method ensures that the tea contains all the nutrients and antioxidants found in the entire green tea leaf.
The tea leaves used for matcha have a lot of chlorophyll, and are shade-grown for about 20 days before harvesting to increase its amount even more. This gives them their famous vibrant green color. After the leaves are picked, they are steamed, dried, and ground into a fine powder using traditional stone mills.
Traditionally, matcha tea is prepared using a bamboo matcha whisk to mix the powder with water without creating lumps. This produces a frothy and smooth tea that is rich in flavor and texture. Modern methods also include using an electric milk frother, or even a food processor.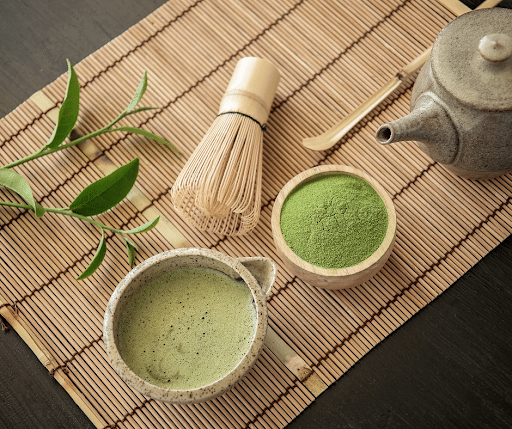 Quality grades and health benefits
There are two main quality grades used to classify matcha powder. 
The highest quality tea is made from ceremonial grade matcha leaves – the youngest and most tender leaves of the Camellia sinensis plant. This grade of matcha has a sweeter and more delicate flavor, and a smoother texture. Then, there is culinary grade matcha, which is further divided into 5 grades: premium, cafe, ingredient, kitchen and classic. 
Each grade is determined based on its color, texture and quality. And of course, each has its own particular uses – but for the purpose of this recipe, you can use anything from the shelves of your favorite grocery store.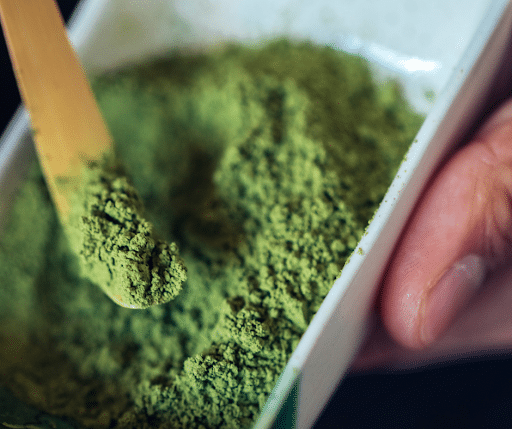 Matcha tea is not only delicious but also has numerous health benefits. 
It is rich in antioxidants, which help to protect the body against damage from free radicals.  Additionally, the caffeine present in matcha tea provides a natural energy boost without the jittery side effects of coffee. Matcha tea also contains L-theanine, an amino acid that promotes relaxation and reduces stress, counterbalancing the negative effects of excessive caffeine consumption.
Overall, matcha tea is a delicious and healthy alternative to traditional green tea. Its unique preparation method and color make it a popular choice among tea enthusiasts. Whether enjoyed as a ceremonial drink or as a part of your daily routine, it's definitely a flavorful way to support your overall health and wellness. 
Now, if you are looking for delicious ways to include it in your diet, let's move on to the recipe I wanted to show you!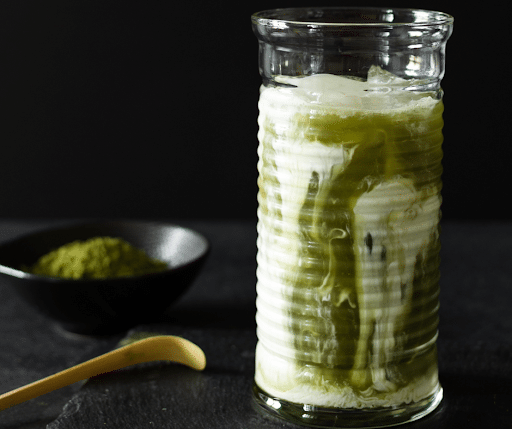 What You'll Need
Matcha Powder: the greater the quality, the best flavor you'll get. However, you don't need to break the bank for organic matcha powder made from ceremonial grade leaves. As I was saying, you can use any type of matcha powder according to your preference and budget for this recipe. I would settle for something among premium and ingredient culinary grade. You can find matcha powder at most grocery stores or online.
​This recipe is made with two teaspoons of matcha powder. If you want your drink to have lower amounts of caffeine, use less matcha powder – or do the contrary if you like caffeinated drinks.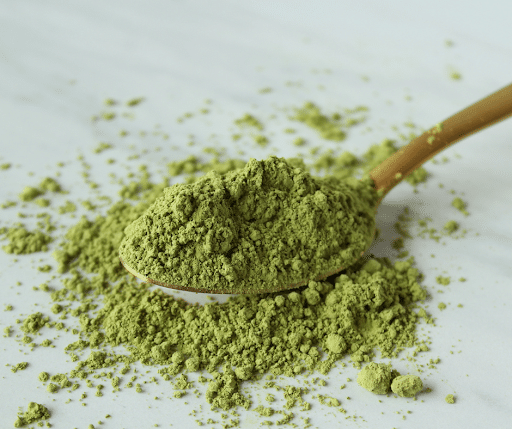 Sugar: either caster or brown sugar will do. You can also use alternatives like maple syrup to adjust the sweetness to your liking, or even a homemade simple syrup.
Water: You'll need warm water is used to mix the matcha powder and sugar together, creating a paste that will be added to the latte. Avoid using hot boiling water, as it can give your matcha tea a bitter flavor.  
Oat Milk: Oat milk is a plant-based milk that has a creamy texture and is perfect for this recipe. However, you can also use other types of milk. Almond milk, soy milk, coconut milk, cashew milk – you pick one. Even whole milk is ok if you're not on a plant-based diet
Ice: Ice cubes are added to the glass to chill the latte and make it refreshing.
Now, let's make a fresh and delicious oat milk matcha latte together!

Instructions
First, combine the matcha green tea powder and the sugar in a small bowl. Then, add the warm water and mix. You can use a regular hand whisk, or a milk frother. If you don't have them, just mix the best you can with a spoon.
Now, add the ice to a 16 oz mason jar or Boston Shaker, and pour the matcha mixture on it. Then add the milk, seal, and shake vigorously for 30 seconds. The long shaking time will ensure that your latte is froathy. 
Voilà! You've got a perfect iced matcha latte in your hands.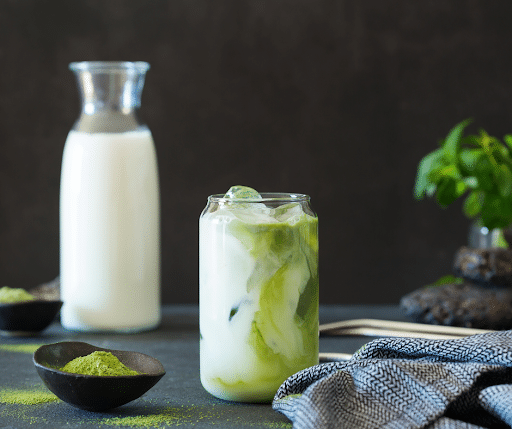 You can enjoy it directly in the jar or shaker with a straw. If you don't have them, you can emulate the process in a tall glass and mix everything with a milk frother, but it can be a little messy and the ice will make it difficult to mix everything properly. 
This iced matcha latte recipe with oat milk is a delicious and refreshing drink for matcha lovers. It's easy to make at home and can be customized to your liking with alternative sweeteners, milk types, and more. Try it out this summer, and let me know what you think of it!
Print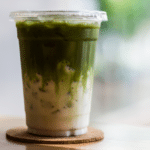 Iced Matcha Latte with Oat Milk
---
Author:

Total Time:

3 minutes

Yield:

1

-

16

-oz cup

1

x
2 + 1/2 tsp Matcha Powder

2 tsp Brown Sugar

1 tbsp Warm Water

1 cup milk

​1/2 cup Ice
---
In a small bowl, combine the matcha green tea powder and the sugar.

Add the water to the matcha bowl and mix. If you have a matcha whisk, you can use it. You can also use a milk frother, if you have one. Otherwise, just mix the best you can with a spoon.

Add ice to a 16 oz glass.

Pour the matcha mixture over the ice cubes.

Add your milk of choice to the glass.

If using a mason jar or other airtight container, put on the lid and shake vigorously for about 30 seconds until the latte is frothy. You can also use a milk frother here instead.

Enjoy!!
Keywords: vegan matcha latte, creamy oat milk matcha latte, green tea latte, iced latte, creamy iced matcha latte