Everybody loves a nice plate of chicken parmesan.  This Italian-American favorite also goes by the name chicken parmigiana or the nickname, chicken parm.
A lot of people are surprised when they visit Italy for the first time and can't find this great dish on any menus.  That's because chicken parmesan really isn't a thing in Italy.  
You'll find eggplant parmesan everywhere in Italy.  It's called melanzane alla parmigiana over there. 
But you won't find any chicken parm.  At least I haven't yet.
There are some good reasons why chicken parmesan became popular in the United States.  When Italian immigrants came to America, there was an abundance of meat to use in their recipes.  They saw this as a great thing, so they took some of the ingredients used in recipes back home and figured out the best way to utilize them in their new land.  
Chicken parmesan was a great way to incorporate a protein into a recipe that included tomato sauce and cheese.  What a good idea!  
Chicken parmesan is probably the most popular dish when it comes to Italian-American menus.  The combination of crispy chicken cutlets, rich tomato sauce and gooey cheese creates a really delicious meal. 
A great thing about this dish is that leftover chicken parmesan is just as good as a fresh plate if you know how to properly reheat it. 
I am about to teach you how to make a chicken parmesan recipe that you can put on the dinner table and serve to your family right away or store in the freezer so it will be ready to go the next time you need it. 
Let's make a nice big batch of chicken parmesan!
Ingredients
The ingredients are really simple.  You'll be able to find everything in your local grocery store.
Chicken
You need to make some chicken cutlets.  You can buy boneless chicken breasts and butterfly them or you can buy cutlets that are already prepared.  You can even use chicken tenderloins if you know how to prepare them properly.
Tomato Sauce
A great tomato sauce is very important when making chicken parmesan.   You can make it yourself, which is really easy.  You can also buy a good tomato sauce in the supermarket.  Just make sure you get a quality jar of sauce.  
Cheese
You need a good cheese for melting and a nice sharp grated cheese.  I like using either mozzarella cheese or provolone cheese to get that nice gooey cheese pull.  You also want a good quality parmesan cheese or pecorino Romano.  
Breadcrumbs
I like getting plain breadcrumbs and adding my own seasoning.  You can buy pre seasoned Italian style breadcrumbs if you prefer.  
Eggs
You need some fresh eggs when you make the chicken cutlets.  Try to use local eggs if you can get them.
Olive Oil
When I fry my chicken cutlets I like using olive oil.  I don't use very expensive olive oil for frying.  Something on the lighter side works well for frying.  
Instructions
It's really important that you know how to make the chicken cutlet.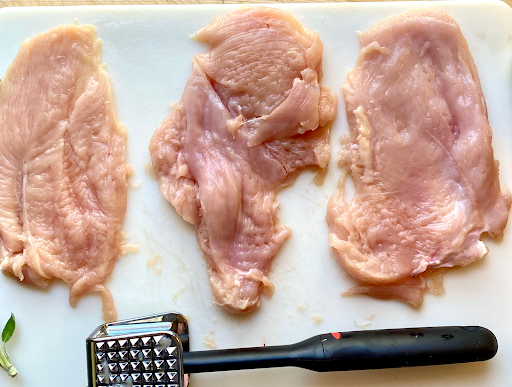 Prepare Your Chicken Cutlets
Start off by using a boneless chicken breast.  Then you want to butterfly that bad boy.  If you don't know how to butterfly your chicken breast, or you don't want to deal with it, buy some chicken cutlets that are already done at the butcher.
Make sure your chicken cutlets are THIN!  This is really important.  If you like a thick chicken cutlet, that's your choice, but my advice is to go thin.  
Take your cutlet, put in between a couple sheets of plastic wrap and give it a few wacks.  You can use a meat mallet if you have one, but if you don't have a meat mallet you'll be fine.  You can get the same results with the bottom of a frying pan or a sauce pan.  Everyone has a frying pan or a sauce pan so there's no excuse for thick chicken cutlets today!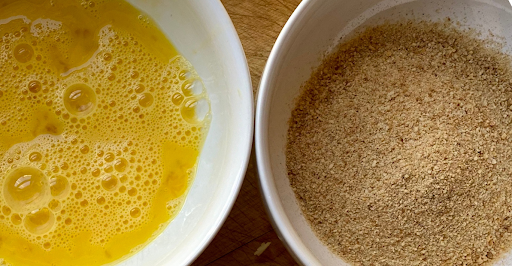 Bread Your Chicken Cutlets
You need a crispy chicken cutlet to make the best chicken parmesan.  It's a simple process, but it's really important.  
Set up a simple breading station.  In the first plate you want to have beaten eggs seasoned with salt and pepper.  In the second plate you want good bread crumbs also well seasoned with salt and pepper.  
Pat your chicken with a paper towel to get rid of any excess moisture. Now it's time to dredge.  The chicken cutlets go into the egg….then the bread crumbs.  
Now pay attention!  When you get to the bread crumb part of the breading process, push your chicken cutlets into the bread crumbs on both sides.  This is going to help you get the nice crust you're looking for when it's time to fry your breaded chicken breasts.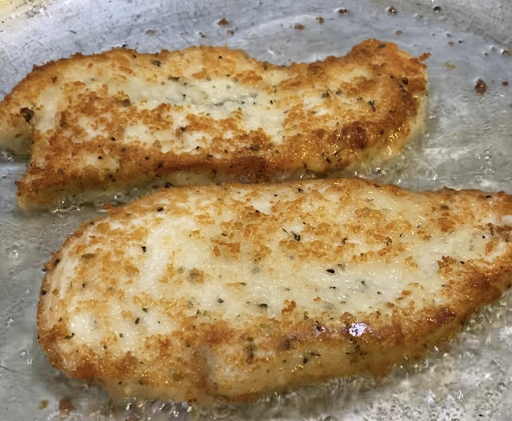 Fry Your Chicken Cutlets
A good tip is to make sure your cutlets are at room temperature when you fry them.  It will help you get the middle of the cutlet cooked without burning the outside. If you start with cold chicken it will take longer for the middle to cook and the exterior could burn during the process.
Make sure your oil is hot when you fry the cutlets.  Having hot oil is very important. I like my oil at around 350 degrees.  I put the frying pan over medium heat and let it heat up slowly.
Use a light olive oil or a vegetable oil that handles high heat.  When the cutlet hits the oil you want it to seal in all the juices from the cutlet and create a crispy crust.  If the oil isn't hot enough the chicken cutlet will soak up the oil like a sponge.  Nobody wants that. 
When your chicken cutlets are nice and crispy they should be ready.  Make sure the internal temperature of the chicken cutlets is 165 degrees fahrenheit. You can test this with a meat thermometer. 
Remove the chicken cutlets from the hot oil and put them on a wire rack or on a plate lined with paper towels. This will remove any excess oil.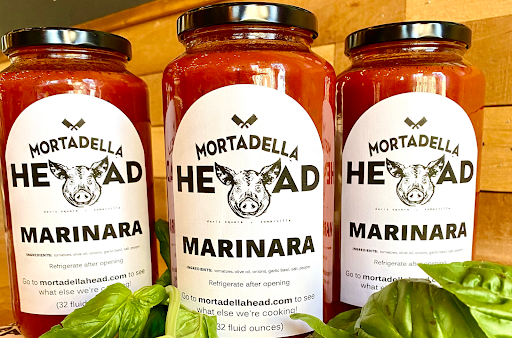 Make the Tomato Sauce
I'll be honest.  When it comes to Chicken Parmesan I'm an EXTRA SAUCE kinda guy.  But it has to be a good sauce.  I like a tomato sauce that is simple, with only a few really good ingredients.  It's so easy to make a quick tomato sauce.  All you need is a can of good tomatoes, olive oil, garlic, onion, salt, pepper and basil.
I'm a TOMATO SAUCE SNOB and I've always looked down on people who buy tomato sauce in a jar.   I know, I know…that sounds terrible. But it's true!
Lately I've been more open minded about buying tomato sauce in a jar because there are some decent ones out there.  It's great when I see a local restaurant jarring up their marinara sauce.  Those are the ones you want to buy.  They usually make a good product with good ingredients.  
Stay away from the big brands that you've seen on the supermarket shelves all your life.  I won't mention any names.  I don't want the tomato sauce mafia coming after me.
Ok, ok.  We're going to assume that you have a good tomato sauce in your kitchen.  You either made it yourself or you bought a decent one.  Now it's time to apply the sauce to the chicken cutlet.
Assemble the Chicken Parmesan
Are you ready….?  DIP THE CHICKEN CUTLET IN SAUCE!  This gets you the full coverage you're looking for on the best chicken parmesan you can make.  When your cutlet is fried, just dunk it right in the tomato sauce, give it a shake and you're good.  
Now take a baking dish or pie plate and coat the bottom with tomato sauce.  
Place the chicken cutlets on top of the sauce.  Add mozzarella cheese or provolone on top of the chicken cutlets.  Sprinkle on some grated parmesan or Romano cheese and some fresh basil.  
Finish it off with a little more tomato sauce.
Preheat your oven to 400 degrees.  Cover your baking dish with aluminum foil and bake it for 20 minutes to allow the cheese to melt.  If you want the cheese to get golden brown, remove the aluminum foil for the last 1-2 minutes. 
Making Chicken Parm for The Freezer
If you want to make a batch of chicken parm to freeze for later, you should follow all of the steps above, except the last part when you bake it in the oven.
For the best results, put everything together in an aluminum baking tray.  This is the best method because you can store it and reheat it in the same container.  
Cover the tray with the lid it comes with.  Then plastic wrap the entire container before you put it in the freezer.  
When it's time to cook it, you don't even have to thaw it out.  The best reheating method is to remove the plastic wrap, take the lid off of the covered oven-safe container and place it in a preheated oven at 400 degrees for 35-45 minutes.
The frozen tray of chicken parmesan will be ready to eat when the cheese melts and is golden brown and crusty.  This is the best method and one of the easiest ways to reheat frozen chicken parm.
Oh before we move one, 'wondering if you like try our Quality Italian Chicken Parm Pizza Recipe. 
How to Reheat Chicken Parm FAQs
Can I make the chicken cutlets in the air fryer?
Yes.  I don't use the air fryer when I make chicken cutlets, but it can be done.  You'll only need to brush a little olive oil on the cutlets before you cook them in the air fryer. 
What are other ways to reheat chicken parm leftovers?
There are many different ways to reheat chicken parmesan.  
You can reheat chicken parmesan in a microwave on a microwave safe plate. 
Another way is in a toaster oven.  If you use a toaster oven, put in a container that is safe in a toaster oven.  
You can reheat chicken parmesan in a frying pan.  If you do it in a frying pan, put it on low heat and cover the pan so the cheese melts properly and doesn't burn. 
What can I do with my chicken parmesan leftovers?
You can serve your leftover chicken parm with a side of spaghetti and garlic bread.
You can make chicken parmesan sandwiches.  Everyone loves a good chicken parm sandwich or sub.
If you want to try something fun, use small rolls, cut the chicken parm into smaller pieces and make chicken parmesan sliders.
How long will my chicken parm leftovers last in the refrigerator?
If you don't want to freeze your chicken parmesan leftovers, they will last in the fridge for 3-5 days.
Don't close the window yet! Why not try our Meatball Parm in a tray?