When I was a kid, delicious Chicken McNuggets were my favorites.
When it came time for lunch, it wasn't a Big Mac that I was begging for.
Nope, it was a Happy Meal with a 6 piece white meat chicken nugget box, fries, and a toy. (In my opinion, still one of their best menu items ever)
Now that I am older, my occasional McDonald's order hasn't really changed all that much, besides the inclusion of some sweet-and-sour or honey mustard sauce.
I typically get a Chicken McNuggets meal bundle, with medium fries, one of the many medium beverages they carry, and all of the Chicken McNuggets my heart could desire.
The absolute worst, though, is when I'm out ordering food late at night and my boyfriend has the audacity to help himself to however many McDonald's Chicken Nuggets he can get his hands on. And believe me, it's a lot.
Despite the fact that he has his own sandwich and a box of large fries all to himself, he still manages to eat at least half of whatever I buy.
It got to the point where I started debating ordering 20-piece Chicken McNuggets, and on occasion, wondering if I could somehow order a 50-piece box of chicken.
How Much Are 50 Chicken Nuggets At McDonalds?
They don't outright sell a 50-piece McNugget box, so you would have to order a box of 40-piece Chicken McNuggets for $8.99, and then a 10 piece box of McNuggets for $4.49.
All in all, in 2022, 50 Chicken Nuggets at McDonalds costs $13.48 in the United States.
Thank you McDonalds for giving us such low prices. We really owe you one.
McDonald's menu prices stay the same depending on whether or not you're ordering regular Chicken McNuggets or Spicy Chicken Nuggets.
What Is Something I Can Make with 50 Chicken McNuggets?
Most of the time when I get my Chicken McNuggets, it's late at night and I'm trying to focus on not letting my boyfriend steal each one of them.
But there are other times where I wonder if there's any way I can spice them up.
So when a customer came into Mortadella Head and said that he loves using our homemade Marinara Sauce on top of McDonald's Chicken McNuggets to make a chicken parm sandwich, I started wondering if he was onto something.
Is this insane? Or is this genius?
Either way, I knew I had to find out.
Back when my parents were kids, they told me that Burger King sold chicken parmesan subs for a limited time. I never got to experience the popular item, but my parents swore by it.
If it worked for Burger King, it couldn't be that bad with McDonald's chicken. Right?
Besides, the pink slime myth has been long debunked and the chicken from the fast-food chain is made with "actual chicken," aka it's fresher than ever. It had to be a good idea!
And honestly, it was delicious.
The sub was so good, I couldn't wait to tell everyone how to make it.
If you don't have a McDonalds around you, you can also make this with Wendy's nuggets, chicken nuggets from Burger King, or chicken items from any of the many fast food restaurants America has been blessed with.
There are a few key steps into making this McDonald's Chicken McNugget parmesan sub so great, so listen closely and let's get cooking.
Here's What You Need To Make This
McDonald's nuggets: the star of the show. We made one footlong sub with a 20 piece nugget box, but you could make two with a 40 piece chicken nugget, ½ sub with a 10 piece McNuggets box, and so on. Use however much chicken you like!
Marinara Sauce: You're going to want to use a high quality marinara sauce for your chicken parm sub. We make ours fresh and can deliver it right to your front door!
Olive oil: You can also use canola oil, corn oil, or vegetable oil, but I find that the nuggets taste the best when refried in olive oil.
Grated Romano cheese: Or parmesan, whichever you prefer.
Freshly chopped basil: This is such a game changer and adds a nice fresh flare that you didn't know your McDonald's Chicken was missing.
Sub roll: You can get a nice quality sub or grinder roll from your local bakery or supermarket.
Provolone cheese: The star of the chicken parm show!
Directions
Start by heating up some olive oil in a medium frying pan. Once heated, place all of the chicken into the pan, and sear on each side until golden brown.
Once the chicken is seared on each side, push to the side of the pan until they are clustered together. Begin to scoop some of the fresh marinara sauce into the pan. Make sure you cover most of the chicken in marinara sauce, there's some chicken and marinara in every bite.
Layer the top of the chicken and sauce with provolone cheese, and let the cheese melt.
Once cheese is melted, begin to pile everything into a sub roll of your choice. Top with grated Romano and fresh basil, and layer with more sauce if you'd like.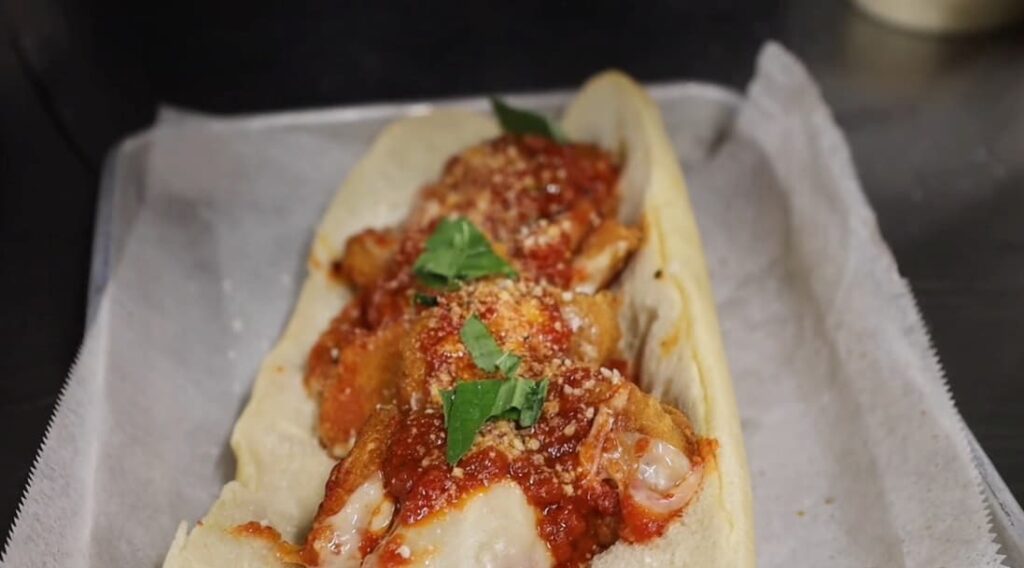 Chicken McNuggets Parm Sub FAQs
Q: Can I freeze McDonald's Chicken?
A: I don't recommend freezing them for too long, but if you were going to freeze some, make sure you freeze them in airtight plastic bags and have an air fryer handy for when you dethaw them.
Q: How do I heat up McDonald's Chicken in the air fryer?
A: Make sure you put them in on high heat and run them through twice. If you need an air fryer chicken recipe, check out this one here!
Q: Does McDonalds accept Paypal for Chicken McNuggets?
A: Unfortunately they do not accept Paypal at this time.
What to Serve With Chicken McNugget Parm
Drink: I recommend going old school and drinking this with an ice cold Coca-Cola, or any other one of the soft drinks that the big fast food chains of America carry. There's truly nothing better!
Appetizer: Since this isn't the healthiest thing you've ever eaten, I recommend starting this with a nice mixed green side salad. It'll give you all of the nutrients you need to balance out this chicken parmesan sandwich.
Side dish: I like to enjoy my chicken parm subs with some mozzarella sticks. Make your own, or heat up some frozen ones in the air fryer.
Print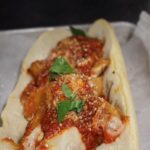 Chicken McNugget Parmesan Sub
---
Author:

Total Time:

10 minutes

Yield:

1

-

2

people

1

x
20-piece McDonalds Chicken McNuggets
1–2 cups marinara sauce
½ cup grated Romano cheese
3 slices provolone cheese
1 tbsp chopped basil
1 sub roll
2 tbsp olive oil
---
Heat up olive oil in a pan on medium heat.
Once heated, place your Chicken McNuggets in the frying pan, and sear on each side.
Push seared McNuggets together at the side of the pan.
Cover with marinara sauce, let heat.
Cover sauce and nuggets with provolone cheese, heat until cheese is melted.
Once cheese is melted, load contents into a footlong sub roll.
Top with grated cheese, chopped basil, and more sauce if you'd like.
Enjoy!
Prep Time:

10

Category:

Subs