If you know me, you know how much I love buffalo.
I could eat it with any meal, and I could turn anything into a buffalo dish.
Buffalo chicken is my favorite food on this planet. I eat it on pretty much everything that I can. Greek salad? Buffalo grilled chicken. Pizza? That's buffalo chicken pizza to you. Any wing, any app, any sandwich—if there's buffalo sauce on it, I'm ordering it.
So when my aunt came into the family a few years back and told me she was pescatarian, I was floored.
Does this mean she could never have buffalo chicken? Ever?
Unfortunately, that would be correct.
I had to figure out a better way to let her experience buffalo dip without taking too much away from what makes it amazing. That's when I found out about Hot Crab Dip.
What Is Hot Crab Dip?
The next best thing to buffalo chicken dip, that's what it is.
It literally is just buffalo chicken dip, minus the chicken, and adding the crab.
And the result?
The most delicious spin on this dip that you could ever take. I guarantee you'll be hooked.
Print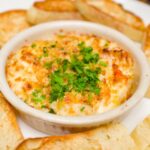 Easy Hot Crab Dip Recipe
---
Author:

Total Time:

35 minutes

Yield:

1

2

1

x
1 block cream cheese, softened at room temperature
1/2 cup ranch dressing or creamy blue cheese
1 cup freshly grated sharp cheddar cheese
1 cup freshly grated pepper jack OR colby jack cheese
Onion salt to taste
Garlic powder to taste
Salt and pepper to taste
Franks red hot, as much or as little as you prefer
1 lb lump crab meat
---
Preheat oven to 350° F
Combine everything together in a mixing bowl, leaving some cheese aside to top
Grease a casserole dish and add the mixture. Top with remaining cheese
Bake for 25 minutes or until cheese is melted and bubbling on top
Serve with tortilla chips and enjoy!
Prep Time:

10

Cook Time:

25

Category:

Dip Sauce
Hot Crab Dip FAQS
Q: What is Red Lobster's crab dip recipe?
Not this one, that's for sure! That one is made with tons of different kinds of cheeses and artichoke hearts. This one is more like a buffalo chicken dip, except with crab!
Q: Why can't I taste the crab as well?
If you used imitation crab, the classic crab taste is a lot harder to pick up on. Try using lump crab meat next time instead.
Q: Why is my crab dip watery?
There is a lot of liquid in crab meat, so you need to make sure it's drained really well and pat dry before using it.
Q: How long is crab dip good for?
You can reheat this in the oven and enjoy it again anywhere up to five days after making this.


What To Serve With Hot Crab Dip
Drink: I always like to mellow out anything spicy with a beer. It doesn't have to be anything fancy, a nice lager will do. But it'll really offset the spice.
To Dip: If you're wondering what kind of crackers go with crab dip, you can serve this with toasted bread, tortilla chips, vegetables, ritz crackers, artisan crackers, or even pretzels. If you really love this dip, go wild and eat it with a spoon.
Leftover Ingredients: Try these crab stuffed mushrooms with gouda!