With its huge cultural heritage, its history, its breathtaking landscapes and (of course) its food, Italy has a lot to offer to every tourist.
There are 55 World Heritage Sites spread across the Italian regions, and if you are planning to visit Italy often, you should try to see as much of them as possible. But if you're just there for a short trip, choosing what to see might be harder than you expect.
If you're a food-lover and you're going to Italy to have a culinary adventure, make sure you spend a day or two in Bologna.
Many Italian foods that made their way into American culture are from there, so you probably already know some of them. But still, it might be an opportunity to taste them in their original place of birth, with local ingredients and wines. And who knows… even the one you love the most could still surprise you.
So, let's see 5 foods you should eat in Bologna.
Tagliatelle alla Bolognese
Tagliatelle are large cuts of egg pasta. They're usually handmade (as they should!) and you can buy them in every pasta shop in Bologna.
When served with Bolognese sauce (locally known as ragù), they become tagliatelle alla bolognese.

The original ragù is made with minced beef, tomato sauce and vegetables and takes more than 3 hours to be ready. Making it at home is relatively easy, but imagine eating it with tagliatelle in a good restaurant in Bologna, possibly with a glass of red wine or a Lambrusco.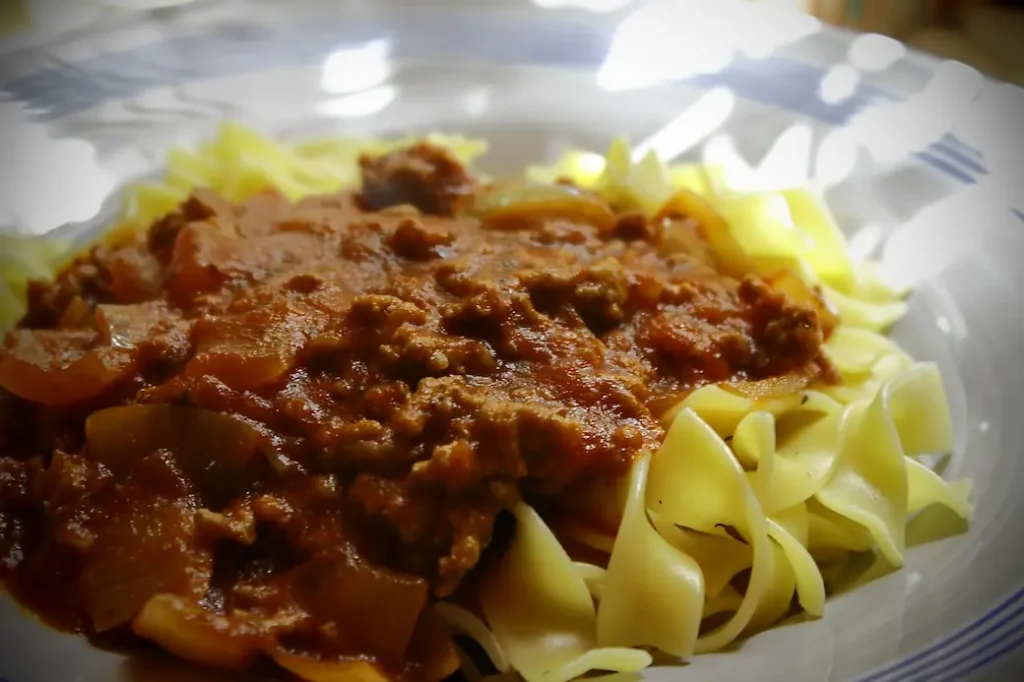 You already know lasagna. This dish made with ragù alla bolognese, béchamel sauce and egg pasta sheets is world-wide famous. But did you know that it's one of Bologna's typical foods?
Well, to be fair, the cities of Naples and Bologna are still disputing over who invented it first. And to be even more fair, the name "lasagna" probably derives from the Greek word "laganon", which was an ancient pasta meal made all throughout Central Italy during the Roman Age.
So, it's very likely that both cities came up with lasagna by modifying a pre-existing dish in the same way. After all, Central Italy has other foods made by layering egg pasta sheets and meat sauces with cheese (like vincisgrassi), and I guess they all have the same origin.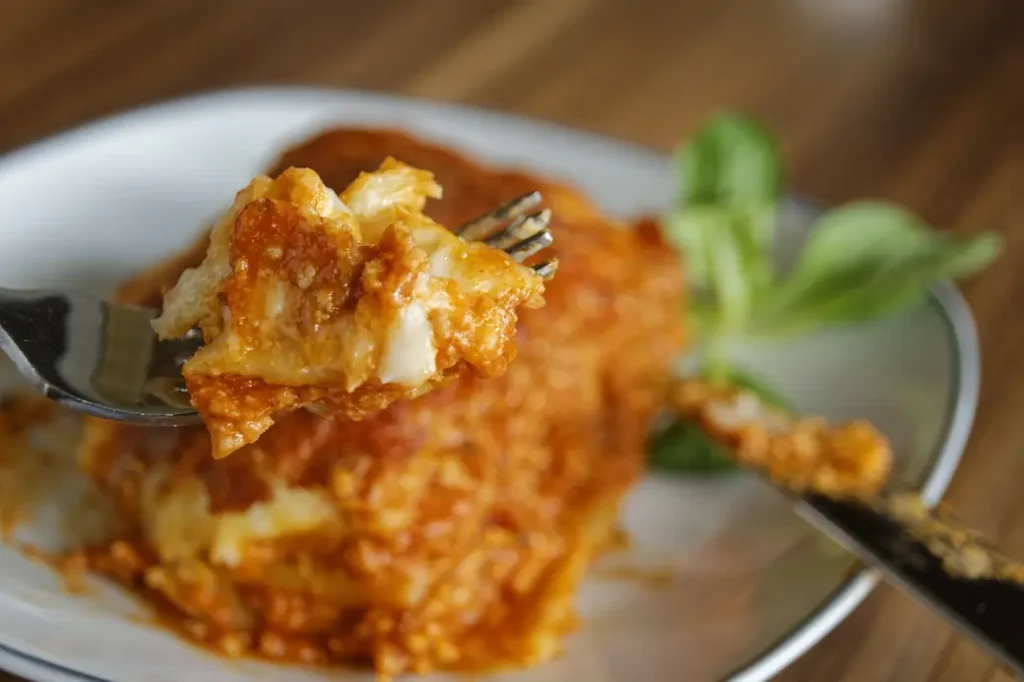 What's certain, is that nowadays lasagna is deeply rooted in Bologna's traditional cuisine. And if you visit the city, you might wanna taste a special version that might be a little less famous than the international one – but is DEFINITELY worth trying!
It's called lasagna verde alla bolognese, and it's made like any other lasagna… but it's green.
This is obtained by adding spinach to the dough used to make the pasta sheets. As a result, they will have a slightly richer taste. If you are in Bologna and want to try local food, this might be a chance to rediscover a food you love and see it in a new special way.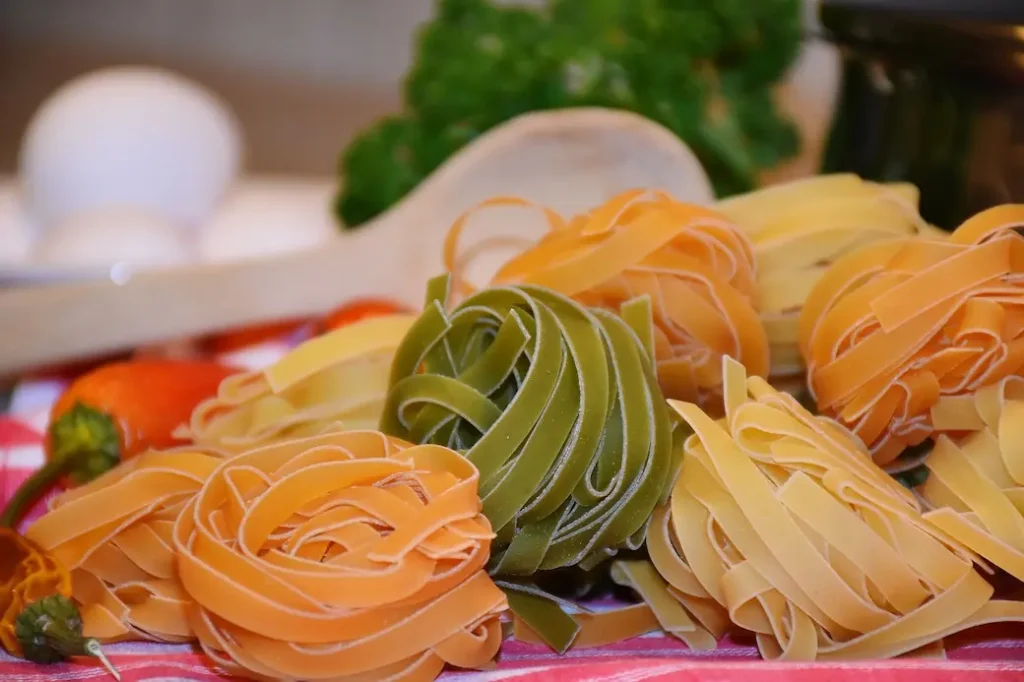 Again, here's another food which origins are still disputed between two cities. This time the fight is between Bologna and Modena.
Whatever the truth is, I think these disputes will never come to an end, so let's move to what can unite people, instead of dividing them.
Tortellini are little pieces of handmade egg pasta, stuffed with meat and vegetables. In Bologna, they're usually served with broth (in brodo) – more specifically, capon broth.
Nowadays many international brands produce tortellini on industrial scale and sell them all over the world. However, in Bologna they are traditionally handmade and sold while still fresh.
If you ever go there, you can buy some in any pasta shop you find in the streets, or you can order them in a restaurant. Either way, you should definitely try them!
Mortadella is a type of cooked cured pork meat traditionally flavored with black pepper grains and (sometimes) pistachios. It has been produced for centuries in Bologna and the surrounding areas.
It might actually be older than the city itself. Its name could have Latin origins and there is evidence that the Etrurians from that area produced similar types of cured meat.
Mortadella has a sweet, delicate taste with a few spicy notes, and a pleasant aromatic smell. Other distinctive traits are its light pink color and its soft yet firm consistency.
When I was a kid, my favorite afternoon snack was a loaf of bread topped with lots of mortadella. Now I rarely make snacks, but I always appreciate a panino with some mortadella. And I think you should try it too.
Many stores around the world sell imitations of mortadella that don't meet its PGI standards. So, if you visit Bologna and you've never tasted the original one, why not enjoy it in its natural environment?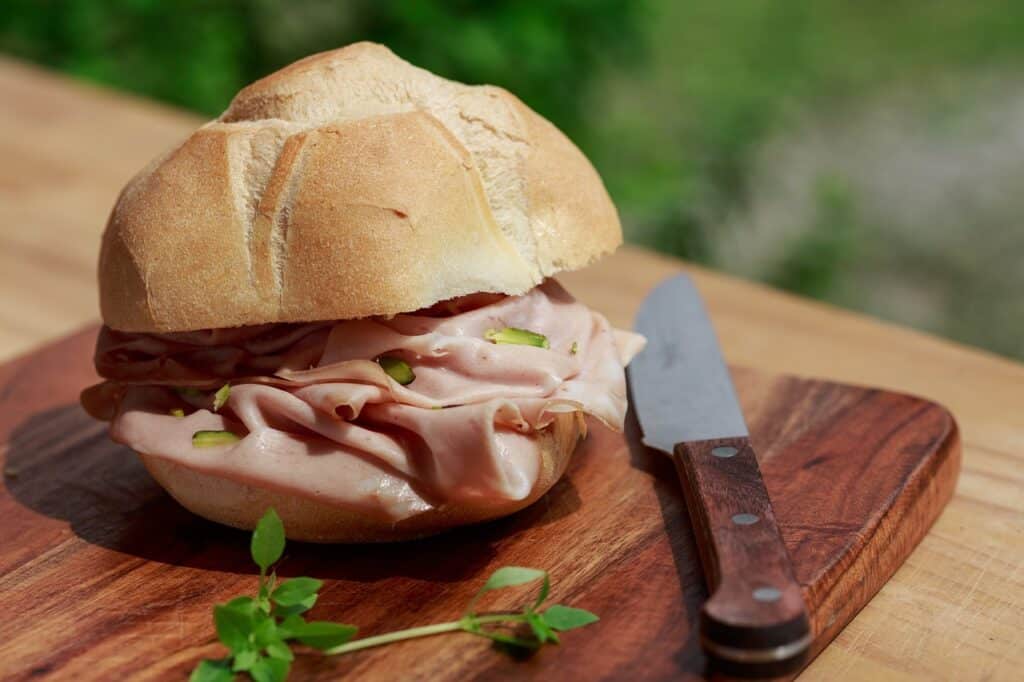 I already wrote about the origins of Parmigiano Reggiano. The PDO laws for this parmesan cheese say that the real "King of Cheeses" must be produced exclusively in some Italian provinces, including Bologna.
So, if you're making a trip to Bologna, it's the perfect excuse to buy and eat it.
You can grate it on pasta, melt it in tomato sauce, make a delicious parmesan cream or have it with mortadella, honey, or chocolate. There are many ways to enjoy parmesan cheese, I'm sure you'll find the one the suits you best.
I hope this list will come in handy during your trip. Let us know in the comments which of these foods you tried and what's your favorite one!