It's not easy to choose what to eat when you're making a trip to Le Marche. The region has three different natural environments (sea, country and mountains) and every area has its own traditional dishes that can be tasted only in specific towns. It's nearly impossible to list all the regional foods you can find in Le Marche. Nonetheless, I'll try to give you some advice. After all, it's the region I grew up in. Marche's regional food is deeply rooted in tradition. A tradition of poor people, who lived in isolated castle-towns and traded with populations from Northern Italy and all across the Mediterranean Sea. The trade made it so that many seeds and animal breeds were imported into the region, but at the end of the day people could eat only what they were able to grow themselves. The isolation was what brought every little town to have its own tradition and recipes, which were passed down from mother to daughter to the present day. As I said, there are lots of meals to taste, but some of them are an absolute must. So, here's my list of 5 must eat foods to try in Le Marche!
Vincisgrassi
To the untrained eye, this dish might look similar to lasagna, but you should never say that out loud in front of a local, or you'll get a quick, unrequested lesson on how to swear in dialect. The two dishes have actually a lot in common: they both require bechamel, meat sauce and egg pasta sheets. The recipe for
vincisgrassi
, however, requires the meat to be sliced (not minced), the bechamel to be thicker and, usually, twice the amount of pasta sheets and a pinch of spices like cloves and nutmeg. If you're eating food from le Marche, you should also try a local wine with it. In this case, you can combine
vincisgrassi
with Rosso Conero DOC, one of Marche's most famous red wines.
Moscioli
Moscioli
is the local name for the mussels that live in the Bay of Portonuovo and in the coast around the Conero. Unlike other mussels, they naturally reproduce there and can be fished (under strict rules). The
Consorzio La Baia di Portonuovo
suggests to eat them in a sauce for pasta, stuffed with minced meat and parmesan or raw, with just some drops of lemon juice. You can enjoy
moscioli
along with a glass of local white wine, like
Verdicchio
.
Ciauscolo, the spreadable salami from Le Marche
If you're visiting the provinces of Ancona, Macerata and/or Ascoli Piceno, it would be a shame to pass up on tasting this special treat.
Ciauscolo
is a soft, spreadable salami. Its origins date back to the pre-Christian times, when pigs were sacrificed in ancient rituals and their meat was stored following many different steps. Its soft nature makes it perfect to be spread on bread or melted with garlic (to dress pasta). Bread and ciauscolo has always been a traditional afternoon snack for kids in the Marches. Adults can enjoy it with a nice glass of red wine.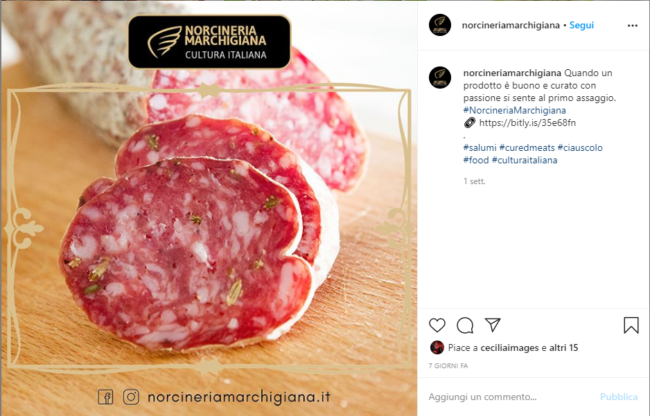 Olive All'Ascolana
Visiting Ascoli Piceno and its province? Well, while you explore the town's historical streets or its beautiful countryside, make sure to try one of the province's world-famous treats: ascolana olives. They are olives stuffed with meat and then fried. They're usually served as appetizers along with fried potatoes and mozzarelline. The nearby town of San Benedetto del Tronto has produced a variant called "
olive alla sambenedettese
", made with fish instead of meat, but the people from Ascoli don't like to talk about them. The two towns have always been rivals, but that is no reason for which you shouldn't try both versions of this famous regional food.
Frustingo
Finally, if you're visiting Le Marche during Christmas holidays, here's a special fig-based dessert you really must try. You won't find it in most of Italian food guides, but it's one of the most ancient Italian recipes, dating back to the Pre-Roman Age: the
Frustingo
. For centuries, every
Vergara
(the female head of the family) in the Marches spent the weeks before Christmas making this dessert, which required days to be made.
Frustingo
is made mainly with figs, wine must, bread, walnuts and almonds. These were all ingredients that could be found in the household, as families were usually too poor to buy other things. If you have read this far, you've already learned that every town and even every family in Le Marche has its own variant of the traditional foods. In the case of the
frustingo
, this applies even more so, to the extent that each city has a different name for it:
frustengo, frustinco, bostrengo, pistringo, pistincu
, etc. You can enjoy
frustingo
with a shot of local
mistrà
(aniseed liquor), like Varnelli or Meletti. This was the last must-eat food of my list. Now you're ready to visit Le Marche and enjoy some of it's most delicious regional foods.
Buon appetito
!