If you haven't been living under a rock, I'm sure you've been seeing the Classico lasagna recipe everywhere you've been going.
You know, the one with the creamy alfredo sauce. The chopped spinach. It's a new take on lasagna, one without meat sauce, Italian sausage, or ground beef, and we're so here for it.
But if you know us, you know we love to experiment.
We've always loved the idea of a white lasagna alongside a classic lasagna. We've made it in the past, and just recently, our loyal customers have been asking us to make it again.
And we were all for it. But we wanted to make it better.
You see, we love the Classico lasagna recipe. But we figured we could take it up a few notches. (Full disclosure, this is no Classico copycat recipe)
Now, if you know anything about Italians, you know we love our broccoli rabe. We love it so much that we put it on literally anything and everything that we can. So it shouldn't surprise you that we added it to this lasagna.
But it needed something else. Something that would make your taste buds tingle and would add a whole new dimension to the dish.
That's when someone pulled a chicken cutlet out of the fryer, and we had one of the best ideas that we have ever had.
And thus, the chicken and rabe alfredo homemade lasagna was born.
This lasagna is amazing. Everyone who tries it loves it, and I'm not trying to brag, but one of my older Italian family members said that it was the best lasagna recipe he's ever tried. Honestly, I agree with him.
Here's how we made it!
View this post on Instagram
Print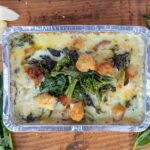 Classico Lasagna Recipe (Better Version)
---
Author:

Total Time:

60

Yield:

4

1

x
Ingredients for the chicken cutlets:
1–2 chicken breasts, sliced thin

2 cups of breadcrumbs, seasoned

4 eggs, beaten and seasoned

2 cups of flour, seasoned

Canola oil for frying

Ingredients for the ricotta mixture:
32 ounces of ricotta cheese

1 cup grated parmesan cheese

1 cup of pasta sauce

1 tablespoon fresh parsley, minced

Salt, black pepper, crushed red peppers

Ingredients for the lasagna:
One package of lasagna noodles, cooked until al dente in a large pot of salted water, and with olive oil on top of noodles to prevent sticking

1–2 cups of fresh alfredo sauce

1 cup of roasted broccoli rabe

½ cup fresh mozzarella cheese

¼ lb sliced provolone cheese

Grated Romano cheese, to taste
---
Making the chicken cutlets:
Bread the cutlets in flour, then the egg wash and then the breadcrumbs.
Fry in canola oil in a large skillet on medium high heat until golden brown on both sides.
Making the ricotta mixture:
Get a medium or large mixing bowl
Put everything in the medium bowl and mix thoroughly, until you get a nice creamy ricotta cheese mixture
Making the lasagna:

Pre heat oven to 375°
Using a lasagna tray or baking dish, spread a thin layer of alfredo sauce over the bottom of the pan (not a pool of sauce!). Place provolone cheese on top, along with more sauce, a few scoops of the ricotta mixture, and grated Romano cheese. Cover with another lasagna sheet.
Repeat step #2 once more, adding half of the chopped chicken cutlets and broccoli rabe to the layer of the cheese mixture. Repeat layers as many times as you would like with the lasagna sheets, cheese, chicken cutlets, and broccoli rabe.
To top your lasagna, place one final layer of pasta over the entire pan, with a light layer of Alfredo sauce. Add half cup of mozzarella cheese and grated Romano cheese to the top of the dish, and place in the oven for about 25 minutes or until the cheese is melted and golden brown over the top layer, checking frequently.
Let sit for 15 minutes before serving and enjoy!
Prep Time:

20

Resting Time:

15

Cook Time:

25

Category:

Lasagna

Method:

Baked

Cuisine:

Italian-American
Keywords: classico lasagna recipe
Alfredo Lasagna FAQs
View this post on Instagram
Why do people like lasagna so much?
Think about it. It's all of the wonderful qualities of pasta that you love, melted together into one big dish. It's hearty, filling, and delicious. Who wouldn't love all of that?
What is the best way to make the white layer of lasagna?
Repeat after me: don't use cottage cheese! Ricotta is the way to go. Just add a scoop of warm tomato sauce to the mix instead of an egg, and it'll be creamier and better.
Does sangria go with lasagna?
It certainly can! Although, I like to eat my lasagna the classic way with a nice glass of red wine. It's more robust and contrasts better with everything else.
Can I use béchamel sauce instead of an alfredo sauce? What's the secret to making a great béchamel sauce?
You absolutely can. We covered this on our blog a while back if you were interested in learning how to make the perfect bechamel sauce.
Can I freeze lasagna?
You know it! Just seal the top tightly with some aluminum foil before throwing it into the freezer, or store it in an airtight container, and you'll be good to go.