Why is it so hard to find a really good dish of chicken broccoli and ziti lately?  Read on and I'll share the mouthwatering the Chicken Broccoli Pasta Casserole Recipe.
But before that….
When I was a kid there was chicken broccoli and ziti a/k/a CBZ on every Italian restaurant menu. It was one of my favorite things to order.  
Now when I order it in a restaurant it's not the same?  I end up with a plate of over cooked pasta, flavorless chicken breast and broccoli florets swimming in a watered down creamy Alfredo sauce.
It just isn't right.  This is supposed to be one of the most delicious recipes out there.  It has everything you need to be the star of the show.  
Lately I've been working really hard to make Chicken Broccoli and Ziti great again.  And I'm doing it in a way that makes it an easy, delicious and complete meal for the whole family. 
I decided to take this classic Italian-American chicken recipe that is usually sauteed on the stove top and turn it into a delicious casserole. 
This broccoli and chicken pasta bake is perfect for a lazy Sunday lunch or an easy weeknight dinner if you make a freezer meal.  
I actually developed this recipe specifically so you could have real, homemade comfort food in your freezer when you want it.  I turned the classic plate of Chicken Broccoli and Ziti into a chicken broccoli casserole that people are going crazy for!
Here's how I did it.  Follow along and try it at home.

The Ingredients for the Chicken Broccoli Pasta Casserole Recipe
The shopping list is really simple.  I can find everything I need at the grocery store.  
Chicken
I like using boneless chicken breast for this recipe.  I cut the chicken up into small, bite sized chunks.
You can also make chicken cutlets and dice them up after you fry them.
Broccoli
I like making this chicken, broccoli and pasta casserole with lots of broccoli.  You can use fresh broccoli or frozen broccoli for this recipe.  It's up to you.  
I also suggest buying broccoli florets if you do go with frozen broccoli. 
The broccoli can be substituted for broccoli rabe.  It will add a whole different dimension of flavor to your dish because the broccoli rabe has a peppery and bitter taste.
The Garlic Cream Sauce
For this creamy sauce I use butter, garlic, heavy cream and parmesan cheese.  I also season it with Kosher salt and black pepper. 
Cheese
I always layer this chicken, broccoli and pasta casserole with a few different cheeses.  It's a mix of ricotta, mozzarella cheese, provolone and grated parmesan cheese.
Olive Oil
I use a good quality extra virgin olive oil.  It adds a lot of great flavor to this dish. 
Chicken Broth
Chicken broth is a really important ingredient in this dish.  I use it to add flavor by boiling my pasta in it.  Normally pasta gets boiled in only water with some salt.  I find that boiling the pasta in chicken broth makes this dish extra special. 
Flour
A simple all purpose flour is what I use.  It helps get a golden brown sear on the chicken when I cook it.
How to Make One of the Best Chicken Broccoli Pasta Casserole Recipes
These are the steps I take to make this dish out of this world.  I've made it several different ways and I've documented the process every time.  The following is what I think is the best way to make this dish.
Step 1. Make the Garlic Cream Sauce
You need a great garlic cream sauce for this dish…an Alfredo. This isn't an authentic Alfredo sauce because I add some cream to it.  It's a really nice sauce.
I start out by putting a little bit of olive oil in a saucepan.  I add some butter to the pan and put the stove on low heat.  
When the butter is melted I add a lot of garlic to the pan and let it cook really slow.  When the garlic starts to become fragrant I know it's starting to flavor the olive oil and butter.
It's important not to let the garlic burn because it will create a bitter taste in the dish.
When the garlic is toasted, but not burned, I add the heavy cream to the pan.  Then I turn the stove up to medium heat and add grated cheese.  I start whisking the cream and cheese together until the cheese is melted and incorporated into the cream.  
At this point I raise the temperature of the stove to medium-high heat and as soon as it starts to boil I turn it down.  I season it with salt and pepper and let it simmer on low heat for about 10 minutes.  All of the flavors will start coming together and you'll end up with a beautiful, garlicky, creamy cheese sauce. 
Take it off heat and put it aside for now. 
Step 2. Cook the Chicken
First I take the raw chunks of chicken and season them with salt and pepper.  Then I put some flour on a plate and season that with salt and pepper also.
I dredge the chicken in the seasoned flour so that it is completely coated.  
Then I heat some olive oil in a frying pan on medium-high heat.  I add the floured chicken to the frying pan and sear it on all sides.  While the chicken is searing I add some chopped garlic to the pan and toss them together.  Layering the flavors is really important. 
When the chicken is golden brown I set it aside.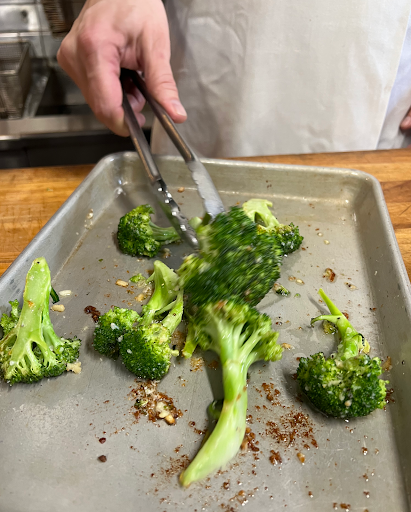 Step 3.  Cook the Broccoli
In a large bowl combine the broccoli florets, salt, pepper, olive oil and garlic.  Toss it together and lay it out on a sheet pan.  Put it in a preheated oven at 375 degrees Fahrenheit for about 20 minutes.
I think roasting the broccoli is the best way to add deep flavor.  It can also be sauteed, but I like the way the dish comes out when the broccoli is roasted. 
Step 4.  Cook the Pasta
Normally when I cook pasta I take a large pot of cold water and add salt.  Salted water will add flavor to the pasta, no doubt.  
But, for this recipe I take it to the next level.  I boil the pasta in ½ water and half chicken broth.  The pasta soaks up the broth and adds so much extra flavor to the dish.
This technique doesn't involve any extra work.  You just cook the pasta al dente according to the package directions. 
When the pasta is done cooking, drain it and set it aside.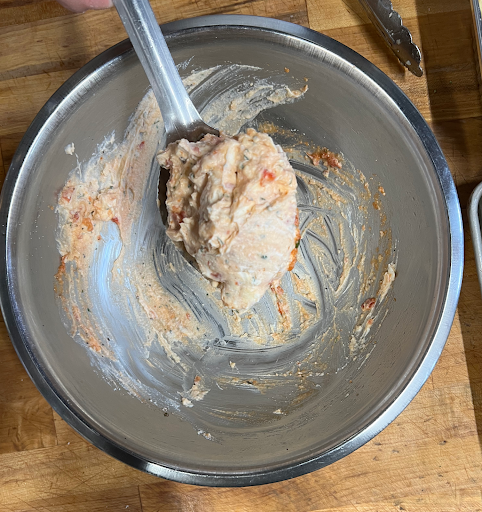 Step 5. Make the Ricotta Mixture
This part is easy.  I take a large mixing bowl and add ricotta cheese, diced provolone, grated parmesan, chopped parsley, salt and pepper.  I mix it all together and add a little bit of the garlic cream sauce.  Adding the sauce will add flavor and make the ricotta mix extra creamy.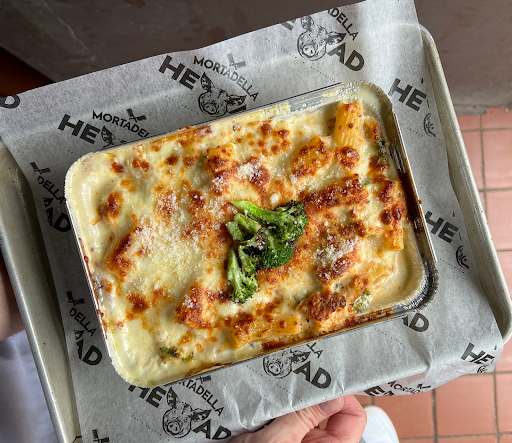 Step 6.  Build the Chicken Broccoli and Pasta Casserole
When I make this dish I build it in a pan that is freezer-safe and safe for the oven.  I do this because I always make enough to store in the freezer for a later date.  That's the beauty of this cheesy chicken broccoli pasta casserole.
My baking dish of choice is a disposable aluminum pan.  The kind a restaurant uses for catering or takeout.  
I like these pans because I give the dish away to friends and family sometimes.  By using a disposable pan I don't have to worry about chasing down a nice casserole dish later on.
I start off building the casserole by putting the cooked pasta, chicken and broccoli in the big bowl with the ricotta mixture.  Then I combine everything together in the bowl.
The next thing I do is spread some of the garlic cream sauce on the bottom of the baking dish.  
Now I add some of the pasta, broccoli and ricotta mix to the baking pan so that it is filled halfway to the top.
I add some more cream sauce, shredded mozzarella and grated parmesan.
Next I add more of the pasta, broccoli and ricotta mix and bring it to the top of the baking pan.  I finish it off with more garlic cream sauce, mozzarella and grated cheese.
At this point there are a few things that can be done with this dish.  
It can be put right in an oven preheated to 400 degrees and cooked right away.  The result will be an instant creamy chicken broccoli pasta bake.
It can be covered in aluminum foil and stored in the fridge.  It will last 3-4 days in the fridge before you have to cook it or freeze it.
It can also be frozen.  If I am using a disposable aluminum pan I cover it with the appropriate lid.  If I am using a regular baking dish I cover it with aluminum foil and then add another layer of plastic wrap.  It can be stored in the freezer for up to 6 months. 
The cooking time will vary.  
If it is being cooked frozen it will take 65-75 minutes in a 400 degree oven.
If it's cooked after it's thawed, it will only take 35-45 minutes of cooking time. 
It's important to let the cheese on top of the casserole to become golden brown in the oven. 
I just taught you how to make one of the best Chicken Broccoli Pasta Casserole recipes out there.  I hope you give it a try.  
If you decide to make it let me know how it comes out.  
If you don't feel like doing the work yourself, let me make you one and ship it right to your house!

Print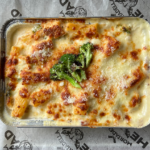 The Ultimate Chicken, Broccoli and Ziti Casserole Recipe
---
1 lb of boneless chicken breast cut into 1 inch pieces
1 lb of fresh broccoli
1 cup of all purpose flour
1 lb of ziti or rigatoni
1 quart of chicken broth
6–8 fresh garlic cloves, minced
1 tablespoon of fresh parsley, minced
1/2 cup of olive oil
1 pint of ricotta cheese
1 cup of tomato sauce
1 pint of grated parmesan cheese
1/2 lb of provolone cheese, dices
1 pint of shredded mozzarella cheese
1 pint of Alfredo sauce
Salt and pepper
---
Coat pieces of chicken with flour and season with salt and pepper

Heat ½ of the olive in a frying pan on medium-high heat.  

Sear chicken on all sides.  Add 1 teaspoon of minced garlic to the pan while the chicken sears.  Allow chicken to cook all the way through and set it aside.  It will take about 5 minutes to cook the chicken.

Preheat the oven to 375 degrees.

In a large bowl add broccoli florets, olive oil, 1 tablespoon of minced garlic, 2 tablespoons of grated parmesan cheese, salt and pepper.  Toss to completely coat the broccoli.  

Put broccoli on a sheet pan and roast it in the oven for about 10-12 minutes.  Chop cooked broccoli into 1 inch pieces.

Boil pasta according to package directions.  Replace half of the water you would normally use with chicken broth.  When pasta is done, drain it and set it aside.

In a large bowl, mix together ricotta cheese, 2 tablespoons of grated parmesan cheese, diced provolone, parsley, tomato sauce, salt and pepper.

Add the cooked chicken, broccoli and ziti to the bowl with the ricotta mixture and combine everything thoroughly.

Spread a thin layer of Alfredo sauce on the bottom of a baking dish

Add ½ of the chicken, broccoli and pasta mixture to the pan and spread it evenly

Add ½ of the mozzarella cheese on top of the pasta mixture

Add ½ cup of Alfredo sauce on top of the mozzarella cheese

Add the rest of the chicken, broccoli and pasta mixture and spread it evenly

Add the rest of the Alfredo sauce, mozzarella cheese and grated parmesan

Bake it in the oven at 400 degrees for 35-45 minutes.