Chicken parmesan is a classic Italian-American dish and many have fond memories of eating it at their favorite Italian restaurant growing up. 
Covered in fresh marinara sauce and oozing with melty cheese, it's no wonder chicken parmesan is a beloved comfort food dish.
Unfortunately, very few of the ingredients in chicken parmesan are vegan, so it is not an option for those on a plant-based diet.
Not to worry! We can make a vegan version of the classic chicken parm with just a few ingredients. Vegan meat and dairy products have come a long way in recent years and making your favorite dishes vegan couldn't be easier. You can make a delicious vegan chicken parm with this super simple recipe!
Ingredients
Vegan chicken: Any store-bought vegan chicken will do as long as it's breaded. I have tried Morning Star chicken patties, Lightlife chicken filets, Quorn breaded cutlets, and Gardein chicken filets with great success. Whatever you can find available at your local grocery store will be delicious.
Pasta sauce: Choose a quality marinara sauce for this recipe! Homemade marinara sauce is delicious; store-bought is also great.
Vegan parmesan: Your favorite brand of vegan parmesan is a must for this recipe! I use Violife because I think it is most similar to non-vegan parmesan.
Vegan mozzarella: Melty vegan mozzarella makes this dish warm and comforting. I recommend a slice of mozzarella, but shredded will also work.
Fresh basil: A must for any good Italian dish! If you can't find fresh basil, you can use dried basil or basil pesto.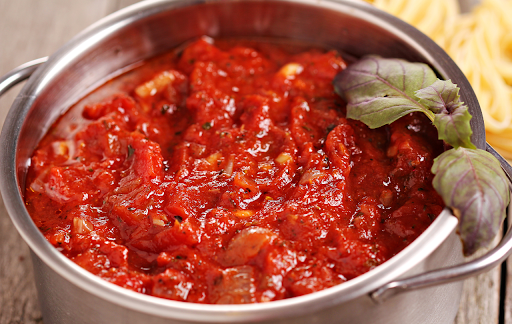 How to Make Vegan Chicken Parmesan
Prepare the vegan chicken cutlets on a baking sheet according to the package instructions. Most packages offer a microwave and an oven cooking option; I strongly recommend the oven for heating your chicken.

While the chicken is heating, bring a large pot of salted water to a boil. Add your spaghetti and cook according to the package instructions.

Begin heating your marinara sauce in a small saucepan over medium-low heat. If it begins to boil, be sure to turn it down to low and avoid simmering.

Once your vegan chicken is finished cooking, you can assemble the chicken parmesan. Grease the bottom of a baking dish  with olive oil, then set each of the chicken cutlets in it. Scoop a spoonful of marinara sauce onto each cutlet, then sprinkle shredded parmesan cheese on top. Finish each vegan chicken cutlet off with a slice of mozzarella cheese to cover it.

Turn your oven to broil and put the vegan chicken parmesan in to melt the vegan cheese. Once the cheese is melty and golden brown, remove it from the oven. Be sure to watch closely as the broil function can burn your chicken parmesan very quickly.

Drain the pasta and

keep it warm

if needed. 

When everything is ready, fill each plate with a serving of spaghetti. Add a scoop of marinara sauce and a vegan chicken parm cutlet on top of the pasta. Add lots of fresh basil and a bit of fresh parsley to garnish and enjoy!

What to Serve with Vegan Chicken Parmesan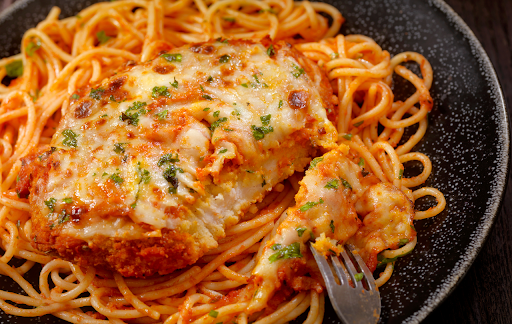 Frequently Asked Questions
I can't find breaded vegan chicken. What should I use instead?
You can use unbreaded vegan chicken or homemade seitan and bread them yourself! Here's how:
Start by thawing your vegan cutlets in the refrigerator for several hours or in the microwave on the defrost setting.

Get a bowl of almond milk, a bowl of all-purpose flour, and a bowl of seasoned panko bread crumbs. You can purchase seasoned bread crumbs or add herbs and spices yourself.

Dip each piece of vegan chicken in the flour until the entire surface is covered. 

Dip each piece in the almond milk to wet the surface, then dip them in the bread crumbs, pressing down to make the bread crumbs stick. 

Pan fry the breaded chicken cutlets in a bit of olive oil until the bread crumbs are golden brown.
Can I make this in a toaster oven?
Yes, you can! Follow the same instructions below to bake in a toaster oven. If your vegan chicken packaging doesn't offer instructions for cooking in a toaster oven, use the oven instructions. It may take longer in a toaster oven, however, so allot more time just in case. Broiling the chicken will be the same in the toaster oven using the broil functions or the toast function, if necessary.
How do I store the leftovers?
Leftovers can be stored in an airtight container in the fridge for a few days. To reheat your vegan chicken parm, I recommend putting it back in the oven until warm so it is still a little bit crispy.
How can I make my spaghetti sauce more flavorful?
If you are disappointed with the flavor of your sauce, there are a few quick ways you can make it more flavorful. You can add sauteed onion, garlic, and fresh basil if you have the time. For a quicker option, garlic powder, onion powder, dried Italian herbs, and red pepper flakes will add flavor in just a few seconds.
Print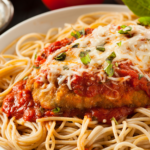 Best Vegan Chicken Parmesan | Super Easy Recipe
---
4 vegan breaded chicken cutlets (see notes)

16 ounces marinara sauce

1 cup vegan parmesan cheese

4 slices vegan mozzarella cheese, or 1 cup shreds

¼ cup fresh basil

Fresh parsley to garnish

1 pound spaghetti

Salt and black pepper to taste

---
Heat the vegan chicken cutlets in the oven according to the package instructions.

While the chicken cooks, bring a large pot of salted water to a boil and add your spaghetti. Cook the spaghetti according to the package instructions.

Put your marinara sauce in a small saucepan and heat it on the stove over medium-low heat. Turn the stove down as necessary to avoid simmering.

Grease a baking dish with olive oil, then assemble your vegan chicken parmesan. Place each chicken cutlet in the baking dish and top with a spoonful of marinara sauce. Sprinkle cheese on top of the sauce, then finish with a slice of mozzarella.

Set your oven to the broil function and put the chicken parm in to melt the cheese. Watch closely to ensure it does not burn and remove once the cheese is melty and golden brown.

Add a pinch of fresh basil to each chicken parm cutlet and garnish with fresh parsley.

Serve atop a bed of spaghetti and marinara sauce.
Notes
Any vegan chicken alternative will work, as long as it's breaded. I like the frozen breaded chicken from Morning Star, Lightlife, Quorn, or Gardein.