You just found out that practically your whole family is coming over to visit? You're really not in the mood to start cooking, but you feel like you have to have something to feed these people.
What should you do?
Don't worry. I've got you covered.
No. I'm not coming over to cook for you. But I am going to give you an Italian sausage recipe that you can use for a surprise crowd on the weekend, or easy weeknight dinners when you need it.
There are so many great sausage recipes in my arsenal, but this is one of the best. If you can follow a few simple steps you're going to have a great sheet pan meal with tons of flavor that will definitely become a family favorite.
A sheet pan dinner is one of the best ways to cook for a crowd without killing yourself. It can be a simple meal with a couple of ingredients or you can get crazy if you really want to impress someone.
An Italian sausage bake just makes sense if you think about it. Everyone loves roasted sausage so that part is easy. But with sheet pan sausage, you can add sides that you know people will love.
You can add vegetables to the sheet pan according to your audience. Someone might like potatoes… another person likes peppers… and another person likes Brussels sprouts.
Add them all to the pan. Why not? The cooking time will be the same.
Whether this is your first time making a one dish meal or you're a baked sausage expert, you'll appreciate this recipe. It's easy, delicious and perfect for any day of the week.
Let's cook some sausages!
What You'll Need to Make This Easy Baked Italian Sausage Recipe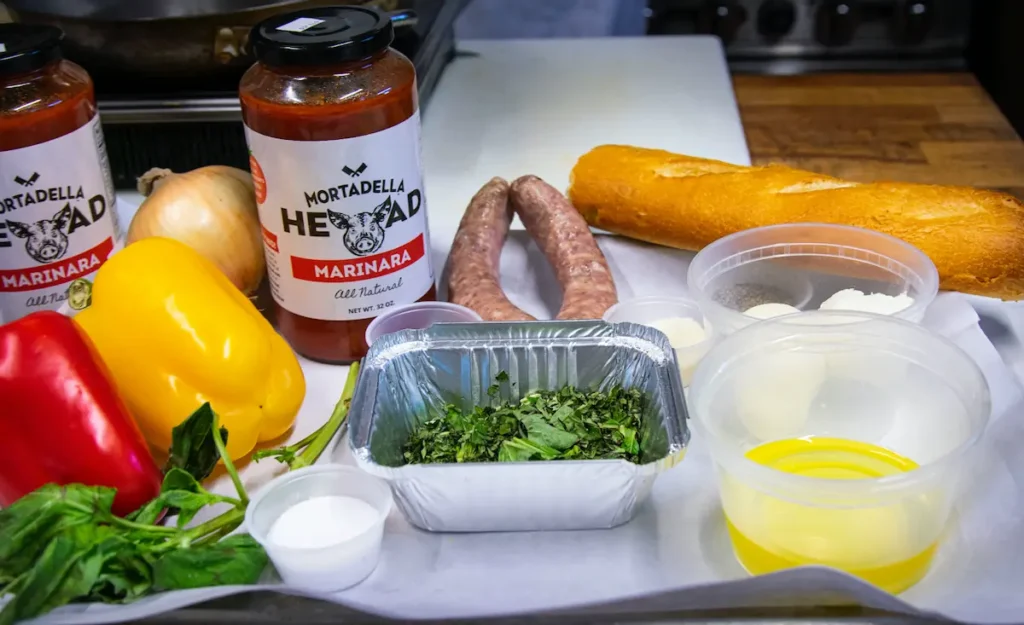 You can get really creative with a dinner like this if you want. Today, we're going to keep it simple so everything you need will be at your grocery store. For exact measurements check out the recipe card.
Sausage: Obviously the sausage is one of the main things you'll need to make this baked Italian sausage recipe. I suggest using pork sausages with natural casings. Unlike Italian salumi which can be eaten without cooking because they are cured, these raw sausages are not cured and must be cooked before you eat them.
I usually use a mild Italian sausage made with ground pork, spices and fennel seeds.
Onions: You can use yellow onions or Spanish onions. Sometimes I like adding in a red onion for color.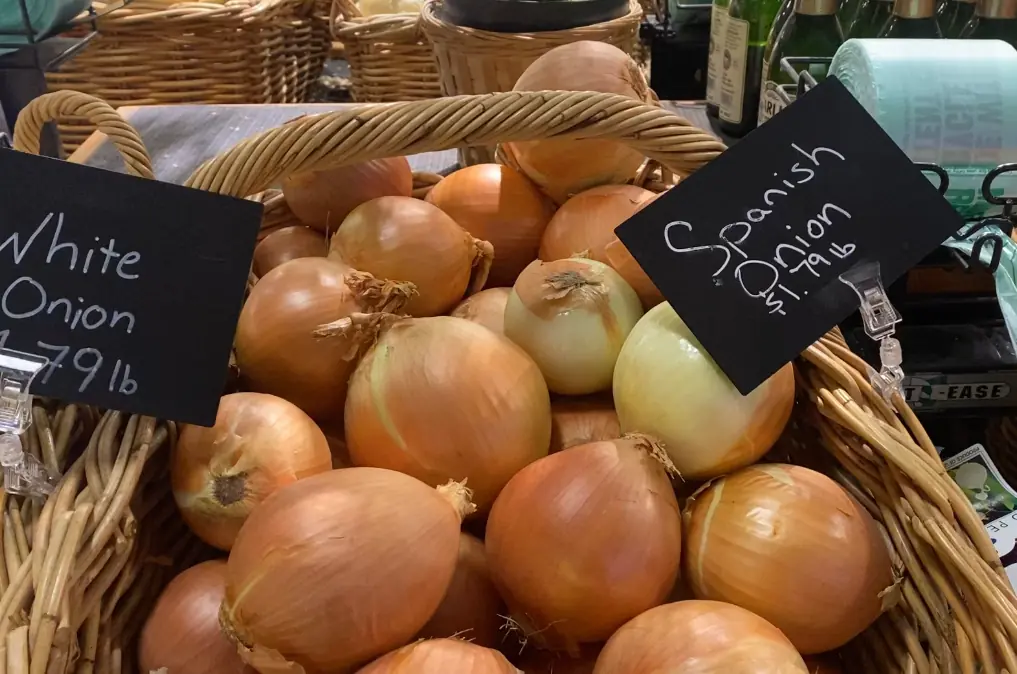 Peppers: I like bell peppers for this recipe. You can use green peppers, but I suggest using red peppers, orange peppers and yellow peppers. They add so much color to the dish and are much sweeter.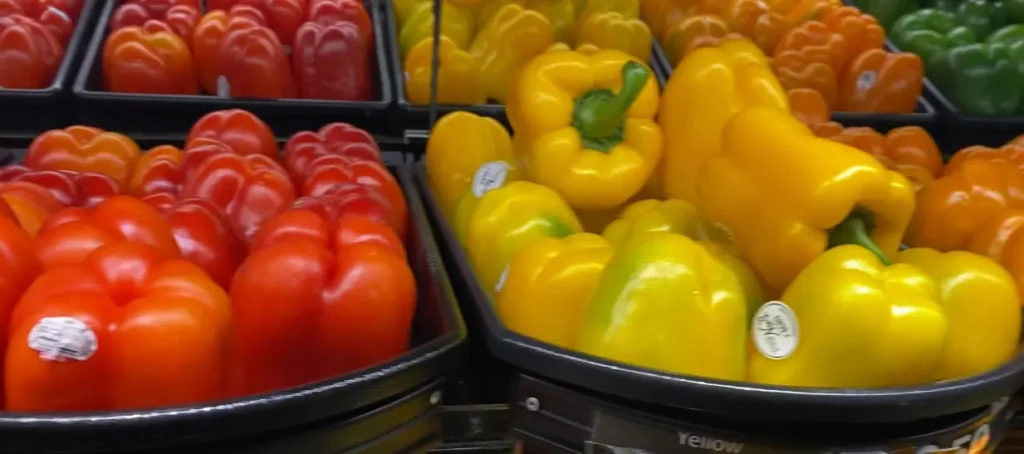 White wine: You should use a white wine that is good enough to drink, but isn't too expensive. I usually keep a bottle of Pinot Grigio in my kitchen for cooking.
Tomato sauce: For this, feel free to make a simple tomato sauce or grab a jar of your favorite Marinara sauce.
The Spices: You can spice things up with Kosher salt, black pepper, garlic salt and red pepper flakes.
Herbs: Fresh herbs are always better, but if you only have dry herbs, that's fine. Use things like parsley, basil, oregano or a good Italian seasoning mix if you have it.
Olive oil: You should try to keep a good olive oil on hand. It doesn't need to be too expensive, but try to get one that isn't mixed with other types of oils. Read the bottle to make sure you are getting real olive oil.
How to Make This Easy Baked Italian Sausage Recipe
Preparing this dish is really easy. Even someone who never cooks can nail this one.
Start off by cutting your pepper and onions. I usually cut them into half inch strips because thin strips get nice and soft. If you like your veggies a little crunchy, cut them into one inch strips. There's nothing wrong with al dente peppers.
Preheat your oven to 400 degrees Fahrenheit.
Put your sliced vegetables in a large baking dish and add some olive oil, salt, pepper, garlic salt, and crushed red pepper. Toss everything together so the olive oil and seasoning is evenly distributed.
Splash some white wine into the bottom of the pan, add some tomato sauce and cover it nice and tight with aluminum foil.
Put it in the oven for about 45 minutes and then remove the foil. If anything is sticking to the bottom of the pan, loosen it up with an old school wooden spoon.
Put it back in the oven uncovered for another 15 minutes or until the internal temperature of the sausage is 160° F.
When you take it out the end result will be a delicious dinner ready to eat
Wine: I think a light bodied red wine is a good choice for this baked sausage dish. Try a Pinot Noir.
Salad: A simple side salad made with mixed greens, cherry tomatoes, red onion, olive oil and vinegar is perfect.
Side Dish: I've noticed that it's really common for people to order catering from Mortadella Head where they get a tray of sausages, peppers & onions along with a tray of baked ziti. Give it a shot. There must be a reason.
Bread: A nice crusty bread that is soft on the inside is a must for any sausage and peppers recipe. Load up the roll and make the perfect sandwich!
Q: Do I have to use mild Italian pork sausages?
A: No. Feel free to use chicken sausages, turkey sausages or hot Italian sausages.
Q: What other pans can this be made in besides a sheet pan or baking dish?
A: Sometimes I'll make this meal in a Dutch oven. If you use a Dutch oven you can start everything off on the stove top to get a nice sear and then put it in the oven.
Q: What can I do with the leftovers?
A: It's always great to have some cooked sausage in the fridge so you can turn them into a nice sandwich or pasta dish.
Print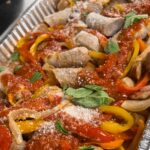 Easy Baked Italian Sausage
---
Author:

Total Time:

1 hour 10 minutes

Yield:

6

1

x
3 lbs of Italian sausage
3 bell peppers
2 onions
1 tablespoon salt
2 teaspoons black pepper
2 teaspoons garlic powder
1 teaspoon crushed red pepper
1/2 cup olive oil
1 cup white wine
1 pint tomato sauce
---
Preheat oven to 400 degrees

Cut peppers and onions into half inch strips

In a baking dish or sheet pan toss peppers and onions in olive oil and dry spices.

Place sausage on top of vegetables.

Add wine and tomato sauce to the pan.

Cover tightly with foil and bake for approximately 45 minutes.

Remove foil and bake uncovered for an additional 15 minutes.

Stir all ingredients together and serve.

Enjoy!
Prep Time:

10

Cook Time:

60

Category:

Sausage

Method:

Baking
Keywords: baked italian sausage recipe, italian sausage