Let me come in hot with a bold statement: This is probably my favorite soup to ever exist.
The marinara sauce and the sausages really blend together nicely to give you the most perfect savory flavor throughout every bite. The veggies and white beans sweat into the broth to provide loads of flavor and nutrients through the entire dish. This soup is just a win on all ends.
What's nice about this soup is that it's generally dairy free. That's right, even your most lactose intolerant of friends will be able to join you with this one.
This traditional Italian dish is beyond easy to whip up, and makes for a great spur of the moment dinner idea.
And today, you will be learning how to make it.
What Makes This Recipe So Good?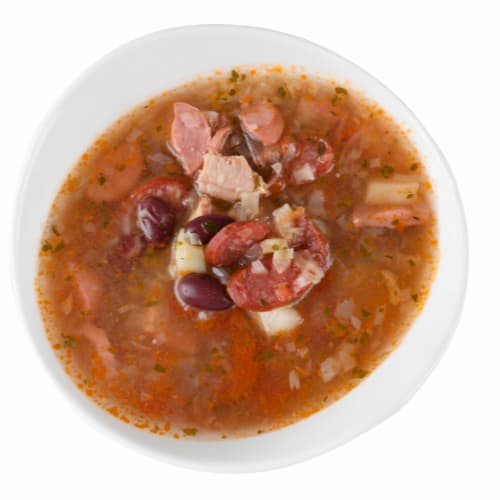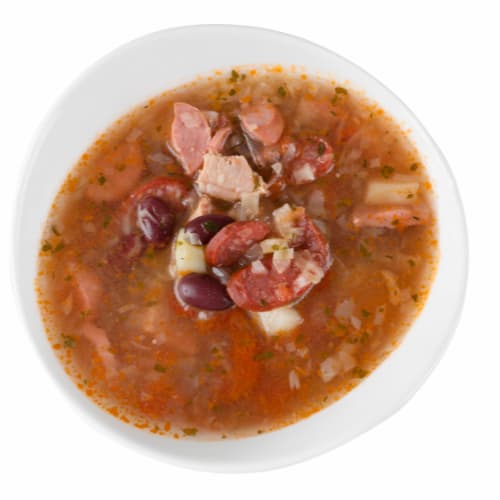 Soup is just incredible in general.
Especially now as fall is approaching, there's no better way to enjoy a weeknight than on the couch curled up with a bowl of soup.
Sausage Soup captures the essence of fall and packs it into one bowl of Italian goodness.
I remember when I was in college, my roommates and I would walk to Bertuccis every week and get a bowl of this masterpiece along with a Chicken Alfredo Pizza (and then wondered why we had put on weight).
This recipe right here is what reminds me of that pivotal time in my life, and is a copycat of the famous Bertucci's recipe.
If you're asking me, it might even be better.
Here's how you make it!
Ingredients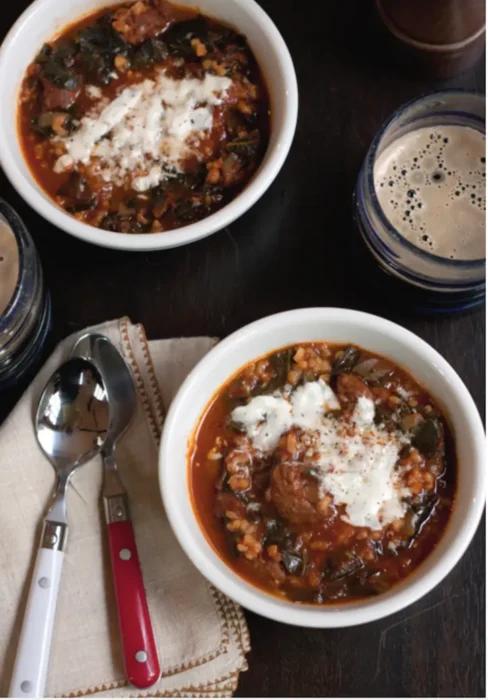 Extra Virgin Olive Oil: To really bring out those flavors at the start of the dish.
Carrots: For this one, you're going to want to use real, fresh carrots. Try to get these at a farmer's market, if you can.
Celery: A couple of finely diced celery stocks will do the trick here.
Garlic: Repeat after me: "I will not use jarred."
Calabrian Chili Flakes: For the tiniest little kick.
Sausages: Get some nice Italian sausages from your local grocery store, and dice them half an inch. The small dice is important here, as it'll allow the flavor to disperse nicely.
Chicken Broth: One quart should be enough.
Marinara Sauce: One pint of your favorite. This is the main part of the broth's base.
White Beans: You'll also be using their liquid in this, so don't drain the beans when opening.
Swiss Chard Leaves: To add to the flavor.
Salt & Pepper: To taste, of course.
Grated Mozzarella Cheese: This is totally optional, but it's my favorite part of this entire dish. It melts into the sausages perfectly, packing this soup with tons of flavor.
Grated Pecorino Romano: Some of this will go into the base, and the rest will be served with the soup.
Directions

Heat your EVOO up on medium high heat, in a pot or heavy bottomed dutch oven.
Once the olive oil is heated, add garlic, carrots and celery to the pan. Season with salt, pepper, and calabrian chili flakes. Saute until softened and fragrant, about thirty minutes. If you want a more in depth tutorial of this step, watch our video or read our article on our Italian Soffrito recipe.
While veggies are cooking, begin to dice your sausages. You're going to want to make smaller pieces of these, to really let their flavor incorporate.
When veggies soften, add the sausages to the pan and let cook for another five minutes.
Up next: the important part! Add marinara sauce and chicken stock to the pot, turn the heat up to high, and bring your soup to a boil.
When boiling, add beans, swiss chard, and some of your grated cheese. Turn the heat down to low, and simmer for 35-45 minutes.
After 45 minutes, you are ready to serve. Serve this with some bread, olive oil, mozzarella, and more grated romano cheese. Mangia mangia!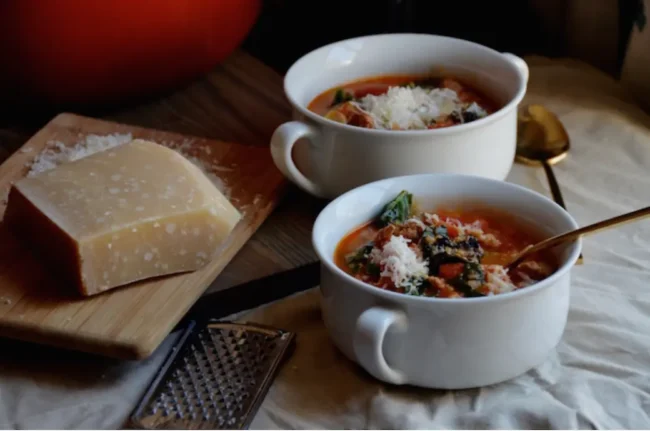 White Bean And Sausage Soup FAQS
Q: I don't eat meat, but this sounds amazing. What could I use for some alternatives?
A: Veggie stock will work just as well in this soup. Instead of regular sausage, try this with some ground beyond sausage. You'd be surprised about how good this will taste!
Q: What other vegetables could I add to this?
A: Some fresh baby spinach would be delicious with this White Bean and Sausage Soup.
Q: I only have ground sausage. Is this okay?
A: Sure. Ground sausage would still make this soup taste just as great.
Pairings
Wine: A nice unoaked Chardonnay is perfect with this sausage soup. The fruity flavor will compliment the savory vegetable flavors quite nicely.
Appetizer: Since you're eating soup, a heavier appetizer will be perfect for this. Try making a cold cut platter!
Side Dish: Some french bread and dipping oil, as previously stated, would be wonderful with this. Mix up some garlic, salt, pepper, italian seasoning, calabrian chili flakes and Romano cheese into your EVOO for the most delicious dipping oil.
Recipe Card
Print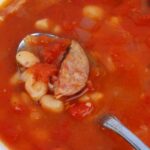 White Bean and Sausage Soup
---
Author:

Total Time:

1 hour 30 minutes

Yield:

4

1

x
2 tablespoons extra virgin olive oil, plus more for serving
2 medium carrots, finely diced (about 1 cup)
2 ribs celery, finely diced (about 1 cup)
4 cloves garlic, minced
1/2 teaspoon dried Calabrian chili pepper
4 Italian sausages, 1/2 inch dice
1 quart chicken broth
1 pint of Marinara Sauce
2 (15-ounce) cans white beans (cannellini or great northern), with their liquid
4 cups roughly chopped swiss chard leaves
Kosher salt and freshly ground black pepper
1/2 cup grated pecorino Romano, plus more more serving
---
In a heavy bottomed dutch oven or pot, heat olive oil on medium high heat
Add carrots, celery and garlic to the pan with salt, pepper and dried Calabrian chili flakes. Saute until softened (about 30 minutes)
Add diced sausages to the pan and cook with vegetables for another 5 minutes.
Add chicken broth and marinara sauce.
Turn up the heat to high and bring to a boil.
Add beans, Swiss chard and grated cheese and turn heat down to low.
Allow soup to simmer for 35-45 minutes.
Serve with extra grated Romano cheese, mozzarella cheese, olive oil and some good bread.
Enjoy!
Prep Time:

30

Cook Time:

60

Category:

Soup

Cuisine:

Italian