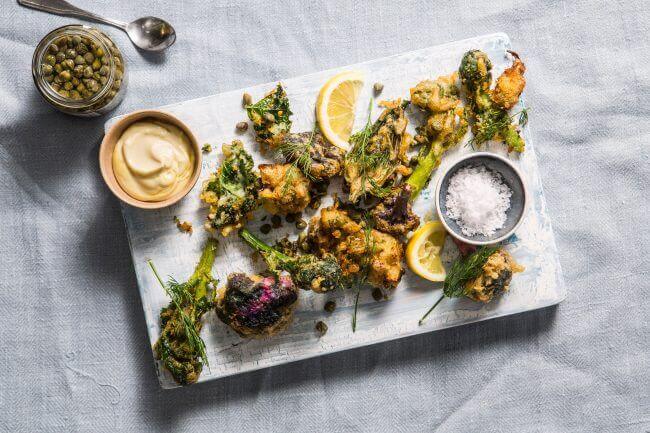 We're moving right along in our series on Understanding the Italian menu. Where did we leave off? Oh, that's right, Secondo. Once you've ordered this dish, you'll need a side dish (or two!) to pair with it.
These sides dishes are known as Contorno. Contorno dishes are made with the purpose to enhance your Italian dinner even more. Let's go over some of our favorites!
Contorno dishes are traditionally served with and alongside your main dish. These options classically consist of a light salad or well prepared, well-seasoned vegetables. What's great about them, too, is that they're simple and easy to make. Just a little bit of seasoning, a high quality olive oil, and fresh herbs will do the trick.
A very popular Italian favorite is the Vegetable Fritto Misto. This is an eye-catching dish consisting of a selection of vegetables dipped in batter and deep fried for a crispy, golden-brown crust. Some of the most commonly used vegetables in this dish include baby artichokes, thin asparagus, and green beans.
Another tasty option is made with artichokes, an extremely popular Italian ingredient. Carciofi Arrostiti, or Grilled Artichokes, created with the right seasoning of olive oil, garlic, salt, and pepper, makes a delicious side to any main course. Artichokes can be prepared in various ways, expanding the numerous ways of consuming them. While both incredibly delicious, the two distinctions of artichokes are categorized as Globe Artichokes, or artichoke hearts, and Jerusalem Artichoke. Globe Artichokes generally are steamed, boiled, or grilled during preparation. Traditionally this form of artichoke gets served as a side dish or as a part of many different Italian style salads. Jerusalem artichokes on the other hand can be eaten either raw as a crispy snack, or it can also be roasted, boiled, steamed, or mashed. Oftentimes Jerusalem artichokes get served in a combination with carrots, potatoes, and pumpkins.
You haven't fully completed your Italian experience until you've tried Stuffed Zucchini Blossoms. Ready for a mouth-watering description? Picture this. Zucchini stuffed with mozzarella cheese and prosciutto. How could you not want to try these? They may appear too pretty to eat, but trust us — they're worth devouring!
Last, but by no means least, we recommend trying Broccoli Rabe. This simple dish usually consists of Italian broccoli rabe, mixed with olive oil, garlic, parmesan cheese, a pinch of red chili flakes. You could try it the next time you're traveling abroad to Italy, but when at home, come visit us at Mortadella Head. We serve our broccoli rabe with plenty of garlic and parmesan cheese and just a touch of heat. It's the perfect little healthy side dish to accompany your massive slab of Roman pizza.
Stay tuned for more on this series, and in case you missed our previous articles…