Like every other Italian ever (I mean, really, find me one who can't relate to this), I grew up eating cannolis.
All kinds of cannolis.
Cannolis for every holiday.
When I was a kid, I'd dip cannoli shells in ricotta dip, because let's be honest, no one wants to hand a kid a traditional cannoli. That would require a lot of paper towels and more cleanup time than time to make the actual cannoli out of the pastry dough.
As I got older, I made the slow transition to eating real cannolis using my family's authentic Sicilian cannoli recipe. And they have always remained my favorite.
When I would go into the North End as a kid, I would get a golden brown cannoli from all three of the famous pastry shops: Mikes, Modern, and Bovas. The holy trinity, if you will.
Just a side note: I know there's controversy over who makes the best cannoli. For the sake of keeping the peace among my Boston pastry shop friends, I won't be disclosing which one is my favorite to you today. If you have an opinion though, please let me know in the comments.
Anyway, when I moved to Boston as an adult, I was *so* excited that I could venture off into the North End and get a classic cannoli whenever my heart desired.
My family doesn't make them that often anymore, only on holidays. So I have to find a way to satisfy my craving in the off season. And I love going to the North End, but it gets super expensive.
So when Mortadella Head started offering their very own cannolis with their homemade ricotta filling recipe, I had to jump on the bandwagon and learn how to make it myself.
And let me tell you, it did NOT disappoint.
Here's how we make our very own authentic Sicilian cannoli filling recipe right here at Mortadella Head.
What You Need:
Creamy Sweet Ricotta Cheese: And honestly, if you wanted to make this yourself, you definitely could. Personally I think it's easier to buy this from the store, though, and a lot more people do this than you would think.
Plus, it's easier when you're in a time crunch.
Just make sure you buy a high quality ricotta cheese, preferably something locally made or imported. I love using sheep's milk ricotta.
Powdered Sugar: Do NOT use granulated sugar. It won't emulsify into the ricotta as well, and will taste uneven and grainy. Confectioners sugar disperses well and will be delicious, too.
Vanilla Extract: This might be a controversial take. I've seen people use this, and I've seen people omit this. But personally, if you're a fan of a sweeter ricotta filling, this is the step for you.
It gives your ricotta filling a robust sweetness that's unique and authentic in nature.
If you're into a more savory flavor, however, you can always leave this step out. This is entirely based on personal preference.
Chocolate Chips: This is up to personal preference, as well. And of course, you can definitely have a cannoli without this as a topping. But personally, I enjoy my cannolis most when they're doused with chocolate chips at the end.
And here's a little pro tip: dark chocolate > milk chocolate.
*This can be substituted with anything else too, like pistachios, walnuts, etc.
Plastic Bag: If you have a piping bag, this could work too. But a gallon plastic bag is one of the best piping tools you can use, in my opinion. Cut off the corners and fill your cannolis up this way, it's easy and foolproof.
Hand or Stand Mixer: This is the best way to emulsify all of your ingredients. If you don't have either of these, a whisk or food processor will work just as well.
What To Do:
Add your ricotta cheese and vanilla extract into a large mixing bowl. Put your mixer on low speed, and as it mixes the ingredients, begin to slowly fold your powdered sugar into the ricotta cream mixture.
Once all of the sugar has been added into the bowl, continue to mix on a higher speed until the mixture reaches the thickness of your liking.
You can also add in chocolate chips to this stage, if you prefer to have them mixed in with your filling.
Take the mixture out of the bowl, and put it into your little tube, gallon baggie or pastry bag. Cut off a corner with a pair of scissors, and begin to pipe into your cannoli shells. Top with some extra chocolate chips, nuts, or anything else you would like. Dust with some powdered sugar, and you have yourself one delicious Italian cannoli.

Cannoli Filling FAQs:
Q: How long will this last in the fridge?
A: This will last for up to five days in the fridge.
Q: Can I substitute ricotta for any type of cheese?
A: The Italian in me says absolutely NOT. The United States based recipe developer in me is wondering how this would be with cottage cheese.
Although I'm not brave enough to try that yet, please let me know in the comments section if you do.
On the contrary, a *lot* of people opt to use mascarpone cheese in their cannoli filling recipes. I find that most people do a half ricotta half mascarpone type of mixture, rather than using solely mascarpone cheese, though.
Our recipe doesn't require you to use this, but if you do, let me know in the comments!
Q: Can I use any other flavored extracts in the filling?
A: Absolutely. This might be delicious with some almond extract, in order to really dilute the sweetness.
Personally, I like a more savory and nutty flavor in my own cannolis, so when making this for myself I substitute the vanilla extract with almond extract.
You could also try this using a dash of peppermint extract. I personally have never tried this, but especially around the holidays, I bet this would be delicious.
Q: Can ricotta filling be frozen?
A: You bet! This can keep for up to six months in an airtight container in the freezer.
Q: How many cannolis will one batch of this typically fill?
A: This should get you anywhere between 15-20 cannolis. If it's too little, make a little bit more filling.
 If it's too many, then hey, there's no such thing as making too many cannolis!
You can fry up some leftover cannoli dough into crispy shells or mini shells, or even dip fruit into the leftover creamy filling. Let your imagination run wild with the creamy ricotta.

Topping Ideas:
There are lots of toppings and ingredients that will make a good cannoli taste even better.
You can add any of these at the end, or mix them right into the ricotta cheese cream mixture.
A traditional Sicilian cannoli can be topped with virtually anything.
Here are some of our favorite toppings for this popular Italian dessert:
Chocolate Chips

Pistachios

Walnuts

Strawberry Slices

Blueberry Slices

A Drizzle of Melted Chocolate

Caramel Sauce Drizzle

Strawberry Compote

Candied Fruit

Lemon Zest

Orange Zest
View this post on Instagram
Print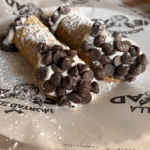 The Best Authentic Sicilian Cannoli Filling Recipe
---
4 cups

fresh ricotta cheese

2 cups

powdered sugar

1 tablespoon

vanilla extract

2

–

4

cups dark chocolate chips (optional)
---
Put the ricotta cheese and vanilla extract in a large bowl.

Using a hand or stand mixer, begin to slowly combine the ricotta and vanilla extract, while gently folding in the powdered sugar until all is added.

Once the sugar is fully added, turn up the speed on the mixer and beat until you reach your desired consistency, about 1-2 minutes.

Load the mix in a piping bag, and begin to fill your cannoli shells.

Top with chocolate chips, and dust with powdered sugar. Enjoy!