When I was a kid, and still to this day, the holidays were always my favorite time of the year.
As a child, my mom and grandma would have me stand in the kitchen and watch them cook.
We would make side after side, the main courses, heaping piles of macaroni and cheese; you name it, it was on our table. We're Italian!
So it's no surprise that my mother and grandmother took it upon themselves to use my cooking lessons as a simultaneous alphabet lesson.
I used to have so much fun doing this with my family, so I hope that by giving you this list, you'll be able to carry on these same traditions with your little ones.
My giant list of Thanksgiving Foods That Start With The Letter S is a compilation of all of my favorite Thanksgiving Foods, whether it be traditional meals and Thanksgiving side dishes from the United States, or authentic Italian food that I ate with my family growing up. I've also added in some other dishes from around the world here, for you to try for yourself.
If you have your own list of Thanksgiving foods that begin with S, let me know in the comments section!

Sweet Potatoes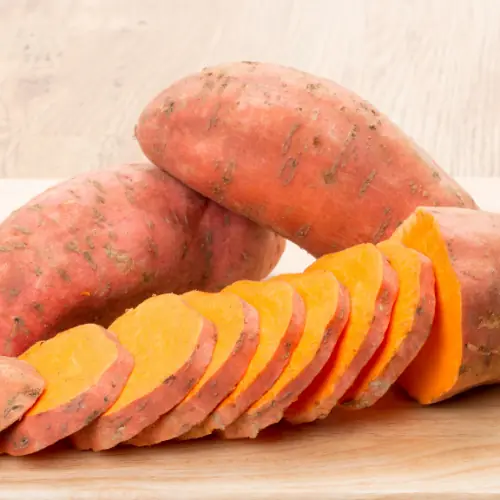 Arguably one of the most popular dishes on this list, Sweet Potatoes takes my number one spot. My cousin still asks my mom to bring her "orange potatoes" to every gathering, and it's a great hit. Cook them in the oven with some salt, pepper, garlic powder, and a dash of cinnamon, and they'll taste amazing, with a sweet, nutty flavor that no one will be able to resist.
Sweet Cranberry Sauce
One of the most controversial menu items on today's list is sweet cranberry sauce. I normally eat mine right out of the can like a barbarian, but plenty of people opt to make their own too. If you're going the homemade route, be sure to regularly check the flavor of your sauce—the sweeter the better is the rule I always go by!
Sugar Dusted Pumpkin Pie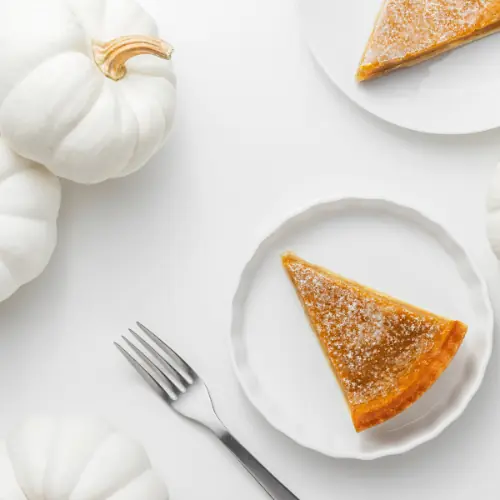 Let me put you onto this one. It's just a regular old pumpkin pie, your favorite recipe will work just fine. But the kicker is the dusting. Sprinkle on some confectioner's sugar right before you're about to serve this, and it'll be amazing. You'll never eat your pumpkin pie the same way ever again.
Sheet Pan Green Bean Casserole
Most of the time Green Bean Casserole is made in a casserole dish, but for the last few years, I've been making mine on a sheet pan. And let me tell you, it's a game changer. Put the green beans and crunchy onions on a sheet pan to crisp them up before finishing everything off in a casserole dish, and it'll taste amazing.
Sweet Potato Casserole
This is one that I haven't had too often, but is delicious all in the same. I love using this recipe from the Food Network, which makes the dish taste more like a dessert. Perfect for tricking your kids into getting their veggies in!
Star Fruit
Though it may seem uncommon, hear me out. Star Fruit is the perfect dessert to serve after your Thanksgiving meal is over. It's light, sweet, and refreshing; making it so you don't feel sick after eating so much food.
Slow Roast Turkey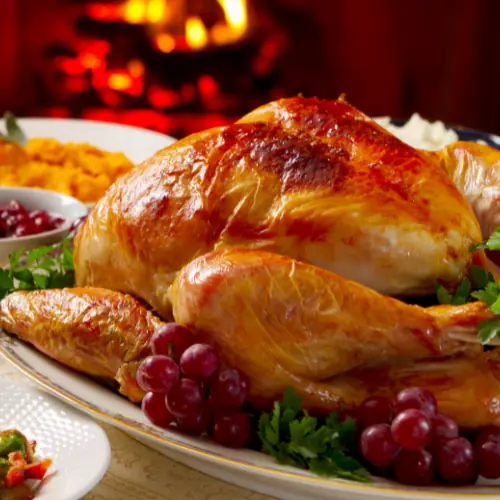 A crowd favorite, this is one of my favorite dishes! My aunt tends to make this using a wild turkey, but you can get one from the store if you prefer, too. Soak your turkey in your favorite brine, and cook it in the oven for a few hours. What's Thanksgiving dinner without the turkey, anyway?!
Sweet Apple Pie
One of the most classic Thanksgiving desserts is a sweet apple pie. It goes the best with some vanilla bean ice cream, so make sure you serve that along with it too!
Squash: Butternut
There are so many kinds of squash, but butternut squash is just a classic for Thanksgiving. Have leftovers? Blend it in a food processor and pour it over some macaroni, along with some shredded cheese. It'll make for the creamiest, heartiest mac and cheese you will ever eat, and it'll taste great too.
Sheet Pan Brussels Sprouts
I'll have to be honest, I've started making these outside of Thanksgiving. There's something about sheet pan brussels sprouts that just tastes excellent. I love to half mine, and dust them in a seasoning of olive oil, salt, pepper, and garlic powder. Turn the oven up to 420° to get them extra crispy!
Sweet Potato Pie
I hadn't had this one up until recently, either. You make this just like pumpkin pie, and honestly, it might taste even better, too. Check out this sweet potato pie recipe!
Sausages
View this post on Instagram
There is nothing like some delicious sausages to compliment a meal. To be honest, if prepared right, sausages are the star of the show, in my opinion. They just taste so amazing and pair well with just about anything. Try them out using our baked Italian sausage recipe!
Sun Dried Tomatoes
These are used primarily to garnish a dish, and are so flavorful and tasty. I love having my sun dried tomatoes with sauteed spinach, turkey, or on top of a delicious Thanksgiving salad. Try them out this year at your own table!
Salmon
Hear me out—not everyone eats meat. Impress your pescatarian friends by serving them honey glazed salmon this Thanksgiving. It's seasoned perfectly for autumn, and, in my opinion, tastes even better than turkey does.
Scallops
Same kind of idea as the salmon, scallops just might be the way to go for your Thanksgiving table this year! Pan sear them with brown sugar, and they'll be delectable.
→If you're looking for other seafood options, check out Chuck's list of pescatarian recipe ideas for Thanksgiving!
Salad
View this post on Instagram
You can never go wrong with a big bowl of salad on your Thanksgiving table. It's a great way to use up some of your leftover veggies, and will be a nice light addition to your spread. Top it with balsamic vinegar and olive oil at the very end, and it'll taste delicious with anything you may add to it!
Sardines
I know, I know, you're thinking I've gone insane. But in a lot of cultures, people enjoy sardines along with their salads. They're full with healthy, fatty acids, and other ingredients that are really good for you. Plus, a lot of people can't get enough of the salty flavors that are prominent in sardines. Don't knock it till you try it! You just might end up liking them.
Spaghetti
View this post on Instagram
What's better than some Italian food right in the middle of your Thanksgiving spread? To me, there's no better holiday dinner than spaghetti. A lot of the time, I will make an eggplant parmesan on Thanksgiving, and serve it over a bed of angel hair or spaghetti. It's the perfect way to incorporate your favorite meals into your holiday, while also pairing it with other things you may not eat as often.
Snickers Cookies
This is one of the most delicious recipes for cookies that I've ever tasted. It's a hit at all of my family gatherings, and I know it'll be at yours too.
It's made just like chocolate chip cookies, except with chopped up snickers bars.
Get a package of fun size snickers bars from the local grocery store, and chop them up finely with a knife. Add to your favorite chocolate chip cookie mix, and bake them as normal. It's a super easy and fun way to make something totally unique out of your favorite dessert, while using one of everyone's favorite candy bars.
Salsa
Who doesn't love chips and salsa as an appetizer? It may not sound too "Thanksgiving-like," but it's the perfect spread to set out while you're finishing cooking everything. It's light, easy, and everyone will love it.
Schnitzel: Chicken Cutlets
View this post on Instagram
Schnitzel, which means "thin slice of meat," is a hit in Italian and Mediterranean cuisine, especially around the holidays.
We make ours with thinly pounded chicken, breaded in flour, egg, and breadcrumbs. We fry each side until golden brown and canola oil, and serve as is or over a bed of arugula. This is a classic Italian staple, and a massive hit at every Thanksgiving gathering of ours.
Soup: Italian Chicken Soup
Growing up, we started every single Thanksgiving dinner with a piping hot bowl of Italian chicken soup.
Saute some onions, celery, and carrots in a pan, and add chicken broth, shredded chicken, and noodles. Bonus points if the noodles are homemade—they taste better every time.
Sauteed Spinach
Arguably my favorite vegetable, sauteed spinach is one of the best things to serve on Thanksgiving Day.
I let a whole bag of spinach simmer in some olive oil with some sliced garlic, until it cooks down and turns dark green. To me, the longer it cooks, the better! Just make sure you're constantly stirring until it's ready to be served.
Steak: Prime Rib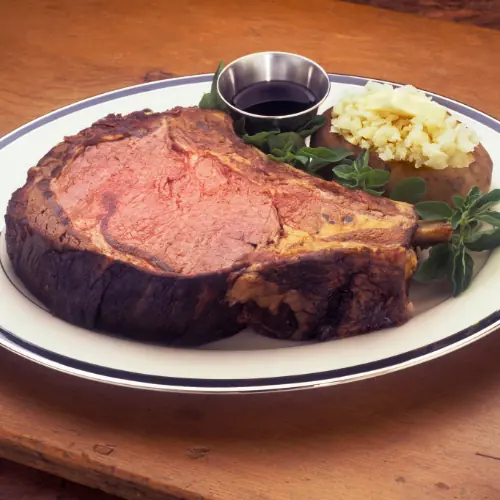 Sometimes, turkey doesn't cut it and you want something else alongside your Thanksgiving dinner.
Enter: Prime rib.
This is one of the most perfect dishes that you could ever eat. It's an expensive cut of steak, but one well worth it for special occasions and holidays. Each year on Thanksgiving, my grandfather would always get the best of the best Prime Rib for the middle of our table, and it would be the first to go.
Try this once, and you'll never have a Thanksgiving turkey again. I guarantee it!
Shrimp
If you're Italian, you know.
No meal is complete without Shrimp Cocktail as an appetizer.
This is the easiest dish ever. Just put some cocktail sauce in some martini glasses, and line the rim with as many shrimp as you can find. Dip 'em right in, and you have the perfect start to your meal.
Sushi
This might sound different, but hear me out.
This is one of the best appetizers that you can serve. It doesn't have to be fancy with raw fish or anything like that, just vegetables wrapped in seaweed with sticky rice, and dipped in soy sauce. It's delicious, nutritious, and super easy to make for your guests.
Spaghetti Squash
We all know that Thanksgiving is perfect for squash, so it's extremely fitting to include spaghetti squash in with this.
Half your squash, season it with salt, pepper, and garlic powder, cook it in the oven, and you're good to go. Easy, delicious, and a wonderful alternative to your classic orange squash.
Swiss Cheese Potatoes
If you haven't had these, you're missing out.
Swiss cheese potatoes, or Swiss Potato Casserole, is a super common dish around the world, and is perfect for Thanksgiving.
Mash potatoes as you normally would, using your favorite recipe, while adding cheddar and swiss cheese into the mixing bowl. Put them into a casserole dish, topped with cheddar and swiss cheese, and broil until the cheese is melted and golden brown. Serve as is. It'll be delicious!
Shallots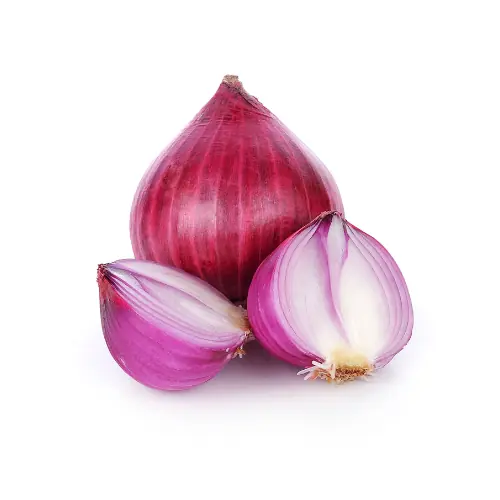 Shallots taste wonderful when added to any of the above mentioned dishes. Serve with your favorite mashed potato recipe, add them into your chicken soup recipe at the beginning, or add to your sushi appetizer. Whatever it is, shallots will taste great with just about any one of these options.
Scones
To me, there's nothing better than a nice scone from the dessert table to end the night with! If you're in need of an amazing scone recipe, check out this one right here for Blueberry Lemon Scones!
Smashed Potatoes
Here it is, my most favorite side dish there is! Smashed potatoes, or mashed potatoes as some may call it, is the most delicious addition to any Thanksgiving table. All it requires is blending some softened potatoes with butter, an egg, and a little bit of cream, milk, sour cream, or soy milk. Season with salt, pepper, garlic powder, and parsley, and you're ready to go. They'll taste amazing.
Sauce
View this post on Instagram
If you're one of those people like myself who love Italian food on the Thanksgiving dinner table, this one's for you! Any dish from chicken soup to eggplant parmesan is always better with a little bit of marinara sauce. Here's a recipe for our famous Sunday sauce. You can make it with our Marinara sauce that we sell right in the shop!
Savory Gravy
There's Sunday gravy, and there's savory turkey gravy. Know the difference.
To me, no turkey dinner is complete without a whole bunch of savory gravy to top your meat and potatoes with. All it is is chicken broth, flour, butter, and leftovers from the turkey pan. Check out this wonderful recipe from Delish!
Southern Pecan Pie
If there's one thing that I've always seen at a Thanksgiving dessert table, it's a big ole pecan pie.
Now I've never had one, since I'm unfortunately allergic, but to me, this is just a classic American staple. It smells delicious, and everyone seems to love it. Who wouldn't love a delicious pie on Thanksgiving?
Sweet Candied Yams
Fun fact: yams are also known as sweet potatoes! Mash them up with salt, pepper, cinnamon, and maple syrup, and put them in a casserole dish topped with mini marshmallows. Broil for 5 minutes, or until the top of the marshmallows are golden brown. These taste (and smell) heavenly.
Savory Mac And Cheese
View this post on Instagram
Let me put you onto something.
This is the only mac and cheese dish that I will ever make again. Yes, we all love a good cheese sauce, but there is something that is just so amazing about this recipe, because it's on the dryer and lighter end.
Every time I make it as a main course for a gathering, it becomes a massive hit among everyone around me. Try it for yourself!
Stuffing
Ahh, the classic.
I feel like nobody really likes this as a kid, but then all of a sudden when they grow up, this becomes one of their favorites.
Personally, that happened to me, too.
Whether it's stuffing from a box, homemade stuffing (the best way to prepare this), or my boyfriend's family's meat stuffing recipe, I can't get enough of this side dish. Hopefully your family will feel the same way!
Succotash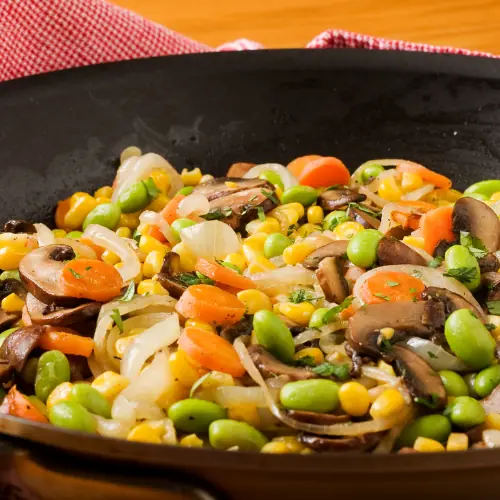 This veggie packed side dish made with corn, lima beans, and other ingredients is a savory, delicious, and healthy addition to any Thanksgiving table.
This concoction as perfected by Native Americans all across the United States can't be beat, as it's the oldest Thanksgiving dish that can be found on each table. Rumor has it that this was enjoyed on the very first Thanksgiving ever.
So, do right by your ancestors, and try this for yourself!
Thanksgiving foods that start with S: Full List
Sweet Potatoes
Sweet Cranberry Sauce
Sugar Dusted Pumpkin Pie
Sheet Pan Green Bean Casserole
Sweet Potato Casserole
Star Fruit
Slow Roast Turkey
Sweet Apple Pie
Squash: Butternut
Sheet Pan Brussels Sprouts
Sweet Potato Pie
Sausages
Sun Dried Tomatoes
Salmon
Scallops
Salad
Sardines
Spaghetti
Snickers Cookies
Salsa
Schnitzel: Chicken Cutlets
Soup: Italian Chicken Soup
Sauteed Spinach
Steak: Prime Rib
Shrimp
Sushi
Spaghetti Squash
Swiss Cheese Potatoes
Shallots
Scones
Smashed Potatoes
Savory Gravy
Southern Pecan Pie
Sweet Candied Yams
Savory Mac And Cheese
Stuffing
Succotash