Are you having a sausage party? Or are you just having people over for dinner and need to know how many pounds of sausage to buy?
In my experience, when it comes to sausages, a good rule of thumb is a half-pound per person. That advice is probably going to be different from other articles you'll find on the internet. I'm about to explain why.
Here is a general guide on how much sausage you will need at your next event.
Why I Know the Sausage Game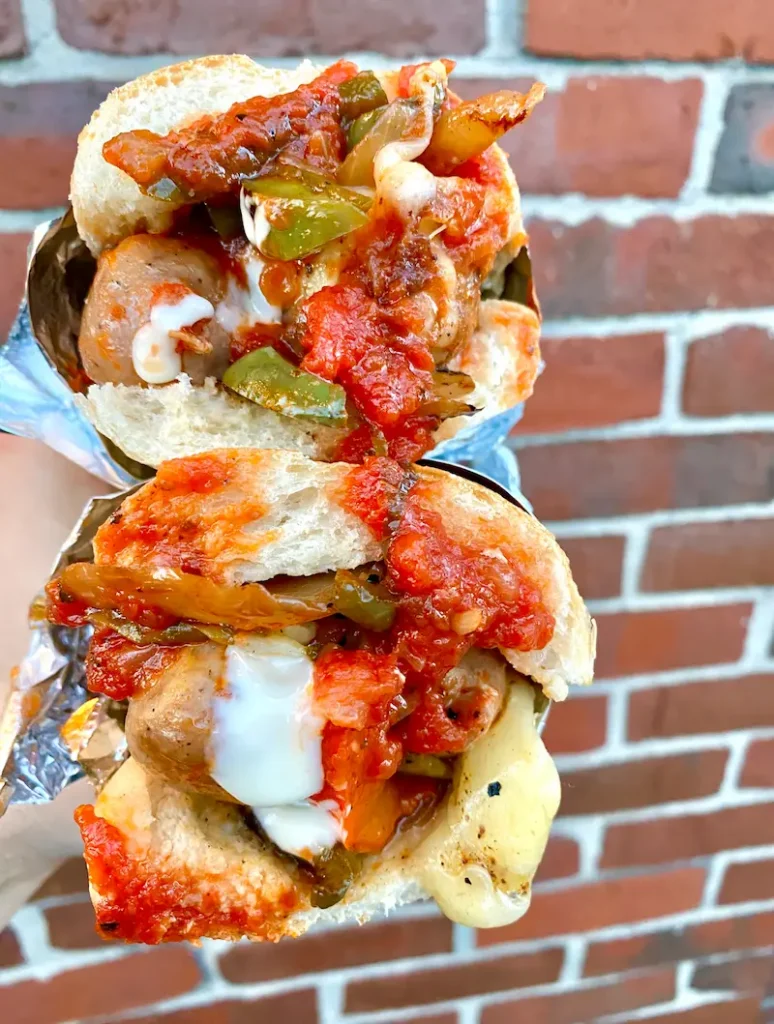 When I was in high school and college I spent a lot of time around sausages. My grandfather's best friend had a meat market in Somerville, Massachusetts and I was there all the time.
Angelo was a traditional butcher with an old school butcher shop. I'm talking so old school that he always had a cigar in his mouth while he was cutting meat right at the counter.
Nobody complained. People were a lot tougher back in the '80s and '90s I guess.
Angelo was known for his Italian sausage. So any information in this article is going to be based on my experience with this particular type of sausage.
People loved it because it was different from all of the other Italian sausage made by other butchers in the area.
He was getting old and had some problems with his ticker. So my grandfather used to volunteer me to go into the store on sausage making day and help Angelo. I didn't get paid, but I loved it.
I was learning something new and I got to hang around with a big group of retired, wise cracking, loud mouthed Italians who were great guys. Some of my best memories revolve around making sausages in that store.
I was so involved in sausage making that I even started my own little sausage business when I was still in high school. I set up a stand at some of the Italian feasts in Boston's North End where I sold sausage, pepper and onion sandwiches. I forget how many pounds of sausage we'd sell during a feast weekend, but I know it was a lot.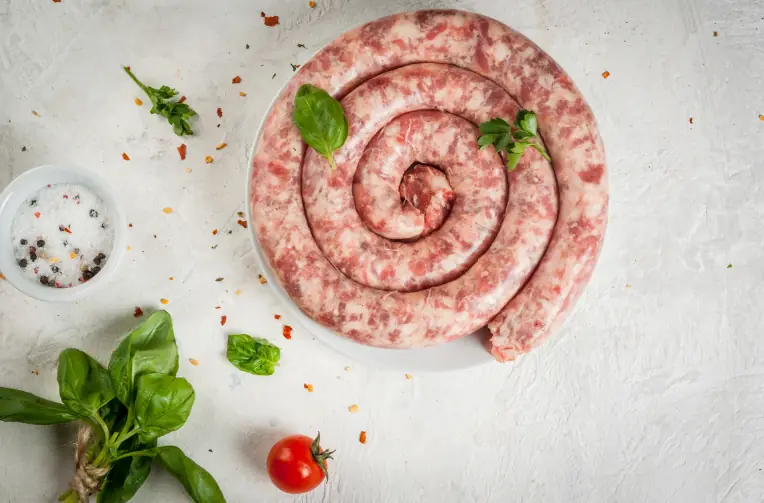 Before we try to figure out how many pounds of sausage you need to make for each person you're feeding, let's talk about sausage making.
All of the information I'm about to tell you is based on the way I learned to make sausages, so the main focus of this article will be Italian sausage.
Most of the other guys at the feasts bought their sausages from the big commercial producers.
I was the only one who made his own sausages so I became pretty good at sausage math. I'd have to figure out approximately how many people I'd be serving at the feast before I made a batch.
Usually I'd make them fresh to sell the next day. I always had a line at my stand because I was the only guy with homemade sausages.
The recipe I used to use was based on 10 pounds of meat. Boneless cuts of pork butt or pork shoulder is what I used to use because they have a lot of fat. It's important to use the right amount of meat to fat ratio.
A good amount of fat for flavor but it's important to note that during the cooking process the sausages will shrink. More fat equals lower yield.
I'd trim off some of the fat, but leave a good amount on the meat. And then I'd cut the pork into 3 inch cubes and coat them in a dry rub. The rub was really simple…salt, pepper and coriander. That's it.
I was taught to coarsely grind the meat so when you bit into it, it had substance. Most commercial sausage brands use a smaller chop so you can't notice the fillers they use.
When I tied the sausages with butcher's twine there would be 3 sausages per pound. Each sausage link would weigh about 5 and quarter ounces.
Pounds of sausage per serving: my favorite ratio
The serving size was approximately one and a half sausages. That means one serving was 8 ounces of sausage.
Eventually we decided not to tie up the sausages with twine. It took too much time untying them before cooking. We'd just make one really long sausage link and roll it up on the grill like a big meaty pinwheel.
I loved the new look on the grill.
Doing it like this gave easier access to serving a lot of people. We had to eyeball the length of each serving before we cut on the grill now. The goal was getting 8 ounces of meat into every sausage sandwich. It took a little practice, but it was eventually worth it.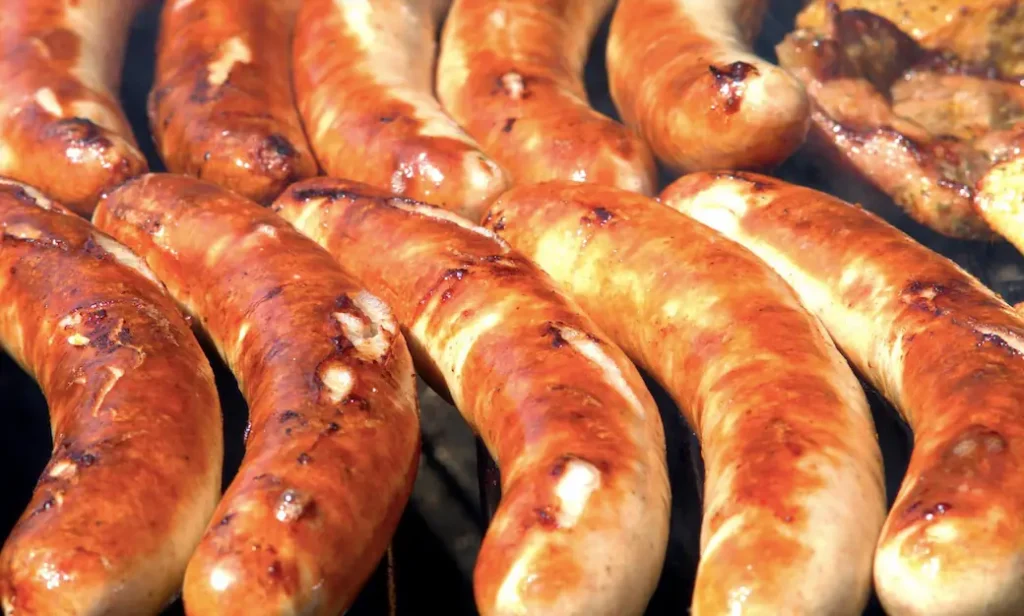 Before you can determine how much sausage to serve you'll need, you have to answer a few questions.
What is the number of people coming to the party?
Is the sausage the main course?
Are the people going to be big eaters?
Sausages are a great main dish for a large group of people. You can cook off a bunch of sausages at once by throwing them on the grill or baking them in the oven.
They are also a very versatile food. Italian sausages can be a main course served with potatoes, pepper, onions and broccoli rabe. They also go great with casual cookout food like hot dogs, potato salad and chicken wings.
My general rule for adult eaters is a half pound of meat per person. This is if the sausages are the main part of the meal. Some people might tell you that's too much food, but I'd rather be safe than sorry.
There is nothing wrong with having some extra sausage!
And if there is a light eater at the event and he doesn't eat an 8-ounce portion, that's fine.There's nothing wrong with having some leftover sausages in the fridge.
Since we are dealing with weight in these calculations you don't really need to know the number of sausages in a pound. Just take the number of guests coming to the party and multiply it by a half pound.
This calculation will work for both a small get together or a large crowd.
3 Easy Ways to Cook Sausages for a Crowd
Sausages are a great option when cooking for a crowd. They can be cooked in large quantities at a time, and also be cooked in advance.
Most sausage dishes can be cooked a day ahead of time and then warmed up right before serving time. I actually think that most sausage dishes are better the next day after the sausages have had time to soak up all of the flavors from the peppers, onions, garlic and wine.
Serve your sausages with some nice fresh Italian rolls on the side so your guests can make sandwiches if they want!
In the oven: Cut up some peppers and onions and throw them in a deep baking dish with your sausages. Add some olive oil, salt, pepper and a little white wine. Bake them in a 400 degree oven for about 45 minutes.
On the grill: Preheat your grill to medium-high heat and brush it with some olive oil. Place your sausages on the grill off the flame. Let them cook for about 20 minutes, flip and cook them for another 20 minutes. Over the flame you can grill some peppers, onions and zucchini while the sausages are cooking. When the vegetables start to char, remove them from the grill and place them in a bowl covered in aluminum foil.
On the stove: In a dutch oven, heat some olive oil on medium heat. Add your sausages and sear on both sides. Add chopped garlic, broccoli rabe, salt, pepper and some white wine. Allow it to simmer for about 45 minutes.
Pounds Of Sausage Per Person - Visual Table
That was my simple guide to how many pounds of sausage you need to make for your next party or event. Let me know if it was helpful!
And if you don't like doing math, here's an easy table to see how much meat you need for any group of guests.