If you are going to make a true neapolitan style pizza, you'll be surprised at how simple the sauce is to make.  
This is going to be an uncooked sauce.  
Most of the pizza we eat here in the United States have a cooked sauce with a pronounced flavor of oregano.  
I love a good homemade pizza sauce.  But this is going to be a lot different than other pizza sauce recipes that you're used to making.
The information in this article comes directly from the source.  I went ahead and researched how authentic pizza makers in Naples are required to make the sauce for their pizza.  So if you're looking for an authentic Neapolitan sauce for your pizza, this is it.

What You Need For An Authentic Neapolitan Pizza Sauce
This might be hard to believe, but all you are going to need are tomatoes.  However, the type of tomatoes you use are strictly regulated for true Neapolitan pizza.
According to the Associazione Verace Pizza Napoletana, the organization who makes the rules, there are only certain tomatoes that can be used when making the sauce for a Neapolitan pizza.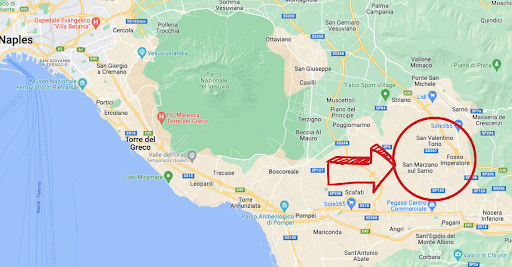 Fresh Tomatoes
If you choose to use fresh tomatoes in your pizza sauce, they must be true San Marzano tomatoes.  You will know they are the correct tomatoes if they have the mark "S. Marzano dell'Agro Sarnese-Nocerino D.O.P."  They are named after the town of San Marzano sul Sarno which is in Southern Italy, close to Naples. This area of Italy is known for growing the best tomatoes.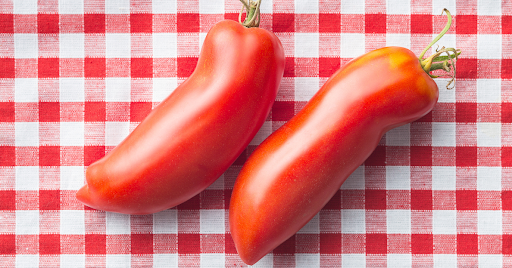 You can also use a couple varieties of cherry tomatoes that are grown in the area around Naples.  One type is called "Pomodorini di Corbara" and the other is "Pomodorini del Piennolo del Vesuvio D.O.P."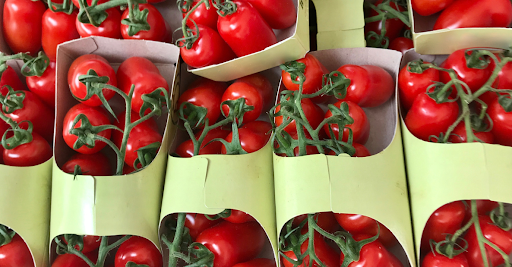 Canned Tomatoes
Since you are most likely reading this article from the United States, getting fresh San Marzano tomatoes from Italy is going to be difficult.  
Canned tomatoes are the way to go and it is also the most common type of tomato used in Italy as well.  You can find them in many grocery stores in the United States. 
According to the Associazione Verace Pizza Napoletana the proper canned tomato for authentic neapolitan pizza is known as "Pomodoro Pelato S. Marzano dell'Agro Sarnese-Nocerino D.O.P."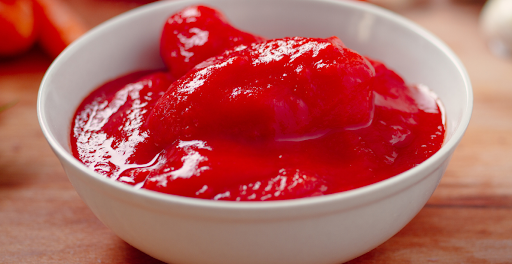 These are whole peeled tomatoes that are grown near Mt. Vesuvius. It is said that the volcanic soil produces a very unique flavor, unlike any other tomatoes on the market. 
Most true Neapolitan pizza makers purchase whole tomatoes and then process them to create the sauce.  
However, if you choose to buy mechanically crushed tomatoes, that is allowed if you buy the proper crushed tomatoes.  They must be crushed long Italian tomatoes and the liquid that they sit in must be from Italian long tomatoes. 
How to Prepare an Authentic Neapolitan Pizza Sauce
Assuming you are starting out with whole tomatoes, they must be broken down before you make your pizza.
The tomatoes should be strained.  The idea is to remove as much liquid from the can as possible. You can save the liquid to make soup if you don't want to waste it.
Now put the tomatoes in a large bowl.  According to the Associazione Verace Pizza Napoletana, the tomatoes should be homogenized by hand for the best results.  When you squish the whole tomatoes with your hands there is a less likely chance of breaking the tomato seeds.  Broken seeds can cause a bitter taste in the pizza sauce.
Other ways you can process the tomatoes are with a food processor, immersion blender, food mill or potato masher. 
That's it.  I'm serious.  The authentic Neapolitan pizza sauce is that simple.
How to Use Your Authentic Neapolitan Pizza Sauce
You'll add different flavors and ingredients when you make the pizza.   Here are a couple of truly authentic pizzas you will find in Naples.
Margherita Pizza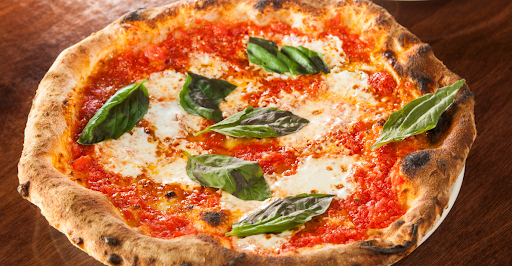 For a Margherita Pizza or Pizza Margherita as they call it in Italy, you will add the crushed tomatoes to the Neapolitan pizza dough first.  You don't need too much sauce on the pizza base.  The base is what you call the dough ball after it is spread out into a small disc. 
Then you add small chunks of mozzarella cheese, grated Parmesan cheese and fresh basil leaves.  Fresh mozzarella is common on a traditional Neapolitan pizza Margherita. 
Finally, drizzle on some extra virgin olive oil right before you put it in the pizza oven.  
Pizza Marinara
A Pizza Marinara doesn't have Marinara sauce on it.  It also doesn't have mozzarella cheese on it.  
A Marinara Pizza is a simple pizza with a pinch of oregano.  You can use fresh oregano or a good quality dried oregano.
It also has a thinly sliced garlic clove evenly distributed on top of the sauce.
Add a liberal amount of grated Parmesan cheese or Pecorino Romano and a drizzle of olive oil before putting it in the oven.
With both of these pizzas, it is the combination of flavors that cook into the tomatoes that make it delicious.  The high heat of the oven bakes the olive oil, cheese and herbs into the simple tomato sauce.  
Sometimes simple is better!