If you're Italian, or grew up around friends who were Italian, I'm sure you've heard of the infamous vinegar peppers (otherwise known as pickled peppers).
Typically, they're always roasted and served right out of the jar, after they've been marinating for days in olive oil, vinegar, garlic, and parsley.
At my family functions, they're also marinated and served with black olives.
And they're almost always red.
Personally, I know my family is obsessed with them. There is nothing that my mother loves more than a nice roasted bell pepper, and my grandfather always serves them as an appetizer on every holiday.
Ask anyone who grew up Italian, and I can guarantee you they have similar stories.
It honestly shocks me that people don't like these. My boyfriend hates peppers, largely because many people in his family don't like them, and the first time he told me this, I was appalled. Clearly he hadn't been eating them correctly.
Now, after dating for a few years, I have indoctrinated him into tolerating them. He now doesn't mind roasted red peppers at all if they're mixed in with a dish, and to me, I call that a success.
I mean, I knew he would eventually warm up to them.
How could anyone not?
What Makes Roasted Italian Vinegar Peppers So Good?
Visualizza questo post su Instagram
Maybe it's nostalgia. Or maybe it's the simple fact that these are some of the most delicious vegetables you will ever taste.
Regardless, there's just nothing like an Italian roasted red pepper.
For starters, these are good at any time of year.
Winter? Enjoy this alongside your christmas dinner.
Spring? Hello early season pasta salads!
Summer and fall? You better believe I'm getting these at Fenway Park cheering on the Sox.
Aside from that, they really are just versatile enough that they pair well with almost anything you can think of.
As stated before, you can add these to a pasta salad or top that delicious sandwich of yours with them.
You can of course enjoy them on a regular salad, or as a side dish to your favorite meal.
Best of all, they make a wonderful appetizer, when served either alone or with dipping sauce.
The possibilities are endless when it comes to Italian roasted red peppers, and we will get into some of the wonderful meal options below.
But first, I'm going to teach you how to make them.
This is the easy recipe that my mother has always used, and it's also the recipe that we use in our kitchen at Mortadella Head!
Here's What You Need
Bell Peppers: Here's the biggest piece of advice that I could give you: don't use green bell peppers. If that's all that you have, and you're in a pinch, that's fine; but green peppers tend to be a little more bitter than anything else. You're going to want to use red bell peppers with this. Yellow is fine too, but for the sake of uniformity, we always only use red.
Garlic Cloves: Use as much as your heart desires! Finely mince as much garlic as you would like in your peppers. We recommend using anywhere from 6-10 cloves depending on how garlicky you want your peppers to be.
Vinegar: White vinegar will do the trick just fine with this. You can use white wine vinegar if you would like too, for a sweeter overall taste to the peppers. However, personally, I prefer this with regular white vinegar, rather than white wine vinegar, balsamic vinegar or apple cider vinegar.
Olive Oil: Use a really good olive oil that you won't mind tasting.
Salt: Any kind of salt you have will be just fine with this.
Pepper: Peppercorn or fine black pepper will do.
Here's How You Make Them
Visualizza questo post su Instagram
First things first, roast these guys! Char them over an open flame or under a broiler for about two minutes, or until they are visibly blackened. After that, let them sit to cool off for about 20 minutes.
After the twenty minutes have gone by, carefully go about cutting them. You're going to want to cut these into 1-2 inch strips, and take the seeds out while doing so.
Once the peppers are cut up, put them in a mason jar or a container bowl. Combine all of the other ingredients into the bowl, so the sliced peppers are fully submerged, without any air bubbles at all. Tightly cover, put in the refrigerator, and let marinate for one hour at MINIMUM.
*The longer you let these marinate, the better they will taste. Most of the time when I need to quickly prepare a recipe, I will let these sit for at least eight hours. However, I've let these marinate for 2 weeks in the fridge before, and they were unbelievable.
Print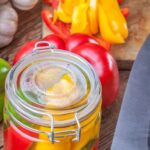 Italian Vinegar Peppers
---
Author:

Total Time:

1-8 hours
Red bell peppers

6–10 cloves garlic

1 bottle white vinegar

3 tbsp olive oil

Kosher salt & pepper to taste

Crushed red pepper & hot sauce (if you want to make hot peppers!)
---
Char bell peppers over an open flame until blackened on all sides.
Cut peppers into 1-2 inch thick strips, taking out the seeds as you go.
Put peppers inside of a jar or a bowl. Submerge with vinegar, olive oil, salt, pepper, and garlic, making sure there are no air bubbles.
Let marinate in the refrigerator. Peppers can be ready in as early as one hour, but for best results, let them marinate for at least 8 hours. They can marinate for up to 2 weeks, and be stored in the fridge for up to one month.
Prep Time:

1-8 hours

Cook Time:

2 minutes

Cuisine:

Italian
Roasted Italian Vinegar Peppers FAQs
Visualizza questo post su Instagram
Q: How to pickle Italian peppers?
A: Traditionally, you don't roast them at first, you boil the vinegar with cold water, place the ingredients in the hot boiled pickling liquid, and let them sit in a cool dark place at room temperature for at least two weeks. This recipe is slightly different, but will still give you a delicious pepper!
Q: How long should peppers sit?
A: As stated above, Italian vinegar peppers should sit anywhere from 1 hour to 2 weeks. I've even seen some people let these sit for a month!
Q: How long do pickled peppers last in the refrigerator?
A: Jars of peppers can stay good in the fridge for up to two months.
Q: How do you keep these peppers crisp?
A: It's important to let them completely cool down after you char them. You may opt to do this by placing them in ice water immediately after. This stops the cooking process.
Q: What are Italian sweet peppers called?
A: Funny enough, in Italy, they are called peperoni. (Pickled peppers are called peperoni sotto aceto or Peperoni Sott'Aceto)
Q: What do pickled peppers taste like?
A: Traditionally pickled peppers will taste a lot more vinegary than this quicker roasted red vinegar pepper recipe, but still will be delicious all the same!
Q: Can you pickle chili peppers?
A: Yes, you can pickle or use this recipe on any pepper, chili peppers, banana peppers, and jalapeño peppers included.


What to Make With Roasted Italian Vinegar Peppers?
As stated above, part of what makes this dish so incredible is the versatility that comes along with it.
You can really use these peppers on anything—making them in advance and keeping them in the fridge is a great way to save you some extra steps when cooking your traditional meals.
Making a sandwich? Add these to the mix.
Trying to scrape together some ingredients for a tossed salad? These will be the stars of the show.
Tailgating a sports game and making sausage sandwiches? Add some of these with some onions and your friends will love you forever.
They're just that good.
Here are some of my favorite recipes to make using roasted Italian vinegar peppers.
Visualizza questo post su Instagram
THE PERFECT SAUSAGE PEPPER AND ONION SUB
This simple recipe is so easy and delicious, and tastes even better when paired with small peppers. Place pepper strips, onions and cooked Italian sausages (cut up into bite size pieces) in a medium sauce pan with some marinara sauce on medium-high heat, and let all of the ingredients simmer together. Load these all into a sub roll, and they'll taste amazing.
Print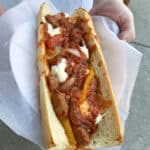 The Perfect Sausage Pepper And Onion Sub
---
Author:

Total Time:

15 minutes

Yield:

1

-2

1

x
Description
This big papi is about to blow your mind! Make this once and you'll be opening your own sausage cart at Fenway. All you need is a few simple ingredients and 15 minutes.
---
2

sliced sausages

½ yellow pepper

½ red pepper

½ yellow onion

2 tbsp olive oil

Jarred marinara sauce

Salt & pepper to taste

1 tsp cracked red pepper

¼ pound Low Moisture Whole Milk Mozzarella

½ cup grated romano cheese

2 tbsp fresh basil
---
Heat oil in a pan. While oil is heating, slice peppers into ½ inch thick slices

Slice up half of an onion. Once sliced, saute your veggies into olive oil. Season with salt, pepper, and cracked red pepper to taste.

When veggies are sauteing, slice up your sausage. Put the sausage in with the veggies and cook.

Once veggies and sausages are finished cooking, put two scoops of marinara into the pan. Top with grated cheese and basil. Simmer until the sauce is heated through.

Slice a sub roll in half.

When sauce is done cooking, put sausage, peppers, onions, and sauce in the sub roll. Top with mozzarella and grated cheese. Put it in the oven at 400 degrees for five minutes or until the cheese is melted.

Serve with more grated cheese on top.

Enjoy!
Prep Time:

5 minutes

Cook Time:

10 minutes
PORK CHOPS WITH MARINATED PEPPERS RECIPE
These easy marsala marinated pork chops are gluten and free and some of the best pork chops you will ever eat.
Personally though, I think these are the best when the peppers are added at the very end.
Use this recipe card, serving the peppers alongside the pork once it has finished cooking!
Print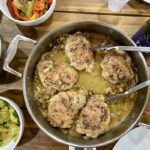 Easy Marsala Pork Chop Recipe [Gluten Free]
---
Author:

Total Time:

25 minutes

Yield:

5

1

x
4–6 pork chops, bone-in or boneless (about 1 inch thick)

4–6 slices of prosciutto

4–6 slices of fontina cheese

2 cups of sliced mushrooms

4 garlic cloves, minced

1 liter of Marsala wine

¼ stick of butter

Salt and pepper to taste
---
Make a slit in pork chops using the sharp point of a chef's knife.
Insert a slice of cheese and a slice of prosciutto into each pork chop.
Pat pork chops dry with a paper towel.
Season each pork chop with salt and pepper.
Heat olive oil in a frying pan on medium-high heat.
Sear pork chops on both sides and set aside. It should take 3-4 minutes on both sides.
Add mushrooms and garlic to the pan and allow mushrooms to soften and brown.
Add Marsala wine to the pan and scrape up any brown bits off of the bottom of the pan.
Turn up the heat to high and bring it to a boil.
Turn heat down to medium and add butter.
Stir in butter and let everything simmer until Marsala reduces by half.
When the sauce is thick enough to coat the back of a spoon the sauce is done.
Enjoy!
Prep Time:

5

Cook Time:

20

Category:

Meat
ITALIAN BMT RECIPE
Sure, this isn't the exact same Subway recipe, but it's my take on it. And to me, this one is better.
This would be delectable with the roasted red vinegar peppers on it at the very end. You'll never want to eat an Italian sub the same way ever again after trying it this way, I guarantee it.
Print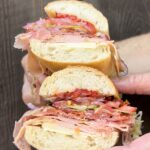 Italian BMT Recipe
---
Author:

Total Time:

10 minutes

Yield:

2

-

4

sandwiches

1

x
¼ lb provolone cheese

¼ lb mortadella

¼ lb spicy salami

¼ lb Genoa salami

¼ lb Prosciutto

1 jar roasted red peppers

1 tomato, freshly sliced

1 cup shredded lettuce

2–4 tbsp olive oil

2 tbsp red wine vinegar

2 tbsp mayo (optional)

1 bag of sub rolls

1 tsp oregano

1 tsp Italian seasoning

Salt & black pepper to taste

---
Cut a sub roll in half, and spread a thin base layer of mayo on each end of the bread.
Start off the bottom half of the bread with provolone cheese slices.
Add in the following order: mortadella, spicy Salami, Genoa Salami
Prosciutto
Add your shredded lettuce, seasoning with salt and pepper.
Add seasoned tomatoes, and then the roasted red peppers.
Drizzle with olive oil and red wine vinegar and top with oregano and Italian seasoning.
Cover with the top half of the sub roll.
Make this easy recipe the next day with the leftover lunch meat and sub buns you have!
Prep Time:

10

Category:

Subs
EASY SHEET PAN ITALIAN SAUSAGE DISH
For those of you out there who feel as though you never have enough time to cook dinner every night, and that making delicious meals takes time and a lot of work, this one's for you. It'll be sure to prove you wrong.
This sheet pan recipe is so incredibly easy and a great addition to your weeknight meal rotation. If you're looking to make this with Italian vinegar peppers, instead of putting them in the oven for the whole time, put them in once there are ten minutes left to go. They'll be all warm and delicious, and your kids will be begging you to make this more often.
Print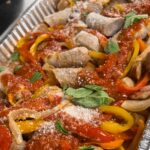 Easy Baked Italian Sausage
---
Author:

Total Time:

1 hour 10 minutes

Yield:

6

1

x
3 lbs of Italian sausage
3 bell peppers
2 onions
1 tablespoon salt
2 teaspoons black pepper
2 teaspoons garlic powder
1 teaspoon crushed red pepper
½ cup olive oil
1 cup white wine
1 pint tomato sauce
---
Preheat oven to 400 degrees

Cut peppers and onions into half inch strips

In a baking dish or sheet pan toss peppers and onions in olive oil and dry spices.

Place sausage on top of vegetables.

Add wine and tomato sauce to the pan.

Cover tightly with foil and bake for approximately 45 minutes.

Remove foil and bake uncovered for an additional 15 minutes.

Stir all ingredients together and serve.

Enjoy!
Prep Time:

10

Cook Time:

60

Category:

Sausage

Method:

Baking
Keywords: baked italian sausage recipe, italian sausage