With the holiday season approaching, the aroma of traditional Italian anise cookies will soon begin to fill kitchens worldwide. This anise cookie recipe is more than a treat. It's a festive tradition that turns every bite into a warm memory!
For many, crafting these sweets for the first time is a delightful venture into heritage and flavor. Anise cookies are the perfect addition to every Christmas feast, embodying the essence of the season with their distinctive taste. They have a way of summoning warm memories of family gatherings, and the joy of sharing homemade delights with loved ones.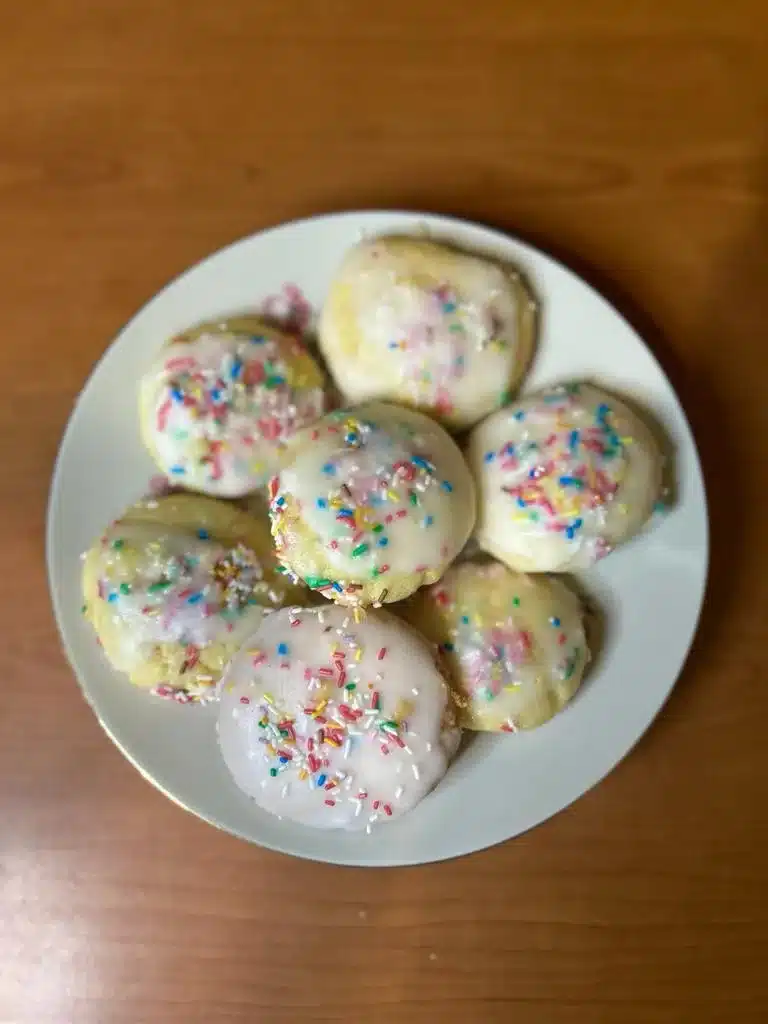 What's Anise?
Star anise is the secret star behind many beloved desserts. 
Often described as having a taste similar to that of black licorice, this spice originated in the Mediterranean region from the Illicium verum plant, a tree native to Asia. Its sweet, aromatic character adds a unique depth to any dish, particularly to cookies. A mere hint of anise can transform a simple treat into an extraordinary delight. 
The enchanting flavor pairs exceptionally well with the warm, sugary notes found in traditional Italian cookies, creating a taste that's both familiar and enchantingly novel. 
Whether you're a long-time fan or new to the flavor, incorporating a touch of anise into your baking will evoke a sense of comfort and culinary adventure in every bite. Let's see how!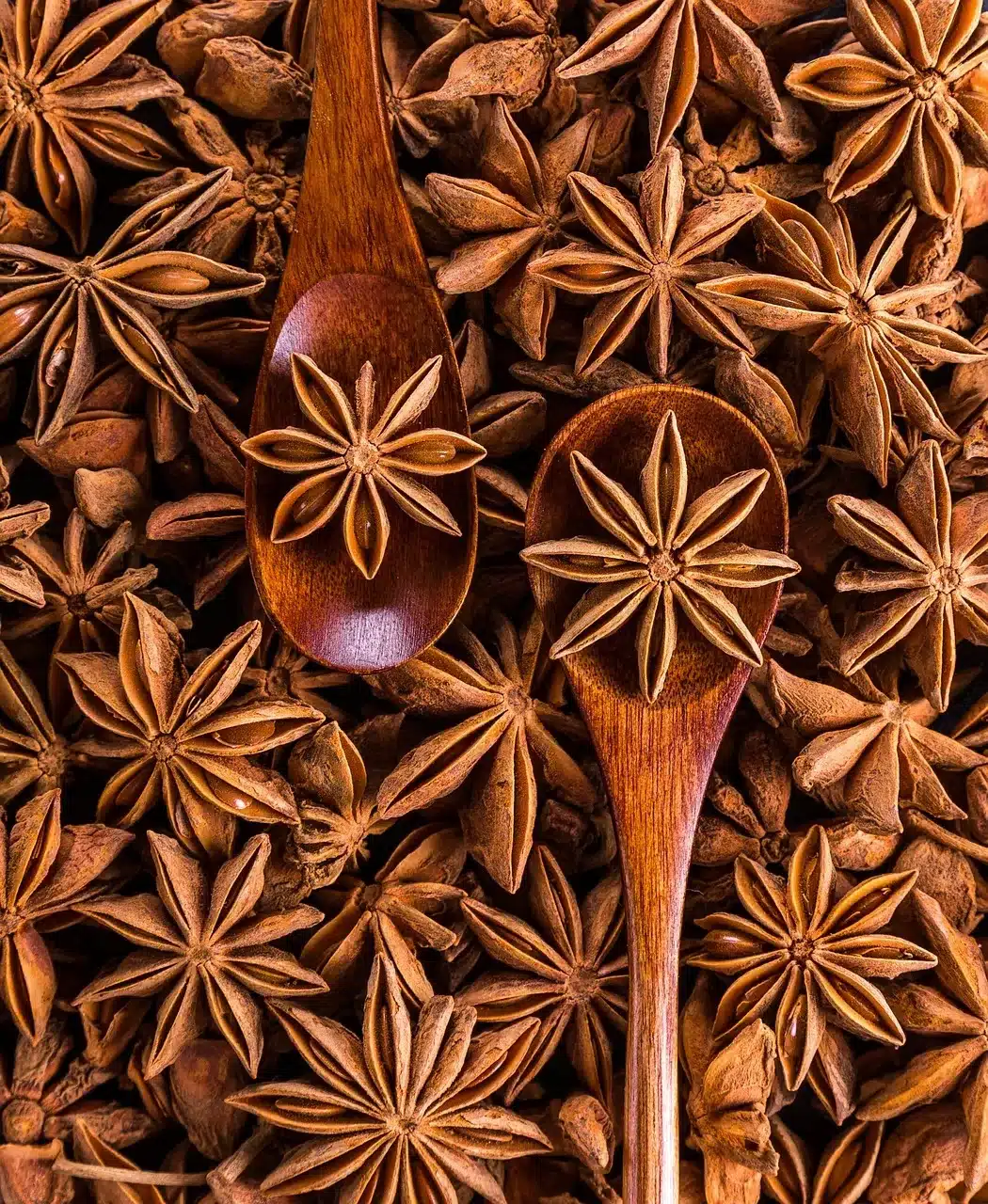 What you'll Need to Make Italian Anise Christmas Cookies
All-purpose flour and baking powder: or just self-rising flour, if you prefer. You don't really need baking soda for this recipe, but a little amount of leavening agents can make your cookies softer in the middle. I've made tests with both options and the difference is not that big, so it's up to you and to what's in your staple right now.
Brown sugar & powdered sugar: the brown sugar will give your cookies a subtle caramel flavor – but if you prefer, you can use white sugar as well. The powdered sugar, on the other hand, is required for the icing.  
Unsalted butter at room temperature: this is very important, as you will need to whip it at the very start of the process. So, you want it to be as soft as possible. For best results, my advice is to take it out of the refrigerator for at least 2 hours before starting to make your cookies.
A big egg: for some types of cookie dough, it's better to use only egg yolks. For this one, however, I recommend using the whole egg. 
Anise flavoring: it's the fastest way to give your cookies their typical flavor. If you prefer, you can use ground anise, or anise seeds as well. For the cookie dough, I actually used an anise liqueur – but if you choose this alternative, make sure to have some flavoring at hand as well. You'll need to heat it in order to make the icing, and it's not very safe to use alcohol in that process. 
Vanilla extract (optional): While the star of these cookies is undoubtedly the anise, a dash of vanilla extract can introduce a layer of complexity to the flavor profile. It's a simple twist that can cater to a broader palate, making the cookies even more irresistible.
As usual, the precise amount of each ingredient can be found in the recipe card at the bottom of this post.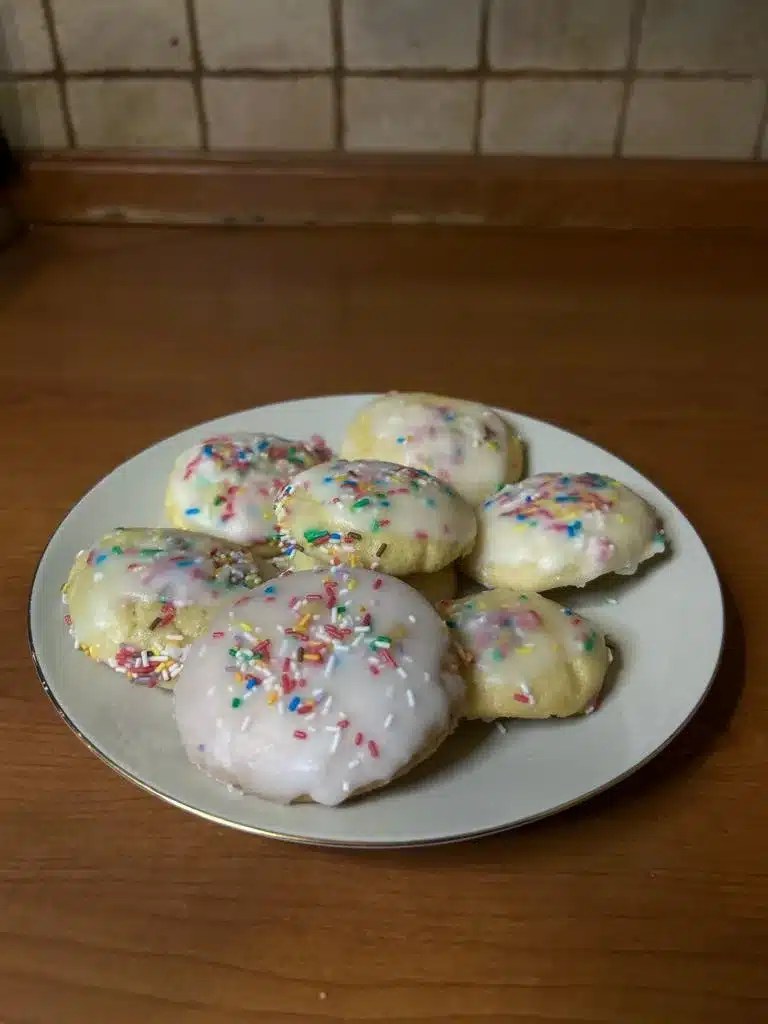 Method
Making the Cookies
First, sift the flour and the baking powder together in a medium bowl, and set aside for later. 
Then, combine the butter and sugar in a large mixing bowl and whisk until you get a smooth, uniform mixture. If the butter is at room temperature, a hand whisk will suffice, but you can opt for an electric mixer too. 
Add the egg and gently blend it in, taking care not to overmix. Then, add ⅔ of the anise extract.
Now, incorporate the flour mixture that you sifted before, initially mixing with a rubber spatula. Finally, add the chocolate chips and mix again.
Continue kneading with your hands until you create a dough ball. The consistency should be soft, not overly sticky. If it sticks to your hands, add a touch more flour. 
Cover the cookie dough ball with plastic wrap and let it rest in the refrigerator for at least 30 minutes. This step is vital as it reduces the dough's elasticity and ensures that the butter melts more slowly in the oven, resulting in cookies that are soft, chewy, and with crispy edges. 

After the resting period, preheat the oven to 356°F/180°C. 
Roll out the dough on a floured surface and use a cookie scoop or cutter to shape your Italian anisette cookies. If you prefer a more rustic appearance, divide the dough into chunks and use your hands to flatten them. 
Then, place the soon-to-be cookies on a baking dish or cookie sheet lined with parchment paper. Arrange them in a single layer, and make sure to give each of them some space. 
Bake in the preheated oven for approximately 25 minutes until they start becoming golden brown. Keep in mind that precise baking times may vary depending on your oven, so monitor them regularly without opening the oven door. 
Finally, take the baked cookies out of the oven and allow them to cool completely.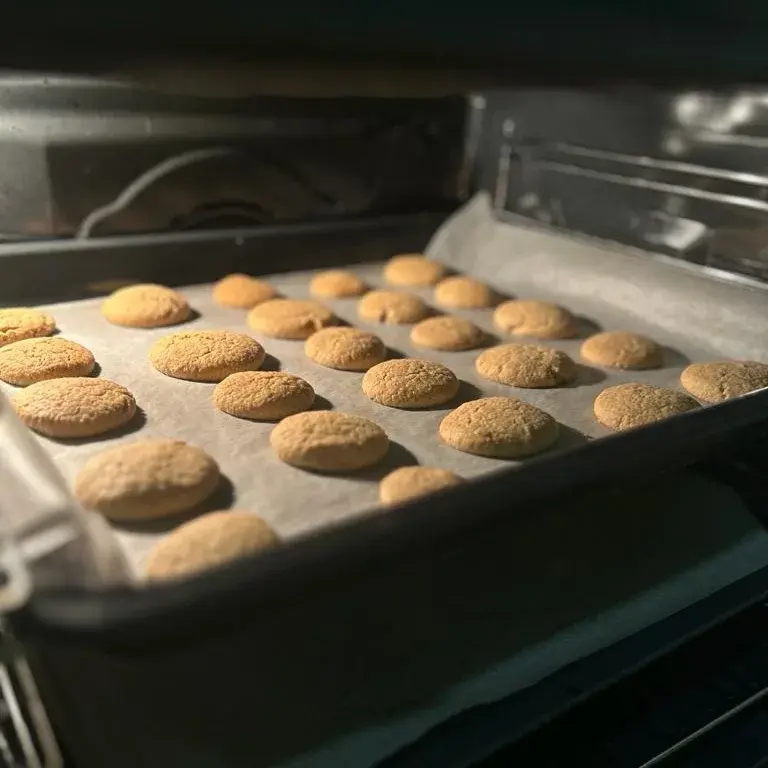 Making the Anise Icing
Now, you will have to wait for the cookies to cool completely, or the icing will not stick well. Three or four hours should be enough, but you can also let them rest overnight and resume the next day. 
When you're ready, take a saucepan and add the powdered sugar, then pour in the milk and anise extract you set aside earlier. Turn the stove on low heat and whisk until the ingredients are melted together without lumps. 
At this point, take a wire rack and place it next to you, along with a bowl filled with nonpareils. Then, take the cookies and dip them one by one into the icing you just made. Next, dip them into the nonpareils, and then place them on the wire rack to dry. 
Let the cookies sit for at least a couple of hours for the icing to cool and set properly.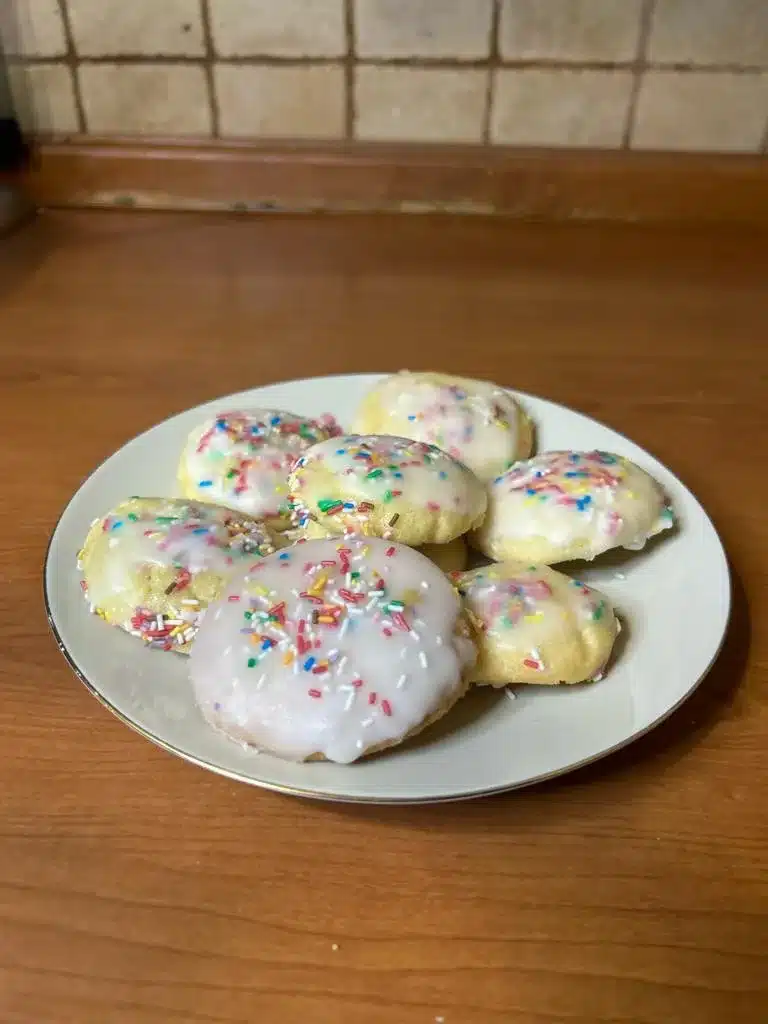 Voila, your Italian anise cookies are ready! As soon as the icing sets, you can put them on your favorite holiday cookie tray and serve them. And after that, you can store them in an airtight container for up to a week. 
Print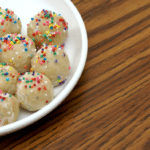 Italian Christmas Anise Cookies
---
Author:

Total Time:

approximately 7 Hours

Yield:

30

cookies

1

x
8 oz flour (226 g) + extra for rolling dough

1 tsp baking powder (optional)

1 stick unsalted butter at room temperature (113 g)

4 oz sugar (113 g)

1 large egg

6 tbsp anise extract 

4 tbsp milk

7 oz powdered sugar for icing (200 g)

Nonpareils for decoration
---
In a separate bowl, sift together the flour and baking powder. Set aside.

In a large bowl, cream the butter and sugar until smooth.

Add the egg to the creamed mixture, mixing gently to combine. Stir in 2/3 of the anise extract.

Gradually incorporate the sifted dry ingredients into the wet mixture using a rubber spatula until a dough forms.

Turn the dough onto a floured surface and roll dough into a ball. If it's too sticky, sprinkle a little more flour.

Chill dough: Cover with plastic wrap and refrigerate for 30 minutes.

Preheat the oven to 356°F (180°C).

Roll out chilled dough, cut into shapes, and place on a parchment-lined baking sheet, leaving space between each cookie.

Bake for 25 minutes or until the top of the cookie starts to golden.

Remove from the oven and let cool completely before icing.
Making the anise icing:
In a saucepan, combine powdered sugar, milk, and the remaining anise extract. Warm over low heat, whisking until smooth.

Dip each cookie top into the icing, then into nonpareils.

Set cookies on a wire rack to dry, allowing the icing to set for a few hours.

Once the icing is set, the Italian Anise Cookies are ready to serve or store in an airtight container for up to a week.
Pro Tips:
Ensure all ingredients are at room temperature for smoother blending.

Don't overmix the dough to avoid tough cookies.

Chill the dough as instructed to prevent cookies from spreading too much.

Keep a close eye on the cookies as oven times may vary; they should be just golden on top.

Allow cookies to cool completely before icing to ensure the icing adheres properly.
Notes
Disclaimer: The nutritional information provided for this recipe is only an estimate generated with VeryWellFit's online calculator. The accuracy of the facts listed is not and cannot be guaranteed.
Prep Time:

40 Minutes

Resting Time:

6 Hours

Cook Time:

25 Minutes

Category:

Cookies

Cuisine:

Italian-American
Nutrition
Serving Size:

1 Cookie

Calories:

103

Sugar:

10.4g

Sodium:

26mg

Fat:

3.6g

Saturated Fat:

2g

Unsaturated Fat:

17g

Fiber:

0,4g

Protein:

1.3g

Cholesterol:

14mg
Keywords: italian anise cookies, italian anisette cookies, traditional christmas cookies, classic italian cookies, anise cookies