Today is November 2, and the nations where Catholicism is the predominant religion celebrate All Souls Day. Or, as we call it in Italy, the Festa dei Morti (Celebration of the Dead).
For this occasion, I decided to try making le fave dei morti for the first time.
Fave dei morti are typical All Souls' Day cookies from Central Italy. They're made with almonds, sugar, flour, butter and aromas. Their name means "the fava beans of the dead," and refers to the pre-Christian custom of offering food to the dead on the day they were believed to return to the world of the living.
Each locality used to have its typical offerings. In the regions of central Italy and other areas of the Mediterranean, it was common to offer fava beans. Hence, the name of these cookies.
Nowadays, fave dei morti are made for the living. With some exceptions in southern regions, people now prefer to offer flowers and candles to the dead. My family usually gets them from the baker, so I never learned how to make them. But since I've always been fascinated by All Souls Day traditions, I decided to try.
Where I got this recipe from
For the ingredients, I first checked "Science in the Kitchen and the Art of Cooking Well" by Pellegrino Artusi. First published in 1891, it contains 790 popular recipes of the time, along with anecdotes and personal experiences. Although the author was not a cook and his way of reporting recipes is incomplete by modern standards, this book is certainly an excellent source for learning about how mid-class people used to cook their food.
Then, of course, I've asked around. It's a folks' recipe, after all. And in many cases, people tend to make fave dei morti a little differently than how Artusi described in this book. So I've kept the amount of ingredients he listed, but I've relied more on other sources for the instructions.
Here's what I did.
Ingredients
There are actually three recipes in Artusi's book. Two are intended for domestic use and differ only in the amounts of each ingredient. The third one is described as "più fine" (as in "more high-class") and uses only almonds, powdered sugar, and egg whites.
I didn't have time to try all three, so I went with the second one. Here's what I used.
7 oz sweet almonds, shelled and peeled. Today, they're often found ready to be used in many grocery stores. But think back to when you had to shell and peel them one by one. This recipe used to take much longer than it does now;
3 + 1/2 oz flour. Artusi gives no directions on which type to use. I used 00 flour;
3 + 1/2 oz sugar;
2 tbsp unsalted butter;
2 large eggs;
grated lemon peel and cinnamon powder.
According to Artusi's book, you can also use orange blossom water instead of lemon and cinnamon. I bet it is a delicious addition, but unfortunately, I could not find it in the store. Many people today also use rum to add some flavor, but I chose to avoid it. I prefer to use it for other recipes.
Now, let's see how to use these ingredients.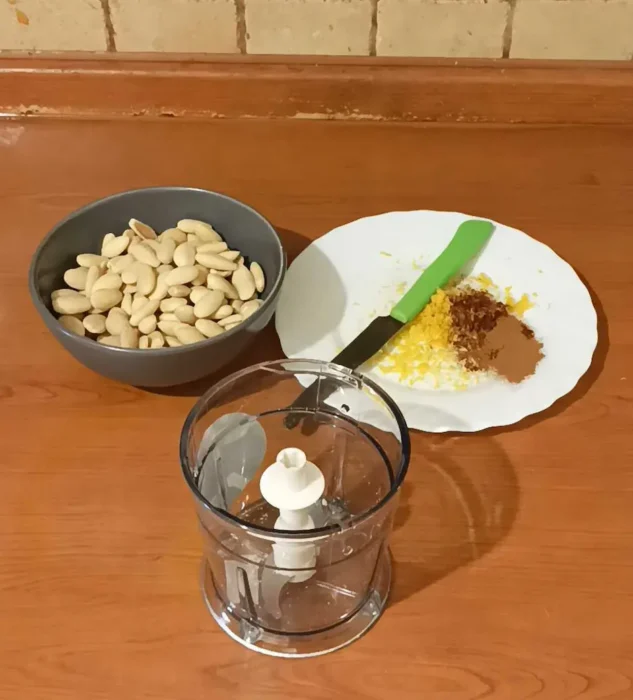 Instructions
Artusi's fave dei morti recipe begins by pounding the almonds with sugar to form grains "about the size of half a grain of rice." Many people don't have a mortar at home anymore, so you can use a food processor. Just be sure not to grind too much, otherwise the almonds will start to release oil.
I also added the grated lemon peel and cinnamon right away, so they would blend well with the grains.
After that, I transferred everything to a large bowl, and added the flour, butter, and eggs, mixing with a spoon until I had a soft dough. Artusi's recipe said to save some of the eggs for later and use them to coat the cookies before baking, but that custom has been lost.
Note: Although the dough should be soft, ideally you should be able to handle it with your hands. If it comes out too soft or greasy, you can add a tiny bit of water or liquor.
The next step was to give the cookies the right shape and bake them. So, I preheated the oven to 356° F and covered a baking sheet with greaseproof paper.
Shaping the fave dei morti is easy. You can either form some medium-sized balls with your hands and then press them on top, or take some dough and pass it between two steel tablespoons until you get the shape you see below.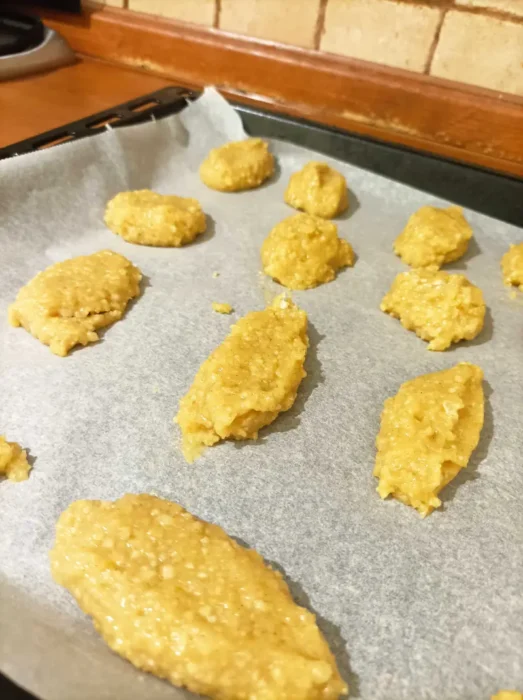 I know, it takes some imagination to visualize them as replicas of fava beans. Many people prefer to make small balls, which look significantly more elegant. Even Artusi says that you should be able to make about 60 fave with the ingredients I listed. However, this is actually how I have always seen fave dei morti on my town baker's counter.
After placing them on the baking sheet, I pressed them lightly with my fingertips to adjust their shape and baked them for 15 minutes in the lower half of the oven. Then I removed them from the baking sheet and let them cool a bit. Finally, I put them in this box and took them to some friends to taste them together.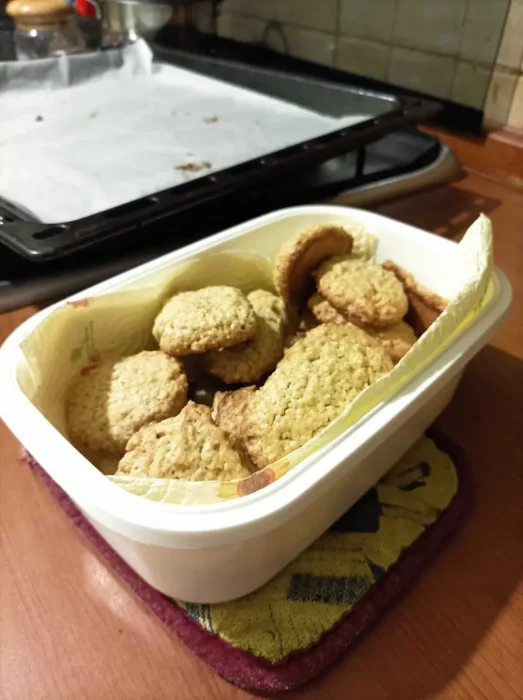 Final thoughts
My first fave dei morti were good, but there was also room for improvement. These cookies are meant to be roughly shaped, but next time I will make them slightly smaller, and use a little less lemon zest. Also, I baked them in the lower part of the oven this time, but I might have had a better result if I had put them a little higher up.
Print
Fave dei Morti
---
Author:

Total Time:

30 minutes

Yield:

18

big cookies

1

x
7 oz sweet almonds, shelled and peeled
3 + 1/2 oz flour
3 + 1/2 oz sugar
2 tbsp unsalted butter
2 large eggs
grated lemon peel and cinnamon powder
---
Add the almonds, sugar, lemon peel, and cinnamon powder to a food processor, then blend everything until you get chunks half the size of a grain of rice. Don't grind too much, otherwise the almonds will start to release oil.
Transfer to a large bowl and add the flour, butter, and eggs, mixing with a spoon until you get a soft dough. You should be able to handle it with your hands. If it comes out too soft or greasy, you can add a tiny bit of water or liquor.
Preheat the oven to 356° F and cover a baking sheet with greaseproof paper.
Shaping the fave dei morti is easy. You can either form some medium-sized balls with your hands and then press them on top, or take some dough and pass it between two steel tablespoons until you get a roundish shape that resembles that of fava beans.
Press them lightly on the top with your fingertips, then bake for 15 minutes.
Take the fave dei morti away from the oven and the baking pan, and let them cool on a paper towel for a few minutes.
Enjoy
Prep Time:

15

Cook Time:

15

Category:

Cookies

Cuisine:

Italian