Last week, I made a coffee buttercream for a cake recipe. I didn't really like how it tasted in the end, but I thought that it deserved a second chance. Maybe it was just a matter of bad pairing, and it would've worked better with another dessert. 
So I made some chocolate cupcakes and decorated them with this espresso frosting recipe.
It was definitely a better pairing! If you try it, I'm sure this will become one of your favorite frostings.
It's basically a simple buttercream flavored with a shot of espresso. It's very sweet and has a strong coffee flavor. 
Here's how to make it in no time at all!
Espresso Frosting – The Ingredients
This recipe calls for just three ingredients and a hand mixer.
Unsalted butter: Pick a good unsalted butter and let it out of the fridge for at least 30 minutes before starting. It's important that it's at room temperature. Otherwise, it won't be soft enough to be whipped.
Vanilla-flavored powdered sugar: if you don't have it, put regular sugar in a food processor and grind it to powder. You'll get the same results – just remember to add some vanilla extract when you incorporate it into the butter.
A shot of espresso: or your favorite brewed coffee. If you can't make it at home, try dissolving 1 tsp of instant coffee granules into 1 oz of hot water. It won't be the same as with real espresso, but it will still give your frosting a nice hint of coffee, which is what we're aiming for.
You can also add 1 tablespoon of heavy cream or mascarpone to make your frosting a little more creamy and balance its texture, but it's not mandatory. 
As per usual, the precise amounts are listed in the recipe card at the bottom of the post. Now, let's make this delicious espresso frosting together!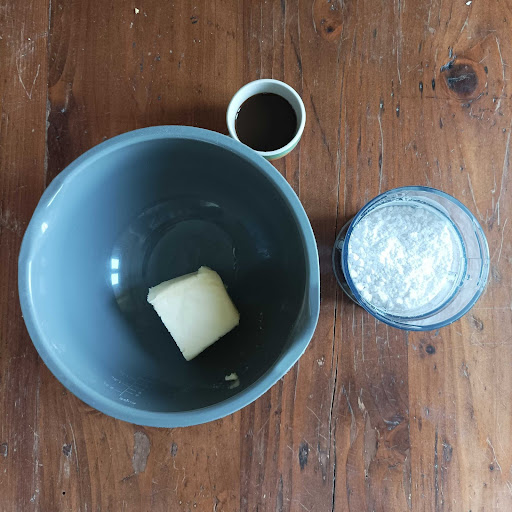 Method
Put the butter in a large bowl, and mash it with a fork to soften it a bit. After that, turn on the hand mixer and beat at medium speed for at least 5 minutes.
At first, the butter will still be too hard and may stick to the whisks or the sides of the bowl. If this happens, don't worry. Bring it back to the center of the bowl with a rubber spatula, and keep whipping until it starts to increase in volume and become smoother.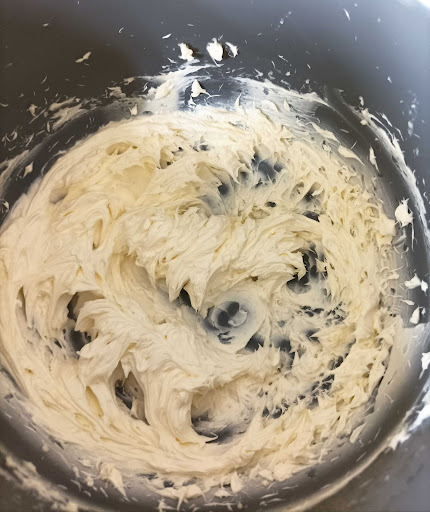 Now, it is time to incorporate the powdered sugar. Add it to the mixing bowl a little at a time, continuing to mix at medium-high speed.
Finally, add the espresso and keep mixing until it is fully incorporated. If you decided to use heavy cream as well, add it now. If your buttercream is too stiff, add a little more coffee or milk to bring it to the right consistency.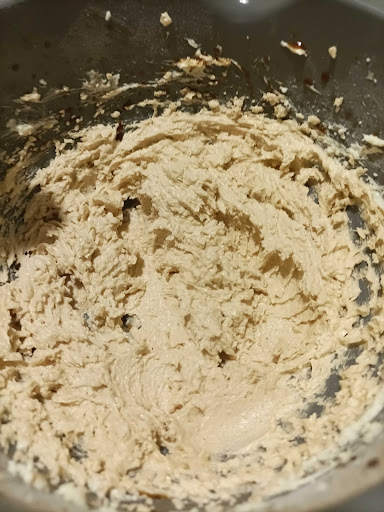 That's it! Your espresso frosting is ready. Use it to decorate your favorite desserts, or store it in the refrigerator for up to two days!

How to Use this Espresso Frosting
This espresso frosting recipe will be a perfect addition to all your favorite coffee desserts. Many people like to use it to make chocolate cake, but I think it gives its best on smaller foods. Put it into a pastry bag and use it to decorate some espresso cupcakes or muffins! You can use my recipe for Greek yogurt muffins – just add a teaspoon of espresso powder to the batter!
You can also use it as a base for vanilla, caramel, or chocolate frosting. It's very easy to add ingredients to this recipe: if it becomes too dense, just add 1 or 2 tbsp of milk to bring it back to the desired consistency.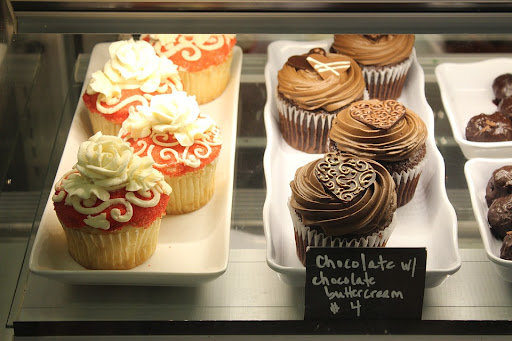 Espresso Frosting Recipe FAQs
Q: Can I use decaf coffee?
A: Sure! If you're trying to lower your caffeine intake, go for it. Any espresso mixture will do. You should also try using blonde espresso every now and then.
Q: Can I make it in advance?
A: Usually, American buttercream can be stored even up to 1 month in the refrigerator, but since this recipe has coffee, its flavor will change faster. 
You can make this espresso frosting 1 or 2 days before using it and keep it in the refrigerator. However, I recommend making it right before use.
Final thoughts
I have to say that I wasn't prepared for how sugary this espresso frosting was. It was way sweeter than all the other frostings I know. If you're diabetic or on a diet, you should avoid using it.
That being said, it's certainly an easy and delicious addition to have in your recipe collection. If you have any coffee lovers among your friends or relatives, I'm sure they'll like it. 
It's also useful if you're practicing cake decorating, since it takes just a few minutes to be ready. And if you make some mistakes, it will taste so good that nobody will notice 😉
Let me know what you think of it. And if you like it, don't forget to leave a five-star review!
Buon appetito!
Print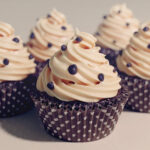 Espresso Frosting Recipe: The Easiest Coffee Buttercream
---
Author:

Total Time:

10 minutes

Yield:

1 1/2

to

2

Cups

1

x
1 cup unsalted butter (at room temperature)
2 cups vanilla-flavored powdered sugar
1 shot of espresso – or 2 teaspoons espresso powder
(optional) 1 tbsp heavy cream or mascarpone
---
Tools:
a hand mixer
Method
Put the butter in a large bowl, and mash it with a fork to soften it. After that, turn on the hand mixer and beat at medium speed for at least 5 minutes.

Incorporate the powdered sugar a little at a time. Keep mixing at medium-high speed.

Add the espresso and mix until fully incorporated. If you decided to use mascarpone or heavy cream, add them now. If the buttercream becomes too stiff, add some more coffee.  

Enjoy!
Notes
The butter must be at room temperature. For best results, take it out of the fridge at least 30 minutes before starting. 
Prep Time:

10 mins

Category:

Dessert

Method:

Whippes
Keywords: espresso buttercream frosting, coffee frosting, mocha frosting