Attention all cheese lovers! I'm about to show you how to make a homemade cheese sauce that will blow your mind.
Are you someone who loves a good cheese sauce? Of course you are. Who isn't?
I think we can all agree that everything is better with cheese.
You know the kind of creamy cheese sauce that I'm talking about. A creamy sauce that is so cheesy you don't want your doctor to know about it.
You might even be someone that loves a great cheese sauce, but you're a little intimidated to make one yourself. That's because usually traditional cheese sauces can be a pain in the neck to make.
You usually start off with a bechamel. This is a white sauce made with butter, all purpose for and whole milk. It's kind of a slow process and it's easy to mess up. I remember the first time I made a bechamel it was full of lumps and didn't have the creamy texture I was expecting.
The simple recipe I am about to show you is a great way to make a nice thick sauce that's so cheesy you won't believe it. It's such an easy cheese sauce you'll probably start making it all the time.
The best thing about it is that it's a completely flourless cheese sauce recipe. You won't have to worry about the lumps and it's a great recipe for anyone who has a gluten sensitivity.
You can use this recipe as a guide to a cheese sauce for just about any occasion. It's a cheddar cheese sauce recipe to pour over broccoli so your kid will eat his vegetables without complaining. It's an easy recipe to make a simple mac and cheese.
Whatever way you decide to use this easy recipe, you'll agree that it's the best cheese sauce around.
Now let's go make the best flourless cheese sauce!
Ingredients for Your Cheese Sauce without Flour
All of the simple ingredients needed to make your cheese sauce can be found at your grocery store.
This is the fun part. There really are no rules when it comes to the types of cheese you use for this cheese sauce recipe, so you get to choose your favorite ones. 
You want cheese with a creamy consistency, and you also want to make sure that it melts good.
A blend of mild cheeses and strong cheeses is good. The type you use will also depend on what you're using it for.
I like a sharp cheddar cheese in my sauce. This can be either a yellow cheese or an orange cheese. I also like to use American cheese because it melts really well. And finally, I like to add some Gruyere to the cheese sauce because it adds so much flavor.
You can also add some parmesan cheese and whole milk mozzarella.
Whatever kind of cheese you decide to use, make sure you buy it by the block and grate it yourself. You'll see the difference with buying already grated cheese.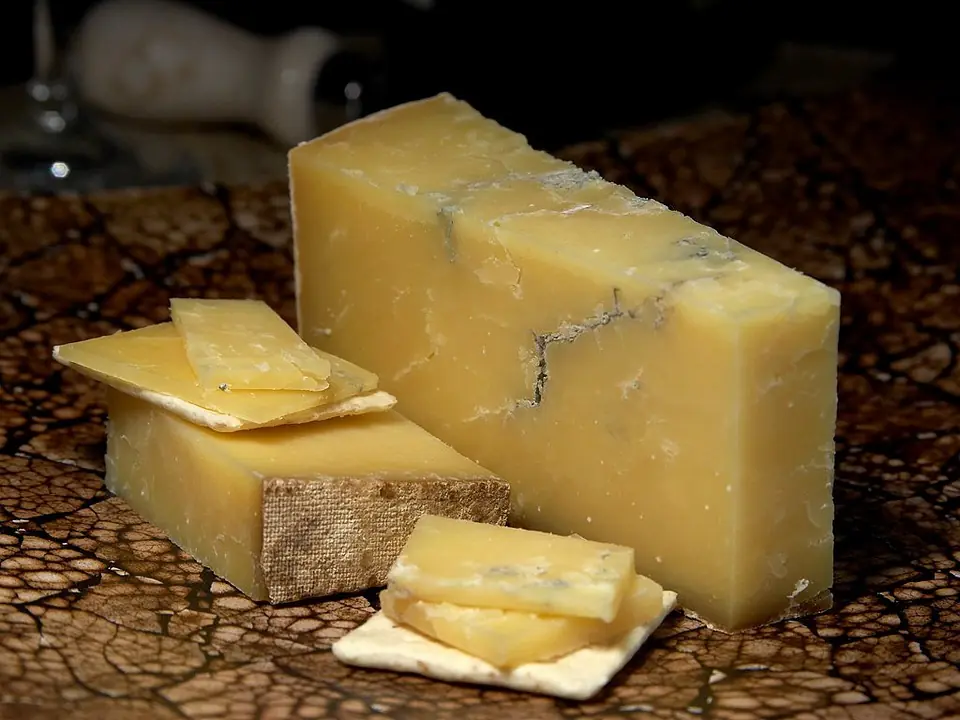 This part probably sounds weird. You probably are expecting the recipe to call for whole milk or heavy cream. Nope.
For this recipe using evaporated milk is a great way to give you that creamy and cheesy texture you want. Evaporated milk usually comes in a can. Don't confuse it with condensed milk which is very sweet.
Evaporated milk is basically regular milk with the majority of the water removed from it.
Whatever eggs you decide to use will work. The fresher they are the better off you'll be. If you're egg yolk is bright orange you know they are fresh eggs. We're going to crack them and beat them.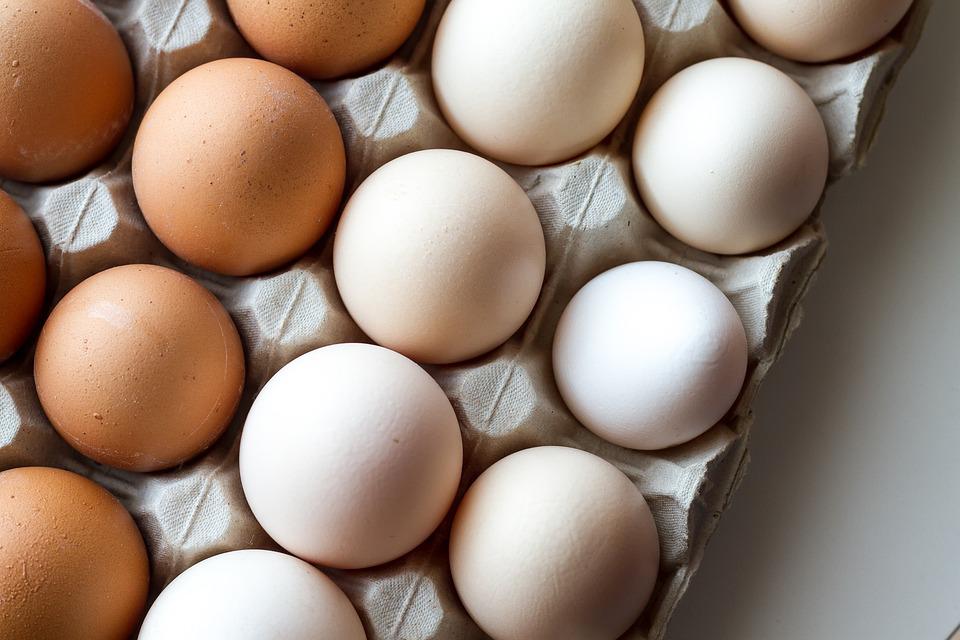 I like using unsalted butter because I can control the amount of salt in the recipe. If salted butter is all you have, that's fine.
The corn starch is going to keep this cheese sauce thick and smooth without any lumps.
You've seen people make cheese sauce with flour before. The problem with flour is that when you reheat the cheese sauce it tends to get lumpy. By using cornstarch instead of flour you get a nice smooth sauce and you avoid problems if anyone has a gluten sensitivity.
This recipe calls for ground mustard. If you don't have it, don't get nervous. I've used regular yellow mustard before and I could hardly tell the difference.
I suggest using Kosher or sea salt for this recipe. Also, crack your own black pepper to get the best results.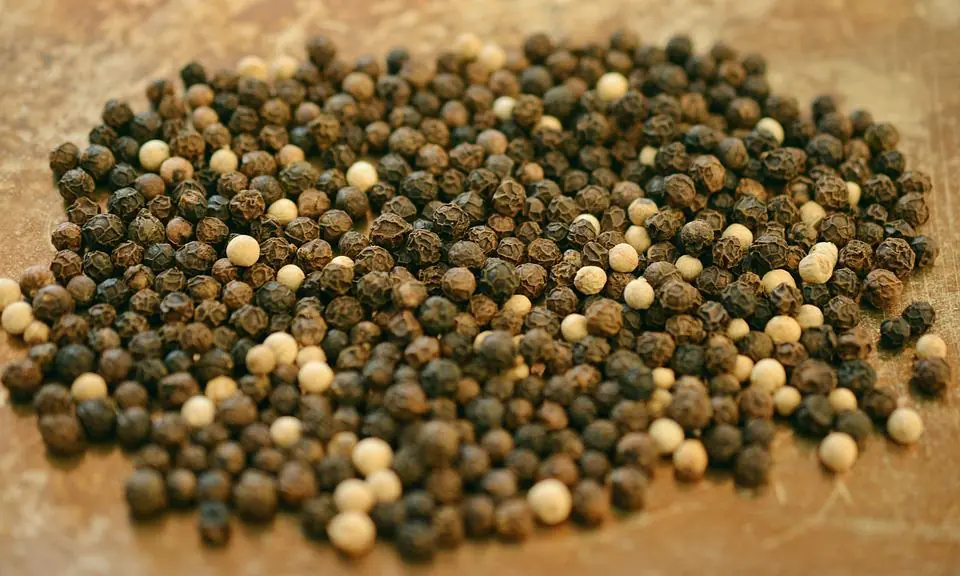 How to Make Your Cheese Sauce Without Flour
The first thing you need to do is get a big bowl. Crack your eggs into the bowl and add the evaporated milk, dried mustard, salt and pepper.
Now whisk everything together.
Get another bowl and put in your freshly grated cheese. Add the cornstarch and toss it all together so that the cheese is completely coated.
Take a medium sauce pan and put it on medium low heat. Add your butter.
Put the evaporated milk and egg mixture into the pan. Add the cheese and cornstarch to the pan.
With a wooden spoon or rubber spatula, start stirring the mixture making sure the spoon or spatula touches the bottom of the pan.
As soon as the ingredients are completely mixed together and the cheese sauce has a smooth and silky texture, it's done. It's a really fast cooking time.
Cheese Sauce without Flour FAQs
Q: Can I reheat my cheese sauce made without flour?
A: Yes. Making the cheese sauce with cornstarch instead of flour allows you to reheat it without it getting lumpy and dry. After you make it, just store it in an airtight container in the fridge.
Q: How should I reheat the cheese sauce?
A: You can reheat the cheese sauce in the microwave or in a saucepan on medium heat.
Q: What can I do with my cheese sauce made without flour?
A: This cheese sauce can be used to make macaroni and cheese that is out of this world. If you make this cheese sauce in advance you'll have a really easy stove top mac and cheese whenever you need it.
You can also drizzle it over vegetables like broccoli and cauliflower to jazz them up. This will definitely get the kids to eat their veggies.
Make an easy nacho cheese recipe. Just add some jalapenos to the cheese sauce and pour it over some tortilla chips. It's a homemade nacho cheese sauce that will drive people wild.
Fried up some shaved steak and onions, stuff it in a sub roll and pour on the cheese sauce. Everyone loves a good cheese steak.
And finally, you could simmer your cheese sauce with some chicken stock or vegetable broth for a delicious soup.
Print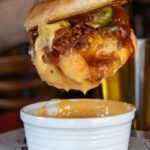 Cheese Sauce without Flour
---
Author:

Total Time:

20 minutes

Yield:

6

1

x
4 pint of evaporated milk
4 eggs
2 sticks of butter
1/2 lb of grated sharp cheddar cheese
1/2 lb of grated American cheese
1/2 lb of grated Gruyere cheese
1 teaspoon Kosher salt
1/2 teaspoon of black pepper
---
In a large bowl add eggs, evaporated milk, dried mustard, salt and pepper.  Whisk together.

In another large bowl add all grated cheese and cornstarch.  Toss it together, coating all cheese in cornstarch.

Place the saucepan on low heat and add butter.

Pour in the evaporated milk and egg mixture.

Add the cheese into the pan and slowly stir everything together until the cheese melts.

It will be finished when the cheese sauce has a smooth and creamy consistency.

Enjoy!