If you want my honest opinion, I literally tried this recipe for the first time myself last week.
I'm being very serious.
I hadn't ever bought a swordfish for myself, only ever eaten it in various restaurants.
Each time I had it, though, I loved it.
Whenever I think about the steak of the sea, I think about my dad.
It's his favorite.
And every single time that he sees this meaty fish on a menu with lemon, capers, and garlic butter sauce, he has to get it.
All year round.
So, when I saw that some swordfish steaks were on sale at the supermarket a few weeks ago, I knew that I had to try to recreate my dad's favorite.
It's always nice to have a good fish dinner recipe in your back pocket; it's a great option for when you're cooking for a crowd.
Turns out, the recipe was so delicious, easy, and doesn't even require a baking dish.
I may even keep it on a biweekly rotation in our house for weeknight dinners.
It's super easy to make, and takes only a half hour to make. Could you believe that?
Here's how I made it!
What I Used: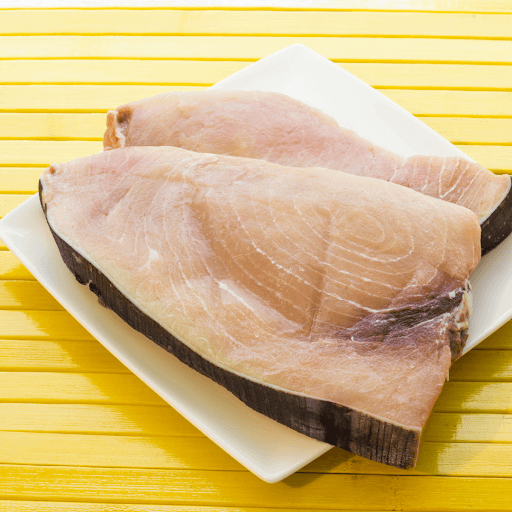 Swordfish Steaks: You can get these from your local grocery store, and they're never usually that expensive.
Dry White Wine: Use any white wine that you wouldn't mind tasting. Don't use those cooking wines, they won't give you a great flavor. But even a cheap bottle of wine from your local liquor store will do.
Butter: Same rules apply: use a butter that you won't mind tasting.
Garlic & Shallots: In my opinion, freshly minced garlic cloves and shallots are the key to making any good lemon butter sauce. They add a wonderful, irresistible flavor to the dish.
Extra Virgin Olive Oil: It's vital to any recipe at this point.
Lemon: This recipe uses one lemon. You'll be using the juice from one half, and garnishing with the second half. You can also use some of the lemon zest from the lemon peel too, if you'd like.
Spices: For this easy swordfish recipe, I kept it extremely simple, seasoning the swordfish fillets with only kosher salt and black pepper, and adding sprigs of thyme and red pepper flakes to the sauce. You're going to want the natural flavors of the swordfish and butter sauce to be the star of the show here!
Capers: What's a lemon sauce without capers? Add these into the sauce, or top your delicious fish with them at the very end. Anything works!
What I Did: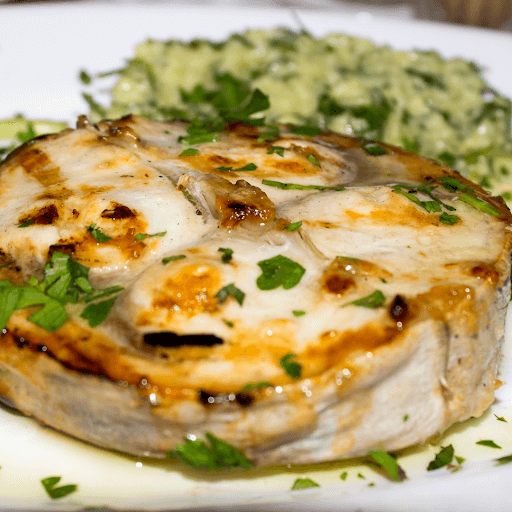 One of the most important things when it comes to this cooking swordfish, in my opinion, is making sure that it's not overcooked.
An overcooked swordfish (or firm fish in general) can turn really bad really quickly, so you want to make sure that you're working constantly to make sure this doesn't happen. For this reason, I strongly recommend preparing all of your ingredients beforehand, so you're able to toss them into the pan as you go.
Preheat your oven to 400°, and don't begin cooking this recipe until the oven is ready to go.
Season your swordfish generously with salt and pepper on each side.
In an oven-proof skillet or cast iron skillet, begin to sear your swordfish. I recommend about 2-3 minutes over medium-high heat on each side, searing until they develop a nice crust.
While your swordfish is searing, melt your butter in the pan, and throw in your shallots and garlic, stirring constantly so they don't burn.
Once they're fragrant, add in the white wine and fresh herbs. By this time, you should have flipped your swordfish and it should be seared on both sides. Stir in the lemon juice, and transfer the hot pan into the hot oven.
Bake for 3-5 minutes, making sure that you don't overcook the swordfish.
Serve with the garlic butter spooned on top, tons of capers and fresh parsley if you'd like, and fresh lemon wedges or slices from the other half of the lemon.
FAQs: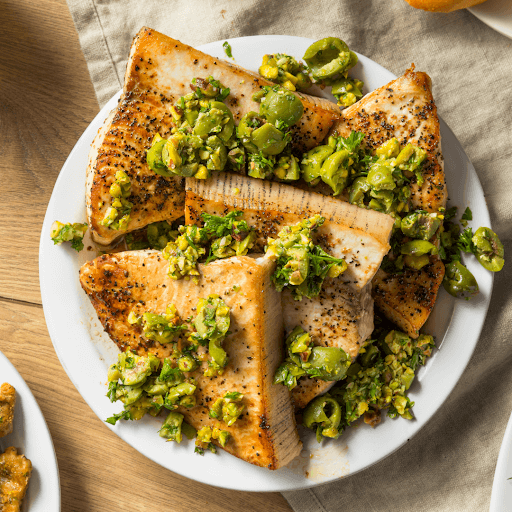 Q: Does this have to go into the oven?
A: It does not! If you'd rather cook this in the pan, complete this recipe as is, but instead, sear the swordfish about 6 minutes per side, and begin the lemon butter sauce once both sides of the swordfish are completely seared.
Q: Can I use frozen swordfish for this recipe?
A: Absolutely, just make sure it completely thaws in the refrigerator before cooking.
Q: How do I know when the swordfish is done cooking?
A: You'll know it's done when the meaty texture is opaque and flakes easily with a fork.
Q: My swordfish stuck to the pan. What did I do wrong?
A: Make sure that the pan is thoroughly preheated and seasoned before cooking to ensure that the fish doesn't stick to the pan.

What To Serve With This Easy Baked Swordfish Recipe:
Wine: You already know that you need a dry white wine with this. I love sauvignon blanc!
Side Dish: This is one of those meals that just hits different with a nice fresh piece of garlic bread. It's one of my favorite side dishes of all time.
Vegetable: Some freshly sautéed lemony green beans would be absolutely delicious with this dish. Try it out!
Print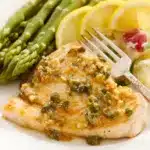 Baked Swordfish Recipe: Lemon, Capers, & Butter Sauce
---
 2 swordfish steaks (6-8 oz each)

 Salt and pepper, to taste

 2 tablespoons olive oil

 2 tablespoons unsalted butter

 2 cloves garlic, minced

 1 shallot, minced

 1 teaspoon fresh thyme leaves (or ½ teaspoon dried)

 1 teaspoon fresh rosemary leaves (or ½ teaspoon dried)

 1 cup dry white wine

 Juice of ½ lemon

 Lemon slices for garnish

 Capers, for garnish
---
Preheat your oven to 350°F (200°C).
Pat the swordfish steaks dry with paper towels. Season both sides of the fresh fish with salt and pepper.

In an oven-safe skillet, heat the olive oil over medium-high heat until it's shimmering. Place the swordfish steaks in the skillet and sear for about 2-3 minutes on each side, or until they develop a golden-brown crust. This searing process will give the swordfish a nice texture and flavor.

While the swordfish is searing, melt the butter in the skillet. Add the minced garlic, shallots, thyme, and rosemary. Sauté for about 1-2 minutes until the garlic and shallots are fragrant and the herbs are slightly wilted. Stir in the white wine and lemon juice. This lemon-herb butter will add a burst of flavor to the dish.

Transfer the skillet to the preheated oven. Bake for about 3-4 minutes or until the swordfish is opaque and flakes easily with a fork. The exact baking time will depend on the thickness of your swordfish steaks.

Carefully remove the skillet from the oven. Serve the swordfish steaks on plates, drizzling any remaining lemon-herb butter from the skillet over the top. Garnish with fresh lemon slices and capers for freshness and color.

Store in an airtight container for up to 3 days.