Castelvetrano olives are the best in the world.
OK, we might be a little biased here but we promise that even olive skeptics agree that these Sicilian beauties are absolutely delicious. If you're already an olive lover, Castelvetrano olives (otherwise known as Nocellara del Belice) are going to make you think you've died and gone to olive heaven. 
They have a creamy, buttery taste that is not too salty and a firm, crisp texture. You can enjoy them straight out of the jar (buy here), served as a perfect snack alongside a crisp glass of white wine. Alternatively, get creative and try some of these simple but fabulous recipes we've dreamed up in honour of the world's greatest olive!
1. MARINATED
Marinating olives is one of the best and easiest ways to enhance their flavour. 
Mix together some Extra Virgin Olive Oil, Sicilian sea salt and some of our Wild Oregano for a marinade that'll make you feel transported to a sunny courtyard in Palermo. 
Then simply leave the olives in this mix overnight and store them in a jar in the fridge where they'll keep for around one month (although we doubt they'll last that long!)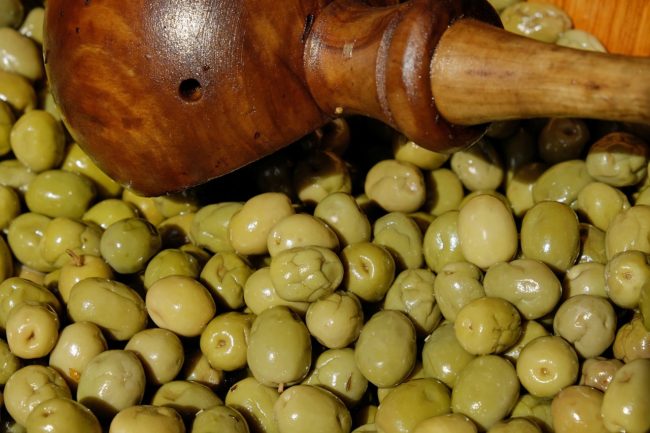 2. PASTA SAUCE
Did you know you can make a pasta sauce from olives? Well, you can – and it's absolutely fantastic.
Start by crushing 1 cup of olives using a knife or a mug, then discarding the stones. Chop a bunch of Italian parsley (stalks and leaves) and combine it with the grated zest of one lemon, 2 tbsp lemon juice, a crushed garlic clove, a chopped and deseeded chilli and 3 tsp extra virgin olive oil. 
Mix in the olives and hey presto, this mouth-watering sauce is ready to brighten up a bowl of spaghetti. If you need, add a little pasta water to loosen the sauce before mixing everything together.
3. EVERYTHING SAUCE
Castelvetrano olives can also be made into a sauce that is good on just about anything. Juicy grilled swordfish steaks? Yes please. Roasted chicken breast? Mmmmm. Drizzled onto artichoke hearts? Oh yeah. 
It's simple – just crush the olives the same as the sauce above. This time mix with ¼ cup chopped toasted nuts (we love pistachios or walnuts!), ¼ cup chopped tarragon, 1 crushed garlic clove, 2 tbsp lemon juice and ⅓ cup extra virgin olive oil. Put it on bread, any form of protein or even use as a salad dressing!