Whether it's a tiny diner in the northern mountains of New Hampshire or an iconic pizza shop in New Haven, you can expect to find Joey Calcavecchia there. Born and raised in New Hampshire, Joey @the_roamingfoodie is one of the most iconic influencers when it comes to dining all around New England. Joey and I got to discuss New England's biggest hidden gems, the New Hampshire food scene, the future of video in social media, and his all time favorite pizza.
View this post on Instagram
Tell us about yourself! How/why did you start your food account(s)?
I went to UNH and studied communication and nutrition. I always wanted to be in food marketing. When I graduated, I immediately started working in advertising in Boston. I was miserable.
I met with a friend at JM Curleys for dinner, and while we were talking about careers, I mentioned that I really wanted to become a food journalist. She inspired me to make an Instagram account, and I immediately started using it. My old job had me traveling around a lot, so I got the chance to visit a bunch of different restaurants while I was on the road. I got a lot of practice during this time, taking pictures and videos, and it helped my account to grow into what it is.
How long have you been doing this for?
I've been doing this for about 6 years. I originally was just messing around when I created the page, but I really got serious in the fall of 2016.
View this post on Instagram
Out of all of New England, which area would you say has the best food scene? What's been your favorite to explore?
Providence is really great for a lot of random food.
Il Massimo has great carbonara, and if you're asking me, PVDonuts has the best donuts in New England. Pizza Marvin is over there too, they're wicked good and have great dough. I've gotten great Ramen in Providence, delicious tacos, everything.
What makes the NH food scene so special to you?
Finding gems across the state has been what I love. You get to explore the entire area and visit cool little towns with fun restaurants that you wouldn't even know were there.
View this post on Instagram
What's your #1 piece of advice to someone who's just getting started doing this?
Jump on the trends! Start making videos immediately. If you really want to grow right now and you're not posting videos, then what's the point?
What's your favorite kind of content to create?
Videos have definitely been a lot of fun lately. Photos are for sure easier in a way; I took some last week and it was really nice to do a photoshoot again.
@twotastebuddies has done a great job of implementing both into their feed. They have been doing this cool thing by doing a reel with a photo carousel right after.
View this post on Instagram
What do you predict for the future of social media based food accounts?
Videos are going to keep getting more important. Youtube Shorts are also going to become a bigger player, so if people are focusing on that then it'll be a game changer for their accounts.
What's an area of New England that has an underrated food scene?
Worcester has been up and coming. No one wants to believe me, but you have to trust me on that. I love the Worcester public market for a bunch of local brands. Doughnut Homies is a really cool donut shop there. There's also a great taco spot, Taqueria del Pueblo, that makes great Birria tacos.
View this post on Instagram
What are 5 NH restaurants that everyone should be visiting?
Crown Tavern in Manchester
Los Reyes Street Tacos in Derry
Greenleaf in Milford
Street in Portsmouth (has been one of my favorites for years—a lot of street food from across the world
Woodstock Brewery in Lincoln
Vito Marcellos in North Conway—the owner is actually from RI.
Where's the spot for the best lobster roll?
Rye, NH has an amazing restaurant called Rye Harbor Lobster. They're great!
View this post on Instagram
Best BBQ in New England?
Noble BBQ in Portland. They're great!
What's the best pizza?
Joni's in Chelmsford MA. They are the absolute best. The guy makes his own flour.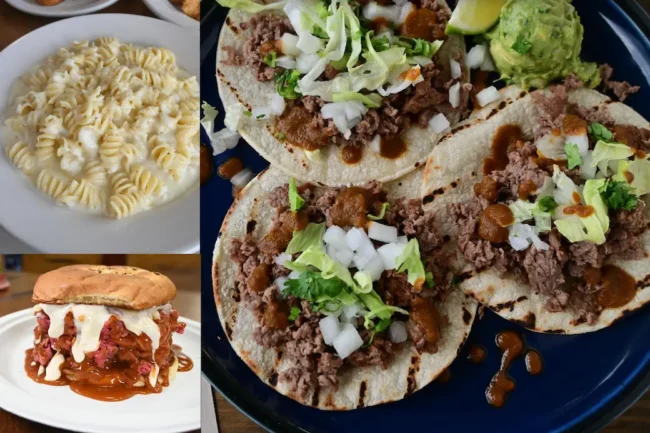 ---
Make sure to follow Joey at @the_roamingfoodie on Instagram, TikTok, and YouTube shorts to keep up with everywhere he's visiting!
All featured photos courtesy of @the_roamingfoodie on Instagram