Is there anything better than the aroma of onions and garlic sauteing in a pan? When I'm cooking at home and that smell starts to fill up the house I get happy.
To me, it's better than the scent of a fresh bouquet of flowers or chocolate chip cookies baking in the oven. Maybe it triggers some childhood memory or I know something really good will be on the dining room table soon. Whatever it is, I love it.
Knowing how to properly saute onions and garlic is very important if you like cooking. It's the start to so many dishes. If you can do it right it will make your recipe great. If you do it wrong it can make your recipe really bad.
Today I'm going to explain the right way to do it.
Why you should cook your onions and garlic first
When you are cooking any recipe, the best practice is to begin by sauteing the onions and garlic first. By beginning your cooking process with sauteed onion and garlic you are going to add lots of rich flavor to the dish you're making.
You want to saute onion and garlic at the beginning of any dish. As they cook they will start to turn golden brown and release natural sugars. This is the best way to enhance the flavor of whatever it is you're cooking.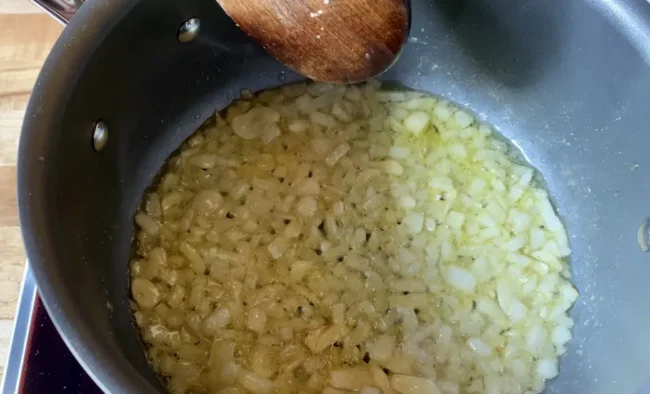 How To Saute Onion and Garlic
I know that you might be thinking, "What is so hard about cooking onion and garlic?"
To be honest, it's really easy. You just need to follow a few simple rules and you'll be a pro at it.
The key is to avoid burning the onions and garlic. Also, I want you to know that it's easy to burn the garlic if you aren't careful. Burnt garlic can ruin a dish because it becomes really bitter.
Here's how you can avoid that.


What You Need
First you need to gather your ingredients. You'll be able to find everything at the grocery store.
Onions: The type of onion you decide to use doesn't really matter. You can use white onions, yellow onions or even a red onion if you have it. The onions can be diced or thinly sliced depending on the recipe and your preference.
Garlic: I suggest buying fresh garlic. Get a nice big head of garlic and remove the skin of a few garlic cloves. I like using minced garlic in my recipes.
Oil: When I saute onions and garlic I like to use olive oil. I buy olive oil that is good quality, but not the most expensive.
If you don't have olive oil in the house you can get away with using vegetable oil.
Seasoning: I keep it pretty simple when I saute onions and garlic. Kosher salt, black pepper, and some red pepper flakes are what I usually use to season my onions and garlic.
This will also depend on the recipe you're making since the garlic and onions are probably part of another dish.
Instructions
The key to successfully sauteing your onions and garlic is to do it slowly. You may think that heating your oil up in the pan first is the way to do it. I have news for you. It's not.
In my experience, the best way is to start off with a cold pan. I know that probably goes against everything you've been told, but stick with me here.
Get a large skillet and add some olive oil. I like using a large pan because it gives me more control of the cooking process. I also like using non-stick pans for sauteing onions and garlic because there is less room for error.
Put your pan on medium-high heat and add your onions. As the oil begins to heat up, the onions will start to cook. There is a lot of moisture in the onions and it will start to release into the pan.
As the onions cook this moisture will start to evaporate. When the onions start to soften up and become translucent, I like to add my garlic. The moisture from the onions will help prevent the garlic from burning.
The onions and garlic will begin cooking together and will start to caramelize. At this point you should start to notice the aroma. You'll smell the sweet onion and garlic filling your house.
If you think they are cooking too fast or are starting to brown, don't get nervous. You can turn the stove down to medium heat and add a little water to the pan. A little bit of water will add enough moisture to prevent them from burning.
At this point, I usually add a little salt and pepper to the pan. I also get a wooden spoon and scrape up any browned bits off the bottom of the pan.
The cooking time for your onions and garlic will vary depending on your preference. If you want the onions to be sweeter, you can cook them longer and let the caramelization process do its work.
At this point, you're ready to add your crushed tomatoes if you're making a tomato sauce.
But there are lots of other things you can do if you know how to saute onions and garlic.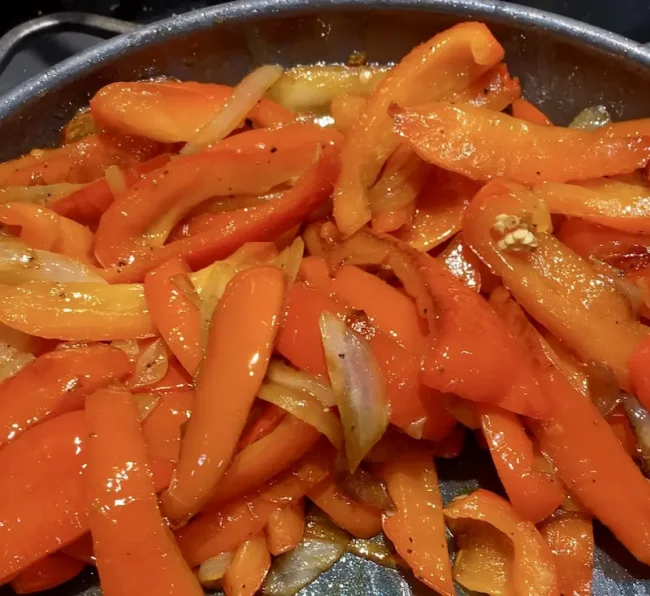 How To Use Sauteed Onions and Garlic
Sauteed onions and garlic are going to make any dish so much better. Here are some ideas.
French Onion Soup: If you know how to properly saute onions you'll be on your way to a great French onion soup.
Pepperonata: Add some bell peppers and balsamic vinegar to your sauteed onions and you have a beautiful, but simple side dish that goes with just about anything.
Serve it with grilled chicken breast, Italian sausages or on bruschetta. I like it best when it's room temperature.
French Onion Dip: Have you ever made your own French Onion Dip? It's not that hard if you know how to make good caramelized onions.
Onions and Mushrooms: When I eat a big, fat steak I need a side of mushrooms and onions. There are so many mushrooms to choose from. Cremini mushrooms, white mushrooms and baby bella mushrooms are great choices.
Cook the mushrooms and onions down with a splash of white wine. If you like it a little sweeter add Marsala wine or Grand Marnier to the sauteed mushrooms and cook it for a long time on low heat.
Stir Fry: A stir fry is a quick and healthy meal. Add some shrimp, broccoli, carrots and peppers to the onion and garlic recipe. Cook it all together with some soy sauce and serve it in a large bowl with white rice.
You can also use it with many pasta recipes. Try it with our spicy tuna pasta.