I'm about to give you a Broccoli Rabe Recipe that will change your life. Get ready!
First of all, you might be asking yourself: "What the hell is broccoli rabe?". Sometimes people call it rapini, broccoli raab, broccoletti or even friarielli (if you're in Italy).
Whatever you decide to call it, expect a vegetable that's bitter and a little weird if you're not used to it.
I'll be honest. When I was a little kid, I hated broccoli rabe. If I smelled my grandmother cooking it, I'd run the other way.
And let me tell you: she cooked it all the time. This was long before it started to become popular in Italian-American restaurants.
But as I got older, my attitude towards broccoli rabe changed. That weird bitter taste I was so scared of as a kid became fun. I actually started to love it.
I realized that broccoli rabe was the perfect side dish for a big fat Delmonico steak or a nice bowl of Fettuccine Bolognese.
The rest is history.
What makes our broccoli rabe special
Now, I get asked all the time about how I make the broccoli rabe here at Mortadella Head because it's so good.
They want to know: "Do you blanch it in boiling water before you saute it in olive oil?"
They ask: "Do you shave the ends of the stems before you cook them?"
The answer to both of these questions is: "NO!"
We make so much broccoli rabe at Mortadella Head that I had to figure out an easy way to make broccoli rabe in big batches. It had to be a quick and easy broccoli rabe recipe that tasted awesome!
So I tested a bunch of ways to make broccoli rabe and I think I have come up with the absolute best way to make it…and it's SO EASY.
Let's roast some broccoli rabe!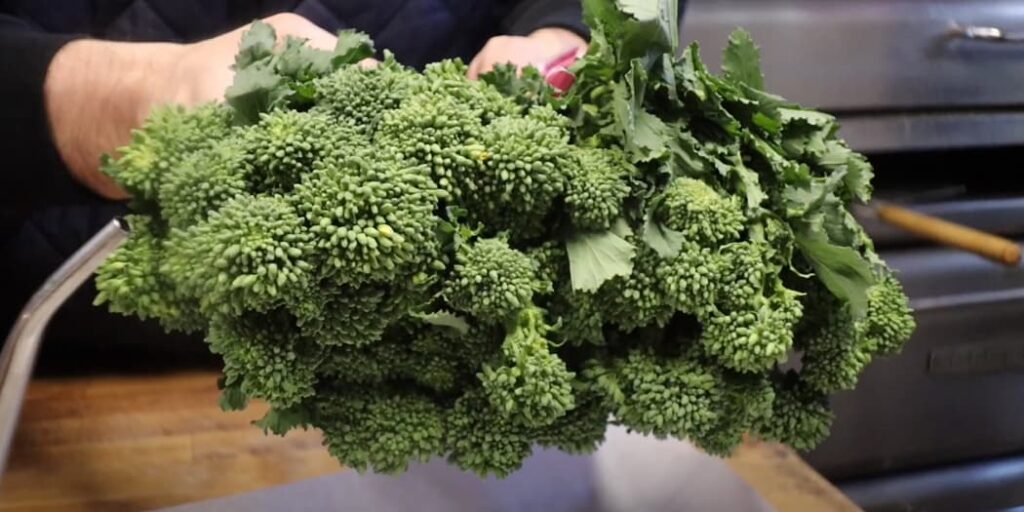 Ingredients
First of all, let's see the ingredients for this roasted broccoli rabe recipe.
Broccoli Rabe: It comes in bunches at the supermarket held together by a little pink twist tie. It's always packaged by the same company. You'll know what I'm talking about when you see it.
Olive Oil: Use good olive oil. It doesn't have to be really expensive, but make sure you get one good enough to drizzle on a salad.
Garlic: Get some fresh garlic and mince it.
Pecorino Romano Cheese: Buy a chunk and grate it yourself if you can. If you buy some already grated, make sure you buy it somewhere that you know grates it fresh.
Red pepper flakes: I like dried Calabrian chili peppers.
Salt: I like Kosher salt or a pinch of good sea salt.
Black pepper: Grind it yourself from the pepper mill if you can.
How to make your roasted broccoli rabe
This is so easy you won't believe it.
First, you want to preheat your oven to 400° F degrees.
In the meantime, wash and dry your broccoli rabe really well. After that, cut off the ends of the stems. I usually cut off ¼ inch and throw them away.

Now take the rest of your broccoli rabe and cut it into 1 inch pieces. I'm talking about the stems, the leaves and the flowers — everything.


Put them in a big bowl and add the rest of the ingredients: olive oil, garlic, grated Pecorino Romano, dried chili flakes, salt, and pepper.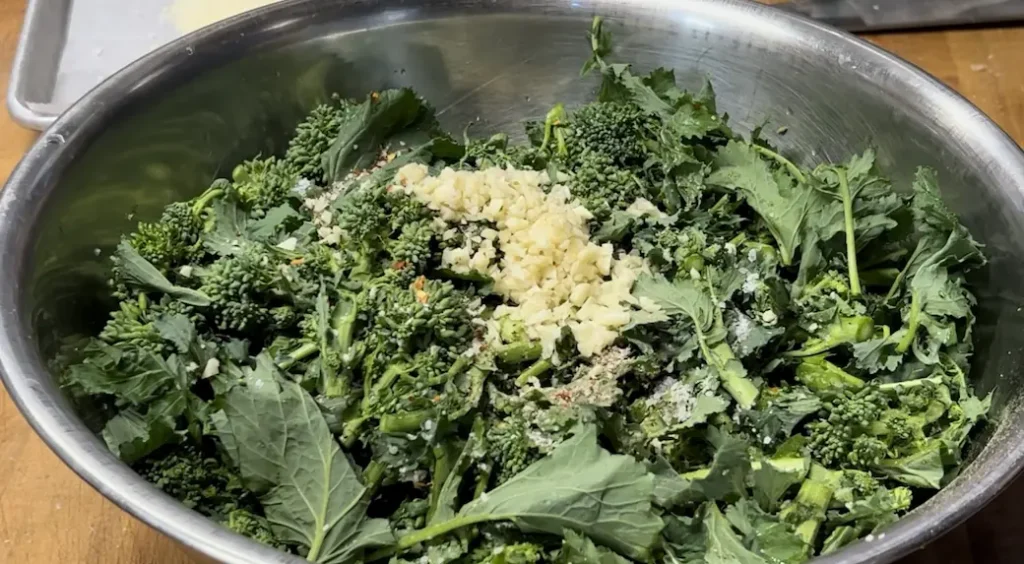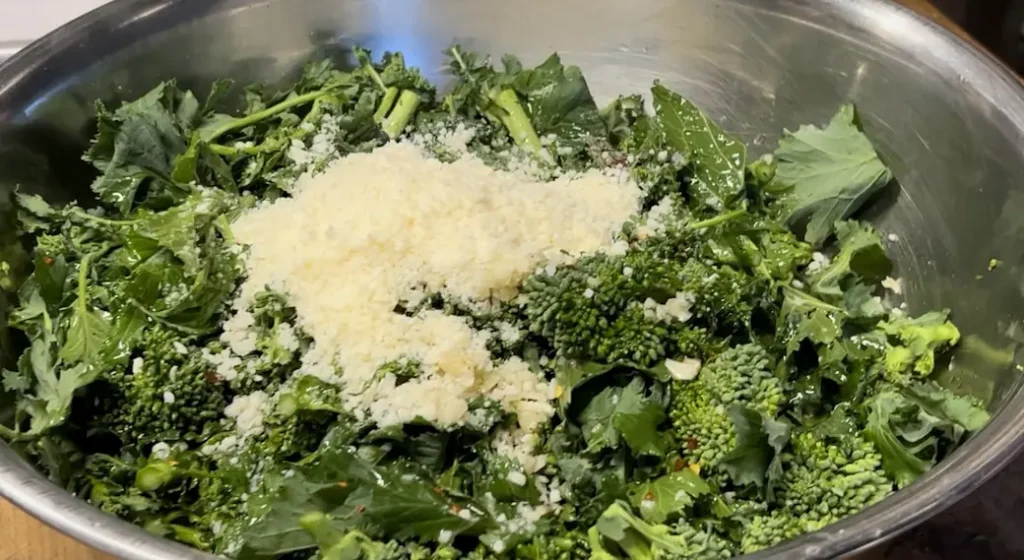 Now comes the fun part. Start massaging your broccoli rabe. Really, start rubbing it together with your hands and squeeze in all of the other ingredients.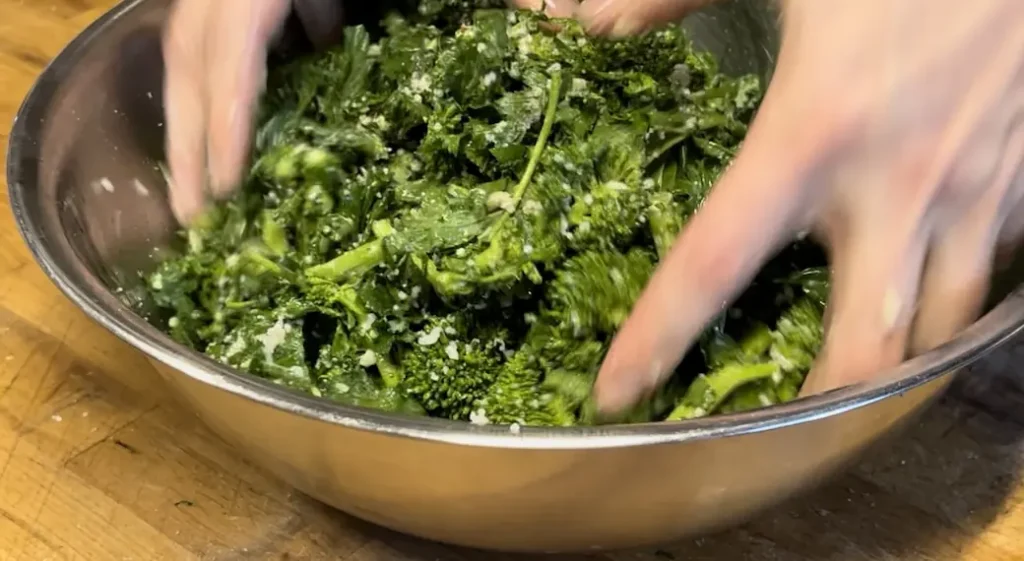 The goal here is to get all of the ingredients incorporated together. You want every piece of broccoli rabe to be covered in flavor. Take your time and do it right.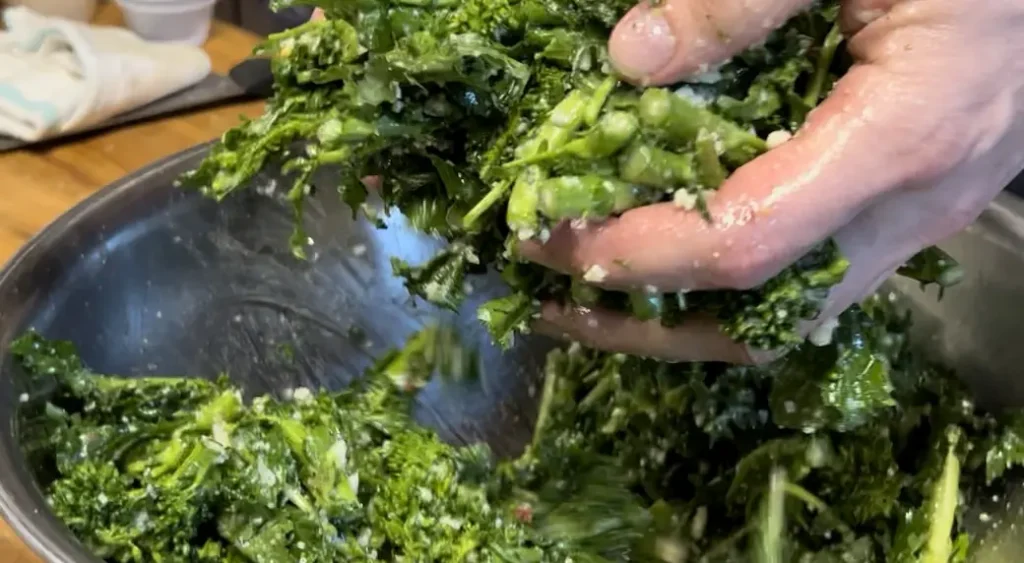 This is a really important step if you want awesome roasted broccoli rabe. Not only is this going to make sure each piece of broccoli rabe gets the maximum amount of flavor, but it's going to tenderize it too!
Now, spread your massaged broccoli rabe evenly on an oiled sheet pan.
Pop it in the oven for about 15-20 minutes. Toss it around with a spatula or big spoon at about the 10-minute mark.
You'll know it's done when it smells like you died and went to Garlic Heaven.
Take it out of the oven, let it cool and you're ready to go!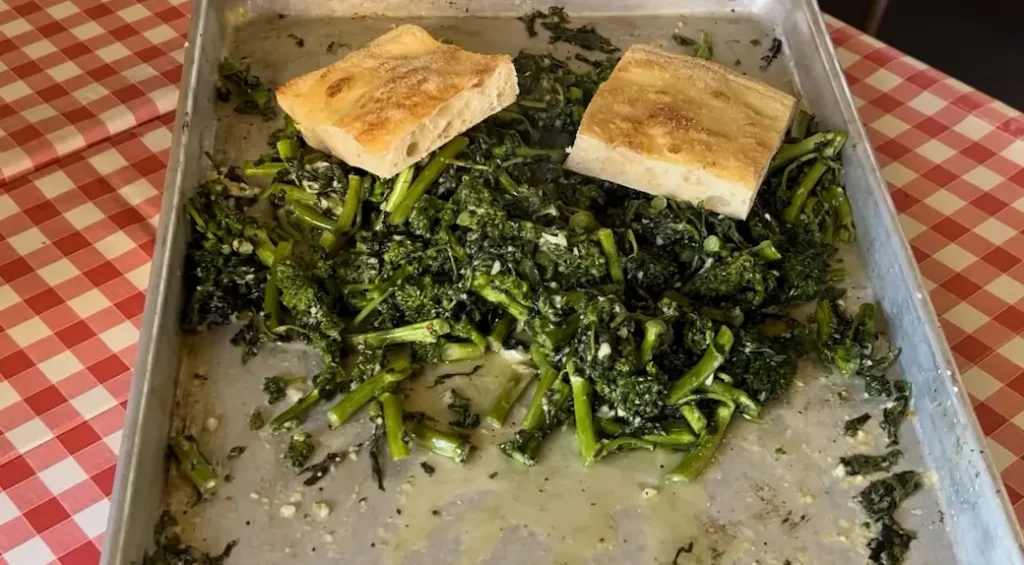 Broccoli Rabe FAQs
That was the end of my roasted broccoli rabe recipe.
Now, if you have some doubts, here are some common Q&A. Let me know if you have any other curiosity, I'll edit this paragraph with the right answer.
Q: Can you freeze broccoli rabe? If so, do you do anything special to it beforehand?
We usually freeze them and sell them frozen. People love them. The rabe is beautiful after you cook it from frozen. And no, you don't have to do anything special to it.

Q: Do you take the leaves out of broccoli rabe?
No, they are totally edible, and I use them with all the other parts of the broccoli rabe.
Q: Can I use grated Parmesan cheese instead of Pecorino Romano?
Yes. Here is some info on what to expect.
Q: If I don't have broccoli rabe, can I use this method for another vegetable?
Absolutely. I use this method of cooking for just about any leafy green vegetable.
Q: Do I have to use dried chili peppers?
No. If you don't like the heat, leave them out. It will be just as delicious either way.
Q: What is the difference between rapini and broccoli rabe?
None. As I was saying before, rapini is just another name for broccoli rabe in Italy, although they are more famous as friarelli.
What to serve with them?
Meat: This roasted broccoli rabe is a great side dish with something fatty like sausages or pork chops.
Bruschetta: Get some crusty bread, toast it, rub it with a fresh clove of garlic and top it with your broccoli rabe and a drizzle of good olive oil. Wow!
Pasta: Toss your broccoli rabe in your favorite pasta with some garlic, olive oil and sauteed shrimp. Give it a squeeze of lemon and you'll feel like you're on the Amalfi Coast!
Grains and Legumes:
Risotto: A creamy Parmesan risotto can beautifully contrast the slight bitterness of broccoli rabe.
Quinoa Salad: Mix roasted broccoli rabe with cooked quinoa, cherry tomatoes, feta cheese, and a lemon vinaigrette for a wholesome meal.
Lentil Soup: Add roasted broccoli rabe to a hearty lentil soup for added nutrition and texture.
Seafood:
Grilled Fish: A delicate fish, like seabass or snapper, can be paired with broccoli rabe for a light and healthful dinner.
Scallops: Pan-seared scallops with a side of roasted broccoli rabe can make for a gourmet meal at home.
Vegetarian and Vegan Dishes:
Tofu Stir Fry: Mix broccoli rabe with crispy tofu, bell peppers, and a savory sauce for a delightful vegan meal.
Stuffed Bell Peppers: Fill bell peppers with a mixture of roasted broccoli rabe, rice, black beans, and your choice of cheese or vegan alternative.
Pizza and Flatbreads:
Rabe Pizza: Use roasted broccoli rabe, ricotta cheese, chili flakes, and garlic as toppings for a unique pizza flavor.
Flatbread: Top a pre-baked flatbread with roasted broccoli rabe, caramelized onions, goat cheese, and a balsamic glaze.
Others:
Eggs: Incorporate roasted broccoli rabe into omelettes, quiches, or frittatas.
Grain Bowls: Add broccoli rabe to a bowl with brown rice, roasted veggies, avocado, and a tahini dressing.
Tacos: Create a fusion taco with roasted broccoli rabe, black beans, corn, and a tangy chipotle sauce.
… and of course, you can add some pulled pork and make a delicious broccoli rabe sandwich like we did.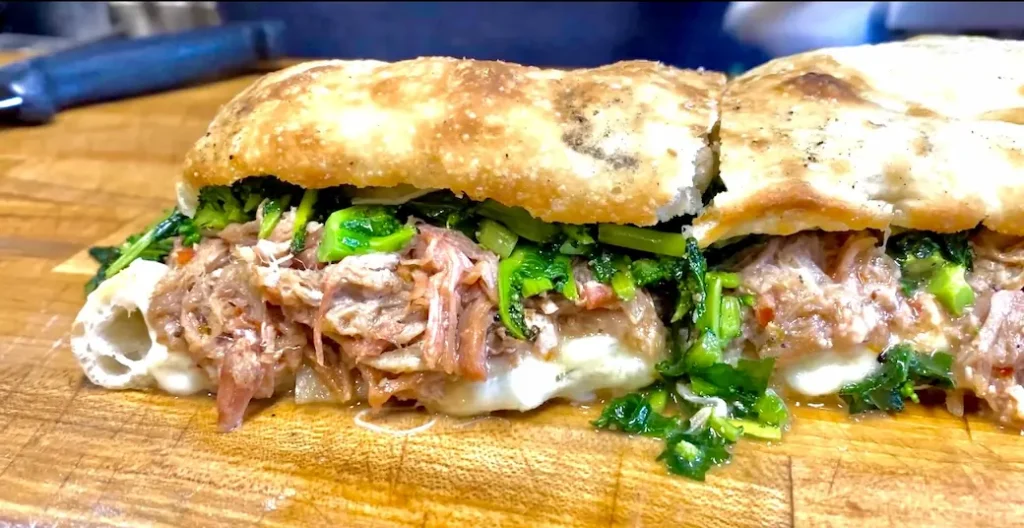 Interesting Facts about Broccoli Rabe
Not Broccoli's Twin: Despite its name, broccoli rabe is not actually broccoli. It's closer in relation to turnips than to broccoli. The name can be misleading!
Multicultural Star: Broccoli rabe is popular in various cuisines around the world. It's a staple in Italian cooking, especially in southern regions, but it's also used in Chinese and Portuguese dishes.
Nutrition Powerhouse: Roasted broccoli rabe is packed with nutrients. It's rich in vitamins A, C, and K, and also provides calcium, folate, and iron. Plus, it's a great source of antioxidants and dietary fiber.
Bitter is Better: Broccoli rabe is known for its slightly bitter taste. However, roasting it can mellow down this bitterness, making it more palatable and bringing out a nutty flavor.
Flower Buds Galore: Those tiny little buds on broccoli rabe might look like miniature broccoli florets, but they're actually flowers that haven't bloomed yet. If allowed to grow without harvesting, the buds would burst into yellow flowers.
Older than Broccoli: Broccoli rabe has been cultivated and consumed for thousands of years, predating its more well-known cousin, broccoli.
Leafy Green Goodness: While most people focus on the buds, the entire plant, including the stalks and leaves, is edible. In fact, the leaves are where a lot of the flavor resides!
Cooking Companion: Roasted broccoli rabe pairs exceptionally well with strong flavors, such as garlic, chili, and anchovies, which can complement its bold taste.
Calorie-light: A cup of cooked broccoli rabe has just about 30 calories, making it a great option for those watching their calorie intake.
Natural Detoxifier: Broccoli rabe contains compounds that help in liver detoxification processes, promoting overall health.
Print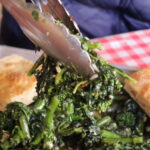 Easy Roasted Broccoli Rabe
---
Author:

Total Time:

25 minutes

Yield:

1

or

2

people

1

x
1 bunch of broccoli rabe
1 tablespoons of minced fresh garlic
½ teaspoon of salt
½ tablespoon black pepper
2 tablespoons grated Romano cheese
¼ cup olive oil
---
Remove ties from broccoli rabe bunches

Wash and dry broccoli rabe

Cut ¼ inch off the ends of broccoli rabe stems and discard

Cut remainder of broccoli rabe, leaves and stems, into 1 inch pieces

Place cut broccoli rabe into large mixing bowl

Add garlic, salt, pepper, Romano cheese and oil to bowl

Mix well with hands massaging all ingredients into broccoli rabe.  Be sure all rabe gets coated with ingredients.

Transfer broccoli rabe to a large sheet pan and spread it evenly across pan.

Place in a 400° F pre-heated oven for about about 15-20 minutes.

Enjoy!
Prep Time:

5

Cook Time:

20