With its up and coming city charm, multiple colleges and universities, and many young people who have recently moved, Waltham MA is a hidden gem for restaurants, cafes, and generally good food.
If you're ever driving through or visiting your loved one, there's no need to go to classic fast food joints like Burger King or Wendy's or just sell your soul to going out to ice cream, the best of the best is already right there!
Here is a list of all of my favorite restaurants near Moody Street Waltham MA!
In a Pickle Restaurant
View this post on Instagram
I'm willing to bet you've heard of this first one already!
Located in the heart of Moody St. is this fabulous brunch place known for its boozy coffee, overloaded omelets, and pancakes, french toast, and waffles like you've never seen before.
I mean, seriously; what other place would give you a totally loaded oreo pancake stack, filled with whipped cream and little pieces of oreos?
It's like dessert, but in the best way.
Aside from their insane breakfast options, In a Pickle has many lunch and traditional breakfast choices as well.
This is a must visit spot—you absolutely have to go! 
Oh by the way, 'want to know what's a typical Italian breakfast? Click on the photo for the surprise!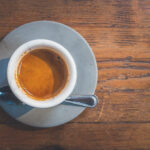 Sweet Basil on Moody
View this post on Instagram
My parents are as Italian as they come, and they swear by this great place.
This amazing spot features Italian cocktails, appetizers, entrees, and desserts, cooked with a classic Italian flare.
From fish, to pasta, to fresh meat, their entrees are as delicious and authentic as you can get.
Not in the mood for one dish? No problem, their menu features an extensive selection of appetizers, such as baked gouda, steamed mussels, and arancini that you can share with the entire table.
For lunch or for dinner, this is the place you want to be!
Vinotta
View this post on Instagram
One of Waltham's most popular restaurants, this is one of the best places for fresh Italian food.
Vinotta has achieved an almost five star rating across all Google reviews, and it's no secret as to why: This restaurant features authentic gourmet Abruzzo choices, with plenty of seafood options mixed in as well.
Here, you can find classic dishes such as ahi tuna crudo, shrimp & clams guazzetto, and even risotto marechiaro!
This is truly the best spot for fresh atlantic seafood and Italian eats, you don't want to miss out!
Il Capriccio
View this post on Instagram
If you haven't picked up on it by now, the Moody Street area is a hidden gem for authentic Italian food.
At Il Capriccio Ristorante e Bar, Northern Italian food is their name, and outstanding food quality is their game.
Since 1981, this restaurant has been built off of rich Northern Italian heritage, which is reflected by their many signature dishes, which have been built on and perfected all throughout the years.
Their menu changes on a rotating basis, but typically features fabulous cuts of meat, new and exciting spins on classic pasta dishes, and impeccably fine seafood.
Heidi's Restaurant
View this post on Instagram
This family owned spot is the perfect place to go if you're looking to enjoy some nice, casual breakfast or lunch.
With everything made fresh to order, you can enjoy some of the best chocolate chip style waffles, bacon, eggs and homefries, and their signature breakfast sandwiches.
Just typing this, I am getting hungry.
For all of your breakfast needs, Heidi's Restaurant is the place to be!
Other Great Moody St. Area Restaurants:
There you go. With these choices, you can definitely drop by to some restaurants near Moody Street Waltham MA. Enjoy!