When you think of Mediterranean Thanksgiving recipes, I'm sure your mind goes to a nice Greek cuisine-styled charcuterie board. One with tons of kalamata olives, pita chips, feta cheese, greek herbs, pine nuts, etc.
But what if I told you that the Mediterranean diet is much more broad than that? That it's used all across Europe, and that you've probably been eating that way each and every Thanksgiving?
That's right, you're already halfway there.
According to Sharon Palmer, the Mediterranean diet "involves including lots of seasonal fruits and vegetables, healthy fats, moderate wine, lower intake of red meat, moderate intake of animal protein, more grains and seeds, and low use of highly-processed foods and sweets."
Now with the exception of the sweets, because no holiday meal is complete without those, this sounds a lot like a regular old Thanksgiving dinner to me.
Seasonal fruits and vegetables? Check.
Low intake of red meat? We're turkey eaters around here.
And surprisingly, most Thanksgiving desserts are made with natural fruits, grains, and seeds.
While Thanksgiving dinner gets a bad rap with its emphasis on excessive delicious food intake, is it really that bad when most of the food you're eating is good for you?
The answer is, and will always be, no. (Even with the food that is more processed and fattening, on Thanksgiving, it's good for you too. We don't make the rules.)
Below, I'm going to be sharing some of the recurring recipes (with a Mediterranean twist) that my family uses each and every Thanksgiving. Be sure to bookmark this article so you can try these recipes for yourself! I guarantee you, they'll become a hit in your house.
*Don't feel like cooking this Thanksgiving? We've got you covered. Check out our Thanksgiving Catering Menu!*

Mediterranean Turkey Recipe
This recipe has been tried and true in my family for years, and I guarantee you'll love it too.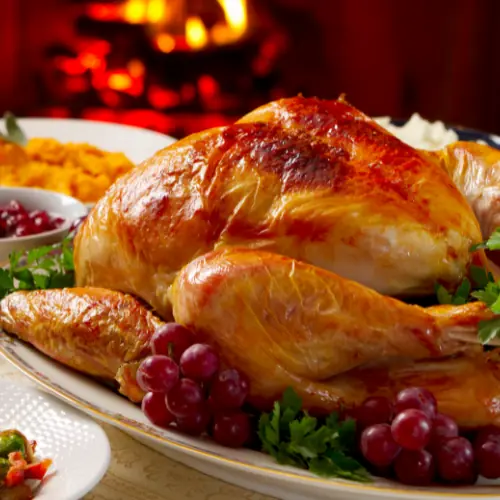 I'll have to be honest: I'm not the world's biggest fan of turkey.
Even though it's one of the most traditional recipes and the main course of every Thanksgiving dinner, I'm much more inclined to go after a ham, prime rib, or even a baked chicken thigh. I find that turkey a lot of the time is too dry, which makes it difficult to eat.
But this turkey is the opposite of that. And it's all thanks to the chicken stock.
It comes out of the oven so extremely tender and moist, and practically melts in your mouth.
If I could only eat one turkey recipe ever again, it would be this one. And you'll find out why when you make it for yourself.
Print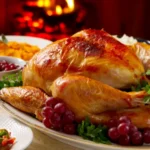 Mediterranean Turkey Recipe
---
Author:

Total Time:

210

Yield:

1

turkey

1

x
1 turkey, thawed

1/2 –1 cup of fresh herbs: thyme, rosemary, bay leaves, sage, rosemary

½ yellow or red onion

½ red apple

½ lemon

6 cloves of minced garlic

2 tbsp salt

2 tbsp pepper4 cups chicken broth or stock

3 tbsp olive oil
---
Preheat your oven to 350° fahrenheit.
In a small bowl, combine the olive oil, herbs, and seasonings. Use how much or how little of anything as you want, season with your heart.
Rub the seasoning mixture generously over the turkey. Make sure it gets everywhere.
Stuff the cavity of the turkey with the onion, apple, minced garlic, lemon, and a whole bunch of fresh thyme. The more the merrier!
Place the turkey in a large roasting pan with chicken stock. Tie the legs together, and tuck wing tips underneath the turkey's body.
Roast the turkey for 2 ½ hours, or until the juices between the leg and thigh run clear.
Let the turkey rest for at least a half hour before serving.
Prep Time:

30

Resting Time:

30

Cook Time:

150

Category:

Turkey

Cuisine:

Mediterranean
Keywords: mediterranean thanksgiving recipes
Roasted Beets and Sweet Potatoes
Growing up, my mom would always make this easy recipe even if it wasn't Thanksgiving. It's just that good.
To this day, my cousin will always request my mom make him her special sweet potatoes every Thanksgiving. They're a hit in my family, and I'm sure they'll be in yours too.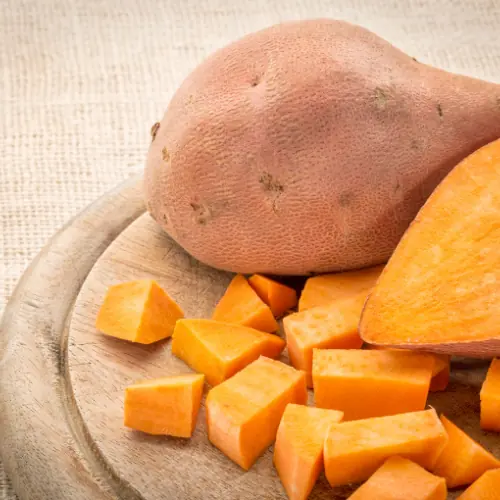 Part of why I love this dish is because it's so incredibly easy.
It's a sheet pan meal, which is always a plus, but it's ready in no time.
And it's delicious.
If you're looking to get really creative with this, try topping this over a bed of lettuce and making a harvest salad. I bet it'll taste amazing!
Print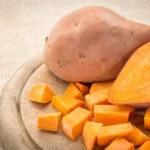 Roasted Beets & Sweet Potatoes
---
Author:

Total Time:

30 minutes

Yield:

6

1

x

Diet:

Vegan
6 beets

6 sweet potatoes

2 tbsp olive oil

Salt, to taste

Pepper, to taste

Cinnamon, to taste

Garlic powder, to taste
---
Preheat oven to 415°
Cube sweet potatoes and beets and season generously
Spread them all over a large baking sheet, going in multiple batches if necessary
Let cook for 20 minutes or until fragrant
Prep Time:

10

Cook Time:

20

Category:

Side dishes

Cuisine:

Mediterranean
Keywords: mediterranean thanksgiving recipes
Perfect Mashed Potatoes
Surprisingly, potatoes are a huge part of the Mediterranean diet. They're a grain, after all, and also double as a vegetable. So it makes perfect sense that a yummy mashed potato dish would be the perfect addition to your Mediterranean Thanksgiving table. They are, after all, a massive Thanksgiving staple.
Traditional mashed potato recipes typically call for whipped butter. However, to keep this more heart-healthy, I opt for adding olive oil instead. For best results, use yukon gold or russet potatoes.
If you prefer to still have the creamier taste in your mashed potatoes, you can mix in any sweetener-free dairy alternative. It'll still give off that creamy taste you're missing, but with less of the processed additives.
Print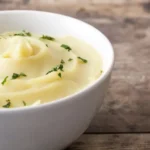 Mashed Potatoes
---
Author:

Total Time:

20 minutes

Yield:

6

1

x

Diet:

Vegetarian
3 lbs potatoes, either yukon gold or russet

4 cloves minced garlic

½ cup olive oil

Salt, to taste

Pepper, to taste
---
Peel potatoes, rinse them, and add them to a boiling pot of salted water
Once potatoes are softened, put them in a bowl with olive oil, seasonings, and garlic
Use a hand mixer or kitchenaid to whip potatoes, and blend everything together. Taste as you go along, and add as much or as little of anything that you want
Prep Time:

20

Category:

Side Dishes

Cuisine:

Mediterranean
Homemade Cranberry Sauce Recipe
I feel as though cranberry sauce is always a hit or miss among families at Thanksgiving. That always used to surprise me, because it was one of my favorite sides. You just can't beat the sweetness of the cranberries combined with everything else on your plate. It adds a dimension that's just incredible.
And not to mention how good it is on a Thanksgiving leftover sandwich. It really ties everything together perfectly, acting as a glue of some sorts.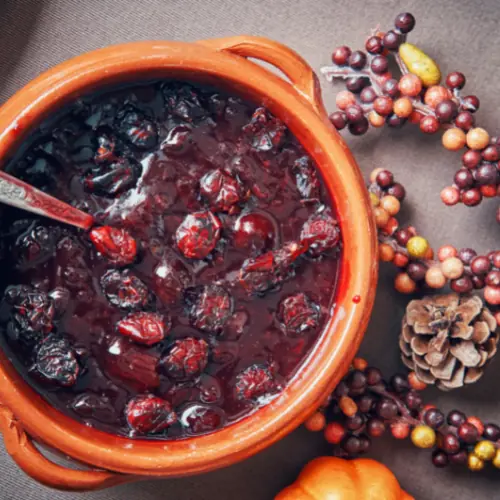 Over the last few years, we have strayed away from using the notorious canned cranberry sauce, and have opted to make our own instead.
This is the recipe that we use!
Print
Homemade Cranberry Sauce
---
Author:

Total Time:

30 minutes

Yield:

6

1

x
1 bag 14 oz cranberries

¼ cup brown sugar

¼ cup granulated sugar

¾ cup dry red wine

1 cup water

2 sticks cinnamon
---
Put water in a saucepan on the stovetop on medium heat
Add sugar, and stir well until all is dissolved
Add wine to the pot, and bring to a boil
Add cranberries and cinnamon sticks. Cover, and let simmer for 15-20 minutes, or until sauce thickens
Chill before serving
Prep Time:

10

Cook Time:

20

Cuisine:

Mediterranean
Keywords: mediterranean thanksgiving recipes
Apple Crisp
And what would Thanksgiving dinner be without dessert?
This apple crisp is always the talk of the town. Personally, I like it better than apple pie. It's healthy, delicious, and amazing. I almost always serve it warm with vanilla ice cream. It's truly a game-changer.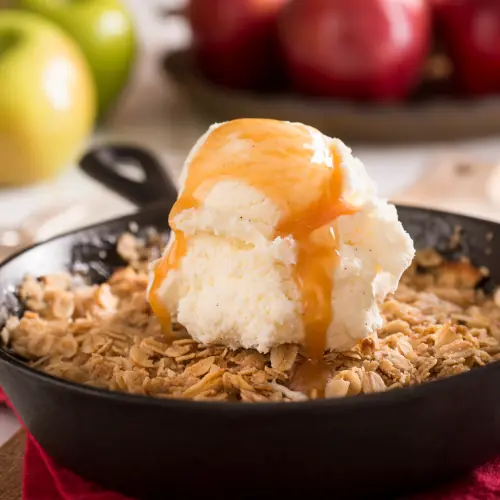 Part of the reason this recipe is one of my favorites is because it's so delicious and sweet, but simultaneously healthy. I always underestimate the power of apples and cinnamon. A little can go a really long way!
For best results, use a high-quality naturally-made maple syrup. I always recommend Vermont maple syrup, it's truly the best, and not as sugary and processed as some of the main supermarket brands.
Print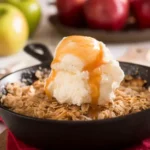 Apple Crisp
---
Author:

Total Time:

40 minutes

Yield:

6

1

x
5 large apples, peeled and cubed

3 tsp cinnamon

1 tbsp EVOO

1 tsp vanilla extract

1 ½ cups oats

3 tbsp maple syrup

1 pint vanilla bean ice cream
---
Preheat oven to 350°
Add apples, olive oil, vanilla, and ½ of the cinnamon to a bowl, and mix well to combine. Taste an apple, and add as much of anything else as needed
Spread the mixture evenly at the bottom of a baking dish
Top with oats, syrup, cinnamon
Bake for 35 minutes or until fragrant
Serve fresh out of the oven with vanilla ice cream
Prep Time:

5

Cook Time:

35

Category:

dessert

Method:

baking

Cuisine:

Mediterranean
Keywords: mediterranean thanksgiving recipes