Yesterday afternoon I was struck with a sudden craving for snacks. I eagerly tiptoed to my pantry, only to discover that all my sweet treats were gone! Determined not to go back defeated, I quickly gathered a handful of ingredients and began kneading cookie dough. Then one thing led to another, and there I was testing different recipes to make the perfect gluten-free cookies.


It's kinda like when you say you'll go to sleep early and then you find yourself at 3 am reading a Wikipedia page about forerunners. 😀

After various tests, I think I've found a really great recipe! Here's what I did. 
Gluten-free cookies have gained immense popularity in recent years, not only among individuals with gluten sensitivities or celiac disease but also among those who simply appreciate wholesome treats. And today, with a wide range of gluten-free flours and ingredients available, it's easier than ever to whip up delightful cookies at home! 
The options are endless. From classic chocolate chip to oatmeal raisin and peanut butter, these treats offer a world of possibilities. They are a testament to the fact that indulging in something sweet can still be part of a balanced lifestyle. Whether you follow a gluten-free diet by choice or necessity, you no longer have to sacrifice taste and enjoyment.
This time, I went for classic chocolate chip cookies. But one thing that I love about this recipe is that it can be completely customized to meet any necessity. Later on, I'll show you how to adapt it to your liking. Let's go!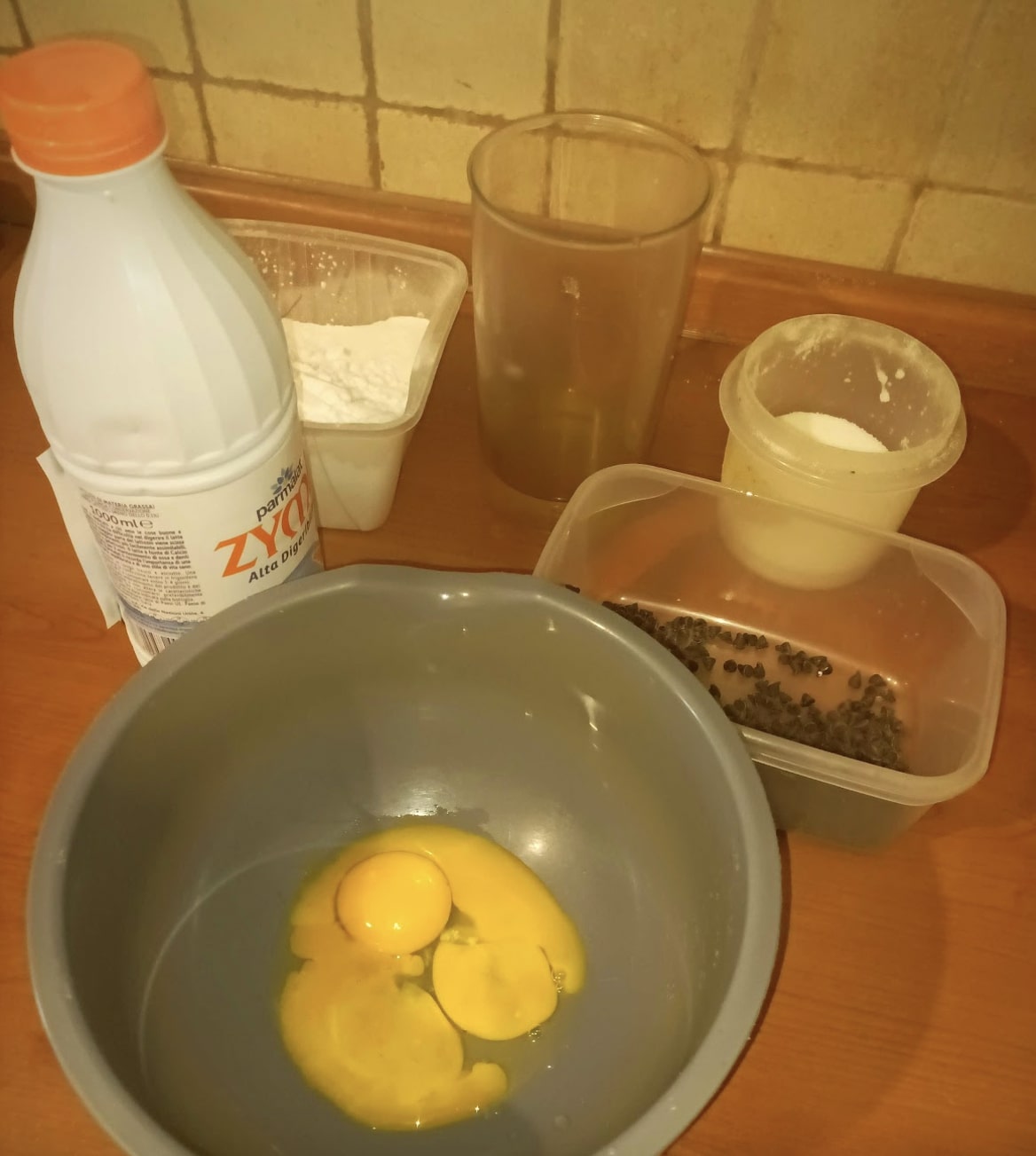 What you'll need

 
Let's embark on a delightful journey into the realm of gluten-free cookie baking. Here's everything you need!
Rice Flour: obviously, we can't use all-purpose flour for this recipe. But luckily, there are many gluten-free flour blends to explore! This time, I decided to try rice flour. It will give a light and delightful texture to your cookies, ensuring a delicious bite every time. However, you can also go with coconut flour, or almond flour, if you prefer. 
Potato Starch or Cornstarch: when switching from flour to gluten-free alternatives, it's always better to divide the original amount into a blend of flour and potato starch/cornstarch. Starch acts as a secret ingredient, imparting a lightness and tenderness to our cookies. It also aids in maintaining the desired texture, both inside and out.
Baking powder:  the magic ingredient that helps our cookies rise and achieve a delightful, fluffy texture. It ensures that each bite is a perfect balance of softness and crumb.
Egg yolks: they will play a crucial role in this recipe, bringing richness and binding properties to your cookies. They contribute to the overall structure and help create a delectable, soft texture. Important: the eggs should be at room temperature before starting. This way, they will bind better with the other ingredients.
Sugar: feel free to experiment with alternatives like brown sugar or coconut sugar for a unique twist that suits your taste preferences.
Extra-virgin olive oil: our usual readers now that I like to switch butter with olive oil when making pastry dough. It's a healthier alternative that adds a touch of richness and a subtle depth of flavor. Many people say to use seed oil because it has no flavor but trust me on this one, you'll thank me later. 
Milk: I made many tests for this recipe, and I think that milk provides a better texture. Feel free to use either regular milk or plant-based alternatives. However, if you go for vegan options, make sure they are not made with ingredients that contain gluten. 
Chocolate chips: try using a combination of semi-sweet and dark chocolate chips for a harmonious blend of flavors. These pockets of melty goodness will add a burst of indulgence to every bite. Feel free to explore other variations like white chocolate chips or even add chopped nuts for a delightful crunch.
For the precise amounts, go check the recipe card at the bottom of this post. Now, let's see how to make some delicious cookies, step by step!

After you've gathered your ingredients and they've reached room temperature, grab a large bowl and break the eggs in it. Next, add the sugar and whisk gently.
Now, add the wet ingredients. Pour in the oil and milk, and mix thoroughly until everything is evenly incorporated. 
Then, blend in the dry ingredients starting with the flour, baking powder, and potato starch. 
Gradually add them to the mixture, using a spatula or your hands to combine everything. Keep in mind that this recipe yields a slightly sticky cookie dough. Finally, fold in the delightful chocolate chips and ensure they are evenly distributed throughout the dough.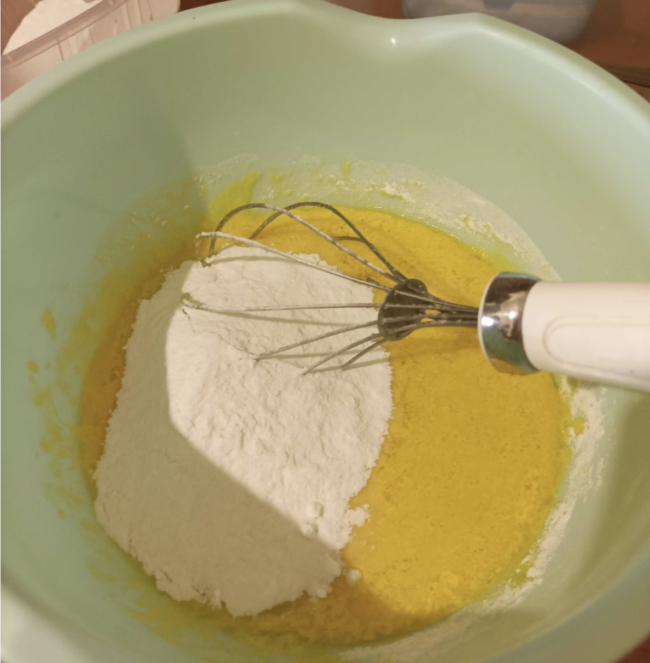 Now comes an important step. Knead the dough until it forms a cookie dough ball, then cover it with plastic wrap and allow it to rest in the refrigerator for a minimum of 30 minutes. While some online recipes skip this step, I highly recommend it as it reduces the dough's elasticity and creates a more delicate, chewy texture in your cookies.
Once the half-hour mark has passed, remove the plastic wrap and place the dough ball on a tabletop. Adjacent to it, lay a baking sheet covered with parchment paper. Use a cookie scoop or your hands to portion out small dough balls, and then flatten them slightly to give them the desired cookie shape.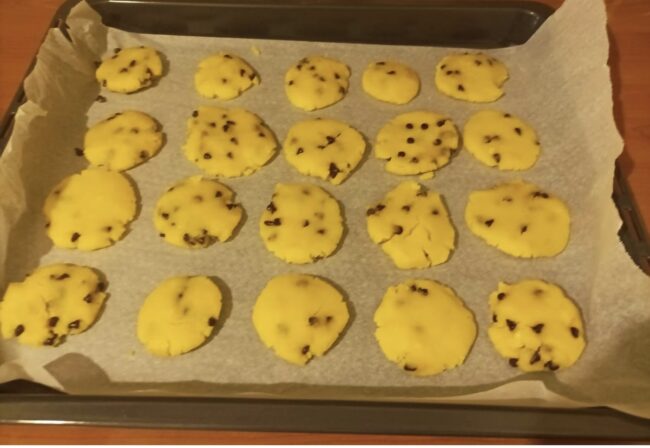 Preheat your oven to 356°F and bake the cookies in static mode for approximately 25 minutes. 
While they bake, the aroma of freshly baked cookies will fill your kitchen, whetting your appetite. Once they have turned golden brown, carefully remove the cookies from the oven and transfer them to a plate or tray. Cover them with a clean cloth to allow them to cool completely.
Once the cookies have cooled, it's time to indulge! Grab your favorite airtight container to store any leftovers. Trust me; these cookies will disappear quickly, but if you manage to save some, the airtight container will help maintain their freshness.
→ For best results, go check this interesting guide about gluten-free baking!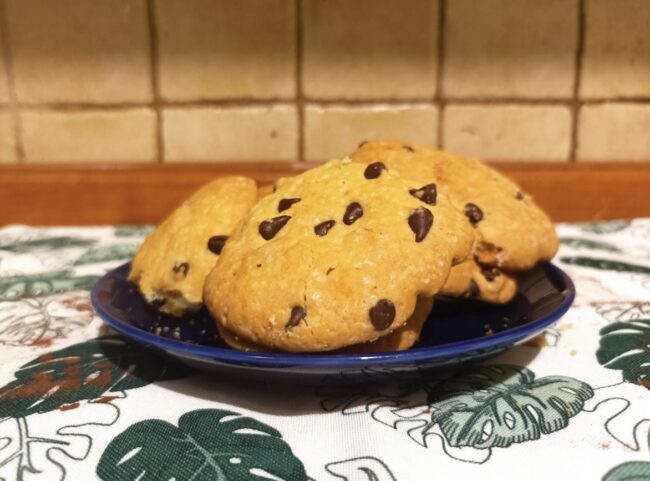 These cookies were so delicious, that I was only able to taste a couple of them before the rest of my family made them disappear. They were chewy and flavorful and tasted well with both milk or other sweet additions like Nutella or cream. 
In fact, I made some ladyfingers with the leftover pastry, and later used it to make a gluten-free tiramisu that was absolutely delicious! I will share the recipe soon.
Now, it's time for the second part of this post.
This recipe is very flexible, and each of its ingredients can be switched with alternatives that suit every need. If you like making experiments in your kitchen, keep reading to learn how to craft your own cookie recipe! 
How to customize this recipe
With this simple but delicious recipe, you can make gluten-free cookies at home whenever you want. But now, let's see how you can customize and adapt it to any need.
We will have to do some math. 
I based my cookies on the traditional Italian shortcrust pastry recipe:
1000 grams of flour (approx. 8 cups)

500 grams of butter (4 sticks)

500 grams of sugar (2 + 1/2 cups)

150 grams of egg yolks (approx. 9 yolks)
Obviously, this is too much for a single batch of cookies, so I decreased everything to 350 grams of flour, 175 grams of butter, 175 grams of sugar, and 52 grams of egg yolks.
Now, let's look at alternatives for each of these ingredients! 
How to substitute flour
As I mentioned earlier, when substituting flour in gluten-free recipes, it is best to divide it into a blend of flour and potato starch/cornstarch. This is because gluten gives the pastry a stronger texture that gluten-free flour cannot emulate on its own. For the same reason, it is good to add a pinch of baking powder as well. I used a rice flour to potato starch ratio of 70% : 30%. If you prefer, you can substitute the potato starch for xanthan gum.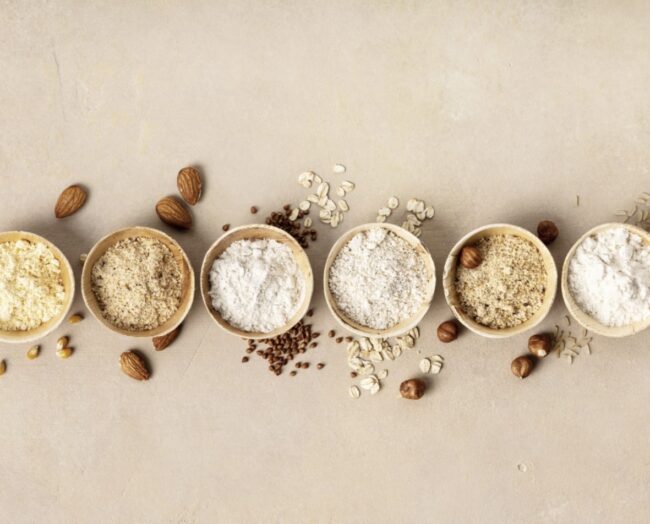 How to substitute butter
The obvious alternative is almond butter, or any gluten-free vegan butter that can be found in grocery stores. You can use them in the same amount without much thought. 
However, I find it more useful to make some observations. 
Butter is composed of 80% fat, and 20% liquid. 
In most vegan recipes, you can reproduce this proportion by using water (or other liquids) and ingredients such as coconut oil. However, as you have already seen, you can use extra-virgin olive oil just fine. No need to rush to the grocery store to buy something new. 
Unlike butter, olive oil is 99.9 percent fat, so you will have to use the following rule of thumb. When baking in small batches, you can simply substitute butter for oil with a 10 : 8 ratio. So if the original recipe calls for 5 oz butter, you will use 4 fl oz oil. However, if you are baking in bigger batches (I'd say, if you need more than 3 sticks of butter for the recipe) it is better to replace the amount of butter with 80% oil and 20% water. So, for example, 10 oz butter = 8 fl oz oil + 2 fl oz water.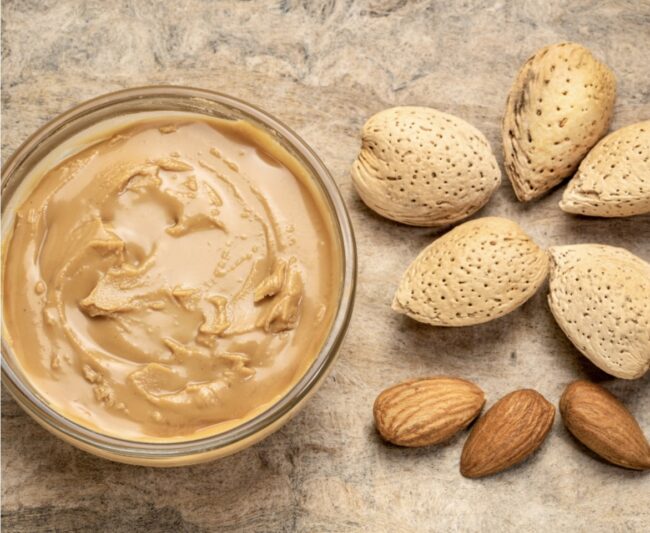 I know, too many numbers, but keep up with me. You'll find it very useful in the future. And actually, we're just getting started 😀
How to replace sugar
Sugar might seem like the easiest ingredient to substitute. Yet, there are many considerations depending on which alternative you prefer: 
Alternatives such as

brown sugar

, coconut sugar, and xylitol can be substituted at a 1 : 1 ratio. 

Stevia

, which is the main alternative for diabetic people and has high sweetening power, should be used in small doses: add only 10% of the original amount of sugar. 

Erythrol

, on the other hand, should be used in larger proportions. You will need about 120 grams per 100 grams of sugar. 

Honey

is the most commonly used liquid substitute for sugar. The right sugar-to-honey ratio is 10 : 8, but you also have to keep in mind that honey absorbs liquids, so you will have to increase their amount by 15 percent. Also, honey caramelizes easily in baking, so you will have to lower the oven temperature to 320 degrees. 
Maple syrup can give your cookies a caramelized taste, but it does not help leavening. Also, unlike honey, it adds liquidity to the recipe. So, you will need to decrease all other liquids by 15 percent, and add an extra teaspoon of baking powder. The proper ratio to use for substitution is 10 parts sugar = 7.5 parts maple syrup. However, keep in mind that this ingredient is better suited for cold cakes than for cookies.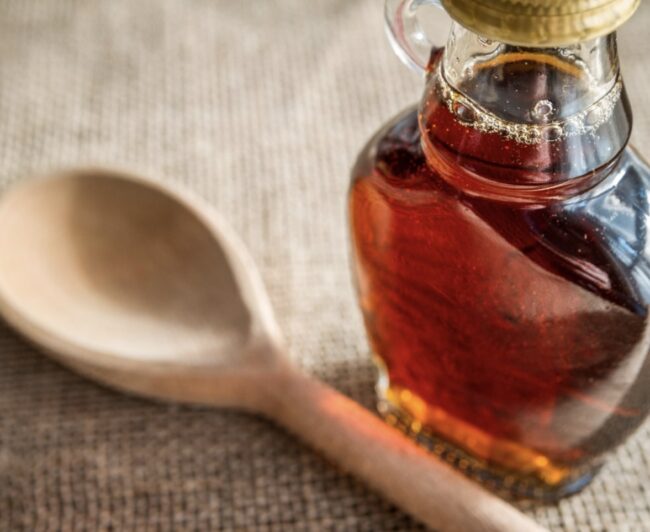 How to substitute egg yolks
If you are vegan or cannot eat eggs, here is how to substitute them in this recipe. 
If you're just looking for an alternative to buy at the grocery store, go for a flax egg. If, on the other hand, you want to play a little in the kitchen, consider that egg yolks are composed of:
50% liquid;

30% fat;

20% protein.
We have already seen how to substitute liquids and fats in the section on butter. Protein, on the other hand, can be easily replaced with potato starch. Thus, the 52 grams of egg yolk in the recipe I wrote above can be converted to 26 grams of water, 15 grams coconut oil, and 10 grams potato starch. 
Okay, enough with the numbers now!
In a serendipitous turn of events, my quest for a satisfying snack led me on a delightful baking adventure that resulted in the discovery of what I think is the ultimate gluten-free cookie recipe. 
Gluten-free cookies have captured the hearts and taste buds of many, offering a guilt-free indulgence for those with gluten sensitivities and a delightful treat for anyone with a sweet tooth. These cookies showcase the incredible possibilities of gluten-free baking, proving that you don't have to compromise on taste or enjoyment. Whether you choose a classic chocolate chip or venture into exciting flavor combinations, each bite is a testament to the joy of savoring a wholesome, delicious cookie.
Now, you really know everything you need to start making your own at home. And with all the info that I shared in the latter paragraphs, you can craft your own recipe and make all the experiments you want!
As per usual, I'll leave you to the recipe card below. Let me know what you think of my gluten-free cookies, and if you have any tips don't hesitate to write them in the comments. 
Happy baking!!!
Print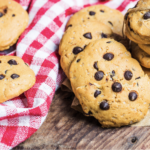 Healthy Gluten Free Chocolate Chip Cookies
---
Author:

Total Time:

1 hour 5 minutes

Yield:

20

cookies

1

x

Diet:

Gluten Free
Description
Indulge in guilt-free delight with our irresistible gluten-free cookie recipe. Perfectly balanced flavors and customizable to your liking. Bake now!
---
2 cups rice flour
1 cup potato starch
3 + 1/3 fl oz extra-virgin olive oil
2 fl oz milk
6 oz granulated sugar
3 egg yolks
1 + 1/2 teaspoon baking powder
2 oz chocolate chips
---
nstructions: 
Gather your ingredients and prepare a large bowl.

Break the eggs into the bowl, then add the sugar and whisk gently.

Pour in the oil and milk, and mix thoroughly until well incorporated.

Blend in the dry ingredients: flour, baking powder, and potato starch. Gradually add them to the mixture and combine.

Fold in the chocolate chips, ensuring even distribution throughout the dough.

Knead the dough until it forms a ball, cover it with plastic wrap, and refrigerate for at least 30 minutes.

Preheat the oven to 180°C and line a baking sheet with parchment paper.

Portion out small dough balls onto the sheet, slightly flattening them.

Bake the cookies for approximately 25 minutes until golden brown.

Carefully remove from the oven and transfer to a plate or tray to cool completely.

Store any leftovers in an airtight container to maintain freshness. Enjoy!
Notes
Disclaimer: The nutritional information provided for this recipe is only an estimate generated with VeryWellFit's online calculator. The accuracy of the facts listed is not and cannot be guaranteed.
Prep Time:

40 minutes

Cook Time:

25 minutes

Cuisine:

American
Nutrition
Serving Size:

1 cookie

Calories:

158

Sodium:

7 mg

Saturated Fat:

1.4 g

Carbohydrates:

24.7 g

Fiber:

0.4 g

Cholesterol:

32 mg
Keywords: gluten-free cookies, healthy chocolate chips cookies, best gluten-free chocolate chip cookies, baked cookies, healthy cookies