Featured photo by @platesofportlandmaine on Instagram
I don't know about you, but to me, there's no better treat for breakfast than a big old bagel.
I'm not talking about those sad flimsy ones you get from the grocery store or from some local fast food chains that are commonly found in New England (don't think I need to go into specifics with that one).
The bagels I love are the massive, fluffy ones. The ones that make your stomach feel like it's about to explode after eating only half of them. These bagels are made by a middle aged man who's inherited his dad's business, who is running around the back like a madman. These are the best kinds of bagels you can get.
Typically, these bagel shops are commonly found in NYC, but I know of a few in the Boston area that are to die for (check out Bagelsaurus or Kupel's Bagels. You will not be disappointed).
But what happens when you're in some poor, desolate area, with not a bagel shop in sight?
You have to get by with what you have, of course. Maybe those grocery store bagels aren't as bad as you originally thought. Surely, with some TLC and some simple ingredients, you can do anything with them. Right?
Right?!
Don't worry, I've got you covered.
I've been in the bagel-eating business for many years at this point, and I'd consider myself a mild expert on what sandwich combinations are the best with these wonderful carby meals.
These are all extremely easy breakfast recipes, and you don't need anything fancy for these. Not even a toaster oven or an air fryer!
And the best part is, these are all much better than just your regular old toasted bagel.
Just a bunch of normal ingredients you probably have lying around, like melty cheese, crispy bacon, red onions, and every other basic food item that you can think of.
Here are all of my favorite bagel sandwich ideas.
The Lox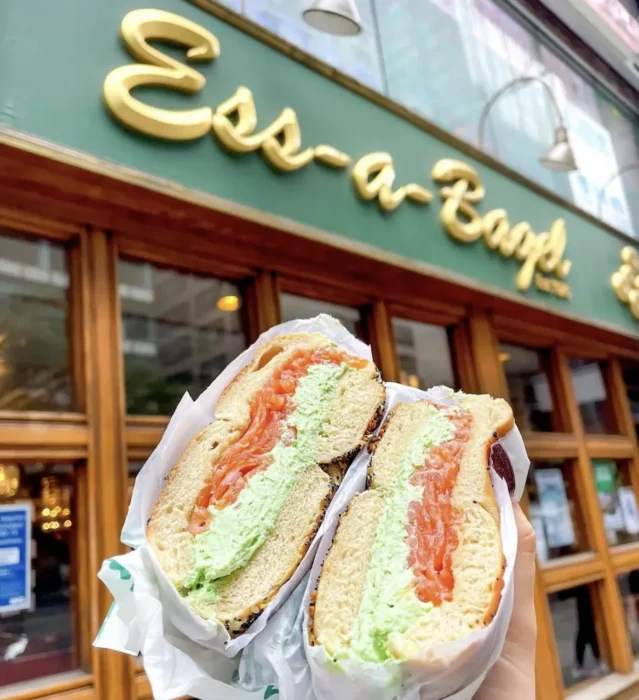 Arguably my most favorite option on this list is the Lox bagel.
Lox is a kind of filet of brined salmon that sometimes comes smoked. It makes for the ultimate breakfast bagel sandwich, and is delicious on your taste buds.
Typically, lox bagels are piled high with all of your favorites. Here are my favorite things to put on a lox bagel:
Pickled onions
Dill
Cream cheese
Arugula
Capers
Sliced cherry tomatoes
I know this sounds like a lot going on, but you have to trust me with this one. Once you try this combination once, you won't be able to go back!
Southwest Bagel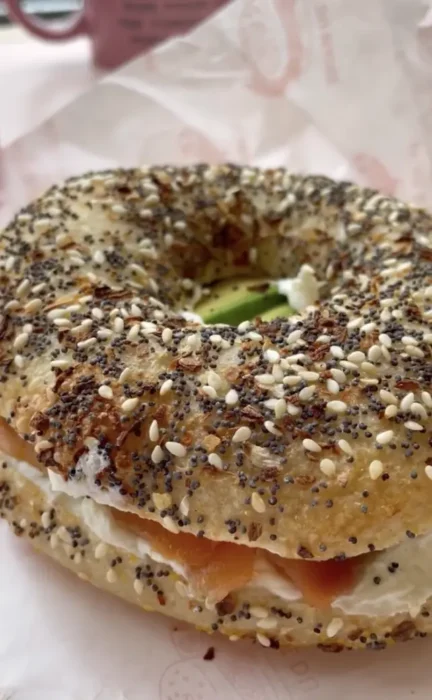 This bagel is a staple in my house, and I guarantee once you try it for yourself, it'll be one in yours too.
To me, this is one of the best bagel sandwich recipes known to man.
Who doesn't love guacamole? Or pico de gallo?
That's right, with a Southwest Bagel, you can have all of this readily available at your fingertips.
It's important that when making this one, you stick with a tamer flavor of bagel to let the tangy southwestern flavors really stand out. A good kind of bagel to have with this would be a plain bagel, whole wheat bagel, asiago bagel (one of my favorite bagels), or anything else to that capacity.
Here's my favorite way to assemble this masterpiece:
Regular bacon or turkey bacon (and lots of it)
Fried runny egg (or two… or three)
Slice of cheese melted over the egg (I prefer Colby jack with this one)
Pico de gallo
Guacamole
Toast the bagel before assembling for maximum flavor.
Seriously, this bagel has me hooked. And it's a great way to impress your guests when you're making breakfast for a crowd.
The Turkey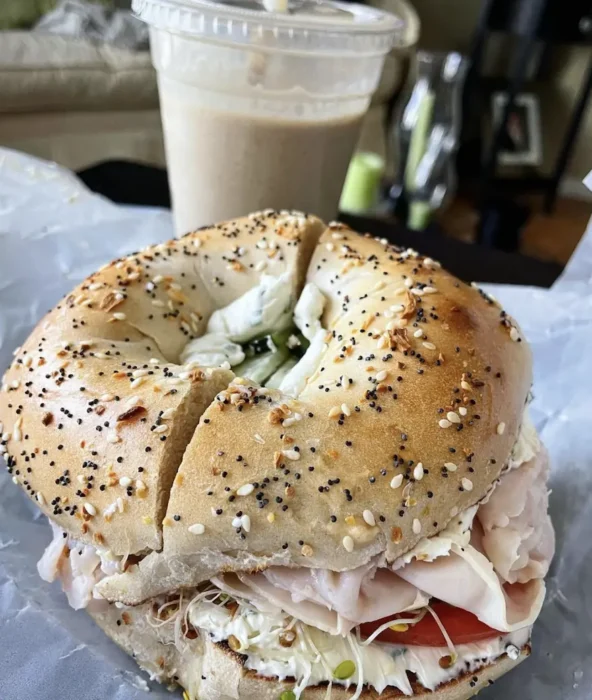 When I was in college, every single Sunday I would go to the North Shore staple, Bagel World, and get one of these bad boys. It was seriously one of the most delicious recipes I had ever seen out of a bagel shop. It's the ultimate breakfast sandwich that's just so consistently good and impossible to do wrong.
It's shaped the way that I've ordered all of my bagels since then, and I'm going to share my secret with you:
It's all in the cream cheese.
If you can, get a tub of garlic herb cream cheese. If not, make your own by mixing a garlic paste with some fresh herbs you have lying around, and combining that with the cream cheese. It's hard to screw up, and will taste near perfect.
Here's what you put on top of the bagel:
Smoked turkey
Garlic herb cream cheese
Sprouts
Cucumber
Red onion
No melted cheese needed for this, as the garlic herb cream cheese takes care of all of your needs on that end.
In terms of a kind of bagel to pair with this, the sky's the limit with this one.
Just stay away from anything on the sweeter end, like blueberry, cinnamon raisin, chocolate chip, etc.
This is one of the best ways to enjoy turkey, but in breakfast form, rather than as a turkey club.
The BLT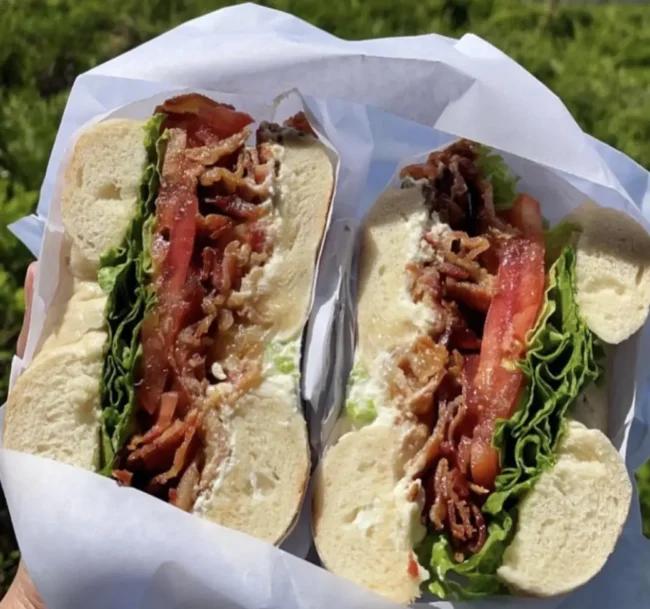 Though we didn't use a bagel when we made this one, you'll be able to substitute one just fine.
Some people are going to get mad at me when I describe this.
They'll accuse me of being boring for not adding cheddar cheese, avocado, or a large egg to this.
To that, I say, that's a BEC with avocado. Not a BLT.
This one is special. It's a regular old BLT, but as one of the most delicious breakfast bagel sandwiches you will ever have.
Since the flavors are so versatile with this, really anything besides your standard sweeter bagel flavors goes. This would be wonderful with a poppy seed bagel, or if you wanted to go a more traditional route, wheat, rye, or marble.
This is seriously all you're going to need:
Bacon
Lettuce
Tomato
Mayo
As always, it's the best idea to get some shredded iceberg lettuce for this, as it's crunchier and blends a lot better with the other flavors of the bagel. And make sure to season the tomato and lettuce with salt and pepper as you build this sandwich. Put these both on top of the bacon and you're golden!
French Toast Bagel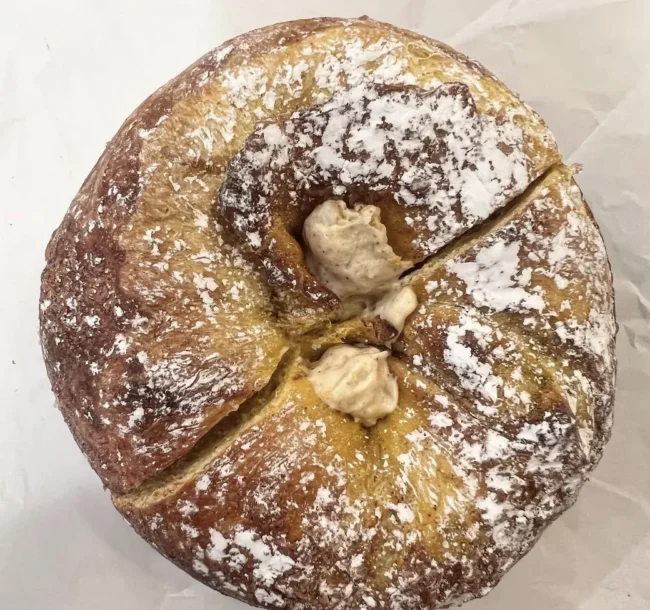 This is probably the most innovative and delicious breakfast sandwich on this list, and it's just so easy to make.
Start by whisking up some eggs with cinnamon and a dash of milk. Bagels are thicker than sliced bread, obviously, so let the bagels soak for a little bit, probably about five minutes to be safe.
Once the bagels are thoroughly soaked in the egg wash, fry them on each side on the griddle over medium heat until golden brown for the ultimate french toast effect.
When the bagel is done, set it down on a paper towel to cool for a bit. Here are some things you can top it off with once you're ready:
Bacon
Scrambled eggs
Maple syrup (a must)
The sweeter the flavor of the bagel is way better with this one. Try making this with a blueberry, chocolate chip, or a cinnamon sugar bagel. It'll be delicious.
The Caprese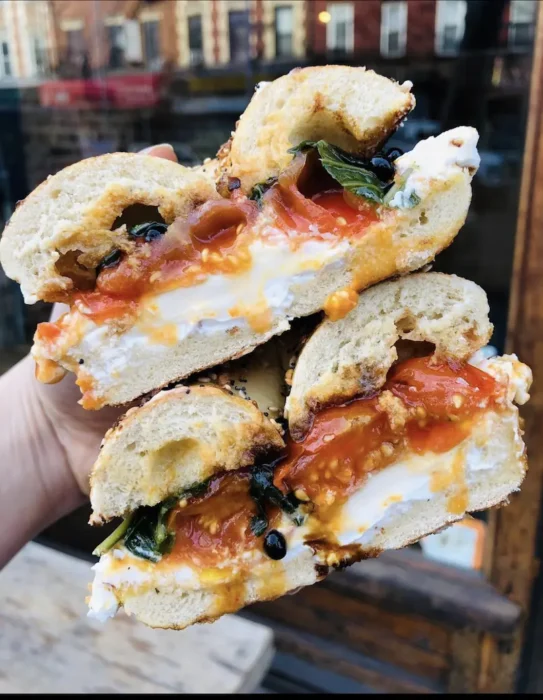 Last but not least is something extremely light and delicious.
This one is the best with fresh mozzarella cheese, but if you only have shredded, that'll work too.
Hit the bottom of the bagel with some fresh mozzarella, and put it in the broiler for about two minutes. Once the cheese is melted, you can top the bagel with:
Sliced tomatoes
Fresh basil leaves
Extra virgin olive oil
Prosciutto (if you're feeling bold)
This is one of the best ways to take this classic Italian antipasti plate and turn it into the most delicious breakfast you've ever had.
Here are some other bagel sandwich ideas you can try out:
Italian sausage egg and cheese
Shaved steak egg and cheese
Bacon egg and cheese
Spicy salami and cheese
Tuna salad on a bagel
Egg salad sandwich
Poached pear and prosciutto
The BEC with a hashbrown
Chicken salad sandwich
Thanksgiving turkey with cranberry sauce
The BLAT (bacon, lettuce, avocado, tomato)
The turkey BLT
Have any other breakfast bagel sandwich ideas? Try any of these out for yourself? Let me know in the comments section!