I don't know about you, but to me, Hawaii might be in the running for the best state in America.
It simply has it all.
Mountains.
The ocean.
A statewide happy hour (start taking notes, Massachusetts).
Fresh local farmers markets and island traditions.
It's no wonder why Hawaii is America's favorite vacation destination—there's just so much to do.
Whenever I think of Hawaii, I always imagine myself cruising down the road, smoothie bowl in hand, on my way to the beach to sit among the greens and blues of the palm trees and the ocean.
Living on island time is wonderful, and for some reason whenever I do it, I always start off my vacation pretending to be a huge health nut.
You'll find me riding my bike everwhere, consuming fresh fruit as a snack, and eating copious amounts of vegetables.
There comes a point during the week though, that I can't hide my true colors any longer.
Of course, if you've been reading my articles, you know exactly what this means:
I start craving a really good pizza.
And not just your standard fix from somewhere like Dominoes or Pizza Hut; a nice, cheesy, classic pizza that is native to the Northeast United States.
I was worried that Maui, arguably the most commonly visited island in Hawaii, wouldn't be able to satisfy my need.
But luckily to my surprise, the island is chock full of the best pizza restaurants imaginable.
I should have expected it; the infamous Hawaiian pizza couldn't have gotten its name from just anywhere!
(Which by the way, Hawaiian pizza isn't as popular on the islands as you might think. It's hardly on the menus of any pizza place around, which came as a surprise to me)
Instead, in Hawaii, you might opt to enjoy some amazing pizza made from the finest ingredients that the beautiful island can offer. Everything's as fresh as can be at these places, ensuring a pizza experience that the whole family will be talking about for years to come.
These are my 5 favorite places to enjoy a saucy pie in Maui.
Please note that these 5 pizza joints are among the cities of Lahaina and Kihei. Be sure to check the driving distance from your current location before you set out on your pizza-eating quest.
133C Prison St, Lahaina, HI 96761
Who doesn't love Jersey style pizza?
After 10 years of pizza making in Pukalani, owners Hatch and Miriam Clarke decided to bring the cheesy, saucy goodness of Jersey style pizza to Old Lahaina Town.
This entirely scratch-made pizza is based off of the standard New Jersey style pizzeria.
No matter what toppings you decide to indulge in, rest assured that if it's from Prison St. Pizza, it's as fresh as you can get.
Aside from the homemade pizza, everything else on the menu, from appetizers to various other entrees, are based off of scratch made recipes as well. This is courtesy of Hatch and his 40 years in the business.
If you're in the mood for something other than pizza, their calzone is unbelievable.
They also serve sandwiches, salads, and burgers, and feature an extensive selection of beer and wine.
So if you're in Lahaina and craving a round pie, Prison Street Pizza is the place to be.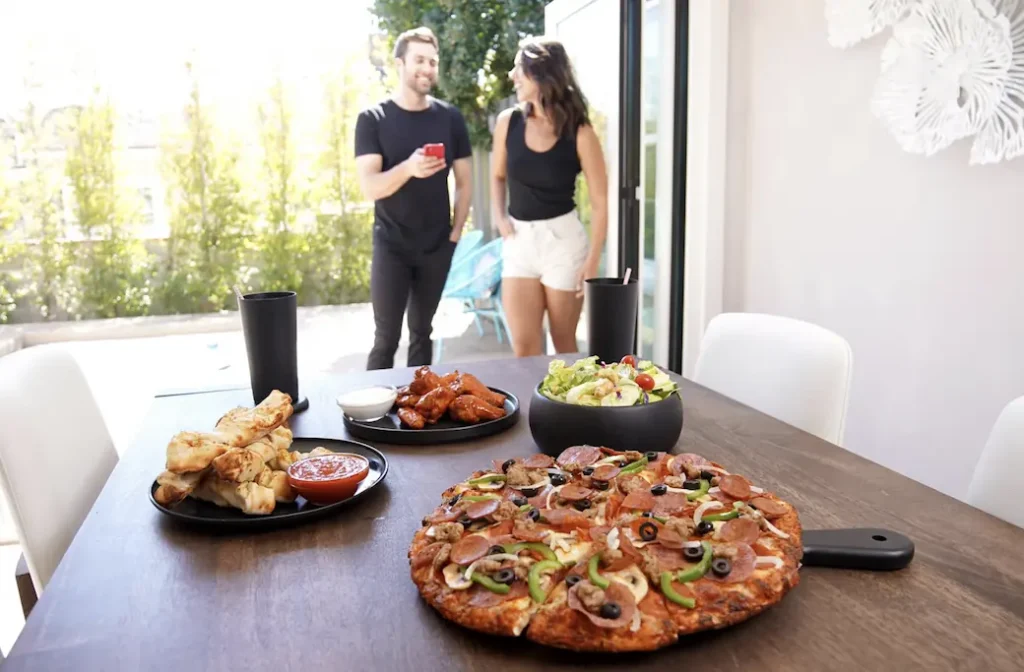 2580 Kekaa Dr, Lahaina, HI 96761
If your goal while in Lahaina was to "share a little pizza with someone you love," Round Table Pizza is the place for you.
This iconic pizza chain opened in 1959, with that quote as inspiration.
Since then, millions of people have enjoyed a classic, handcrafted pizza from this great place, made only from the freshest local ingredients.
While this place is a U.S. chain with many other locations, this is a must try in Lahaina.
Round Table Pizza's sleek interior combines tradition and modernity; offering customers a chic place to dine while embracing their roots and the foundation it was built off of. In their own words, they "combine medieval with modernity."
Aside from pizza, you can enjoy wings, salad, or some unique cinnamon twists.
Eat some of those every day, and your Maui beach body will be ready to go.
Whether you're looking to dine in or take a slice to the ocean, Round Table Pizza will be sure to meet every and any pizza need you may have.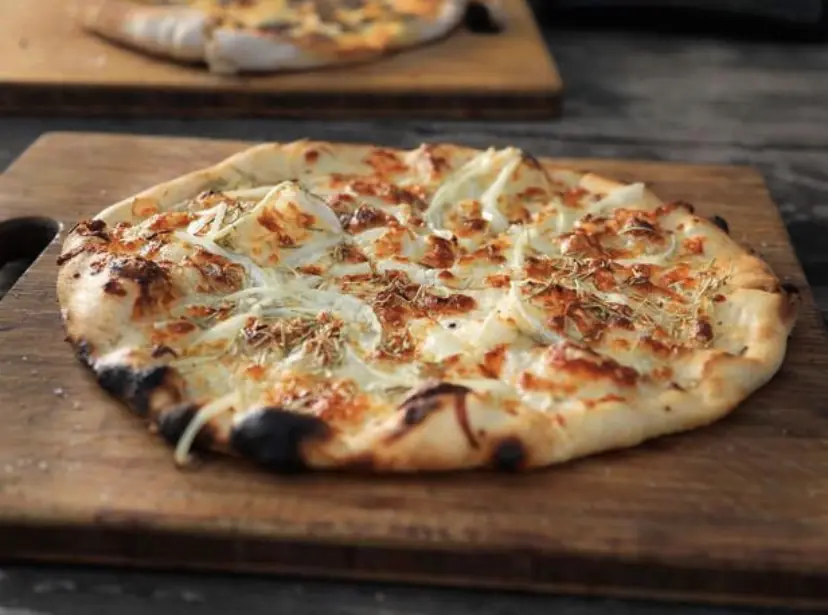 1819 S. Kihei Rd, Kihei, HI 96753
Have you ever heard of a mobile pizza oven?
Not a food truck; a moveable pizza oven.
That is what Outrigger Pizza Company is all about.
Maui's first wood fired mobile pizza oven was founded by four good friends who wanted to translate their love of family, friends, and good food into their very own pizza spot where they could deliver fresh local ingredients to their customers.
Outrigger pizza company boasts a super casual environment and is a super popular place among the locals.
Many people come to this location for a round pie every day from 11-8, except for Sundays. This gives beach goers and Maui explorers a perfect six day window to try what's considered by some as the best pizza spot in the Hawaiian islands.
These guys were also on Diners, Drive Ins, and Dives with none other than Guy Fieri, which is a massive accomplishment in and of itself.
From red to white pizzas, red onion to sweet onion, and cheddar to parmesan cheese, you can be assured that the pizza you get from Outrigger is the best of the best.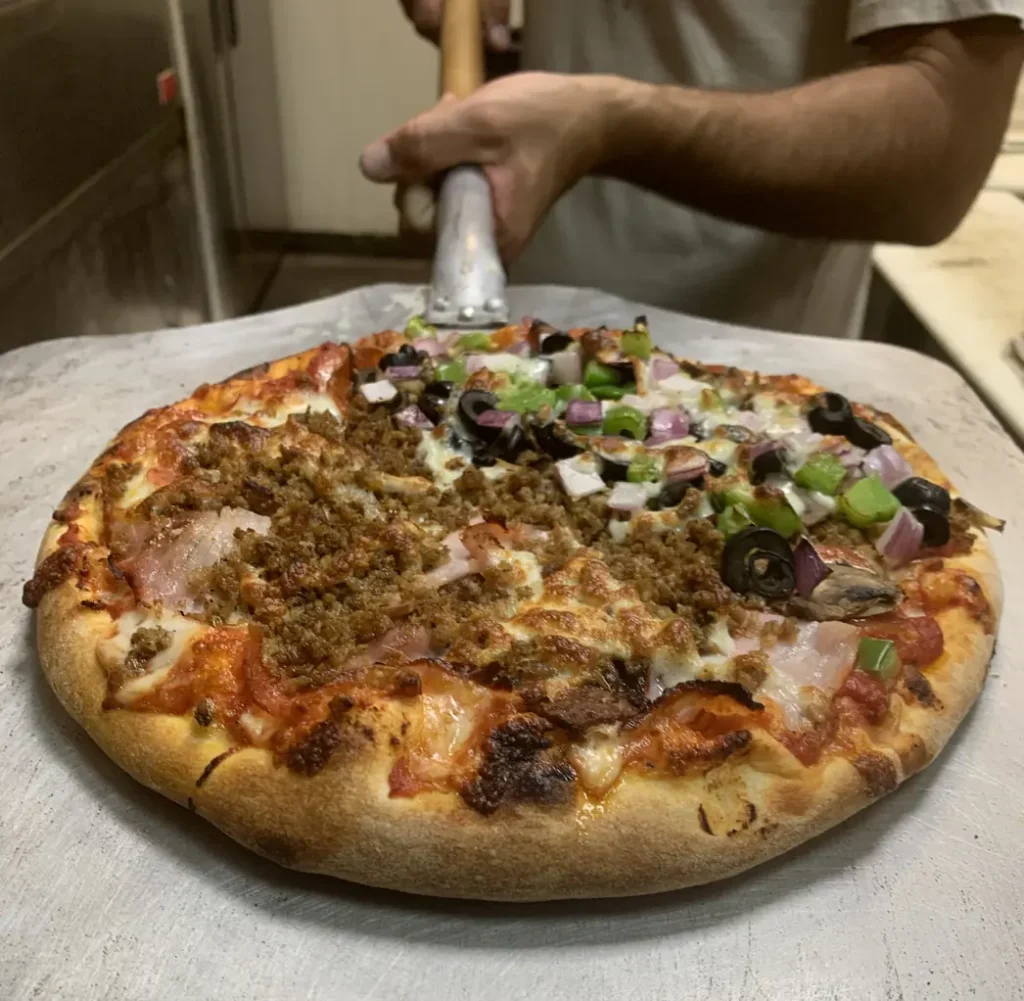 1455 S Kihei Rd # 2, Kihei, HI 96753
What makes their Maui pizza so special?
According to their website, "Pizza Madness Maui is the purity and freshness of the islands, balanced with some old world perfection and quality (not to mention Kirk's secret dough recipe). You can taste it in everything we make. The way we see it, life's too short to settle for anything but the best, especially when it comes to pizza."
Don't ask them how they make their pizza, because they won't tell you!
Their secret pizza dough recipe has been passed down for generations, and only the insiders and friendly staff know how it's done.
As ominous as that sounds, their crust is similar to that of sourdough pizzas and tastes just like something you would find walking the streets of Florence, Italy.
It doesn't get any fresher than Pizza Madness, which is why this is a must stop in Kihei.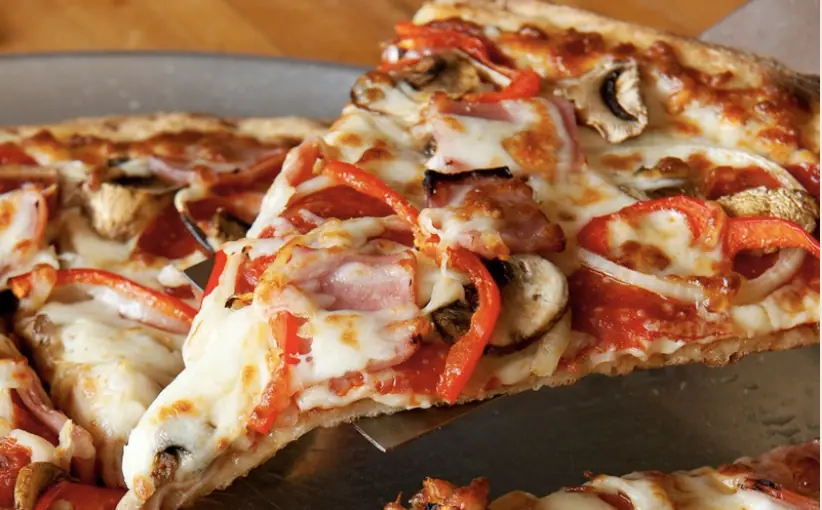 3350 Lower Honoapilani Hwy #208 Lahaina, Maui 96761
If you were looking for great pizza with a fresh local taste, Pizza Paradiso has it all.
In 1995, classically trained chef Paris Nabavi saw the desperate need of healthier options to fast food in Maui. He opened up Pizza Paradiso as the executive chef and the rest was history.
Nabavi and his crew know fresh ingredients when they see them. At Pizza Paradiso, you can rest assured that there aren't any chemical additives in the food you eat. That's right, here, you're eating real food.
You can seriously taste the difference.
They source their ingredients from farmers markets, local growers, and local cattle companies to provide their customers with the freshest organic offerings.
They've committed to keeping the beautiful island of Hawaii free of extra waste, preserving the beauty of the islands as much as they can within their restaurant.
In addition to pizza, Pizza Paradiso also offers fresh Mediterranean favorites.
This includes pitas, kabobs, salads, and more.
I swear, eating here feels like you're dining among a local garden.
Come on by and see what you've been missing, and we promise you it'll become one of your new favorites.