Fall is by far my favorite season. But since I suffer from sinusitis and often catch colds, I need to boost my immune system in order to enjoy it to the fullest.
One of the many things I do to ensure that is to often drink herbal teas made with natural remedies.
I often make them with a few ingredients known for their health benefits. Things like cloves, ginger, or even garlic (more on that later). However, I recently learned about one that combines fruits, herbs, and spices to create a delicious drink I had never tried until a few weeks ago.
It can help you soothe cold and flu symptoms, boost your immune system and prevent future sickness.
The ingredient list is a bit longer than the teas I usually make, but this is a drink designed to be made in large quantities. If you follow the measurements given in the recipe card at the bottom of the post, you can make enough tea for about 10 people.
If you're under the weather and are looking for a herbal tea that can give you relief during colds or flu, give this one a try!
A hot tea to boost immunity – What you'll need
Lemons: besides being a great source of vitamin C, lemons have good antioxidant properties. In addition, lemon juice combined with honey can help soothe a sore throat.
Clementines: clementines are by far my favorite fruit. Every year I look forward to their season. When it comes to boosting the immune system, most of the herbal teas recipes I have seen online use oranges. However, clementines have higher levels of vitamin C. Plus they are an excellent source of iron, magnesium, and potassium. So, I'll go with them. I usually use three for each lemon so that their aroma is prevalent.
Ginger: Ginger has been used for centuries in traditional Chinese and Indian medicine as a natural remedy for colds and coughs (among other things). It is also good against nausea, and has antioxidant and anti-inflammatory properties.
Cinnamon sticks: cinnamon is another powerful antioxidant with antibacterial properties. It also appears to help regulate cholesterol levels and promote blood circulation and digestion.
Turmeric powder: Turmeric is an excellent herbal medicine. Among its many benefits, it has immune-stimulating properties that boost the immune system. Plus, it will give your herbal tea a nice orange color, which pairs well with the flavor of clementines.
Cloves: their essential oils have anti-inflammatory and pain-relieving properties. I use them often when my wisdom tooth causes me a toothache. Believe it or not, on some occasions they have proven more effective than painkillers.
Honey: due to its natural antibacterial properties, honey is an excellent natural remedy for coughs and sore throats.
Black tea leaves: in addition to being good for heart health and cholesterol regulation, black tea will give this hot beverage a stronger, more distinctive taste. Prefer loose-leaf tea over teabags for best results. It will maximize its health benefits.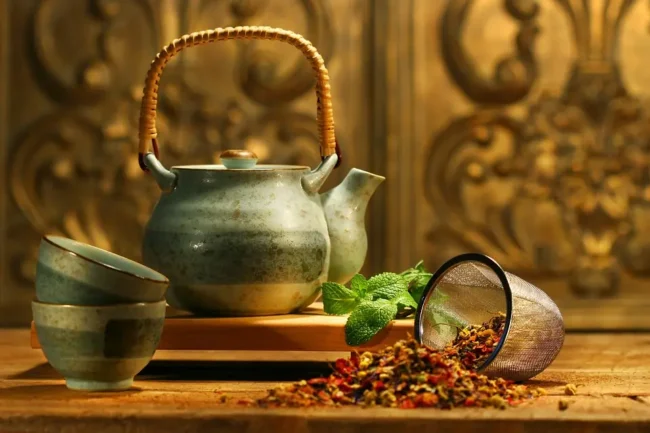 Instructions
Slice the oranges and lemons. Then, add them to a pot with warm water and the other ingredients, except the black tea leaves. Boil for 15 minutes, then take away from the heat and add the tea leaves.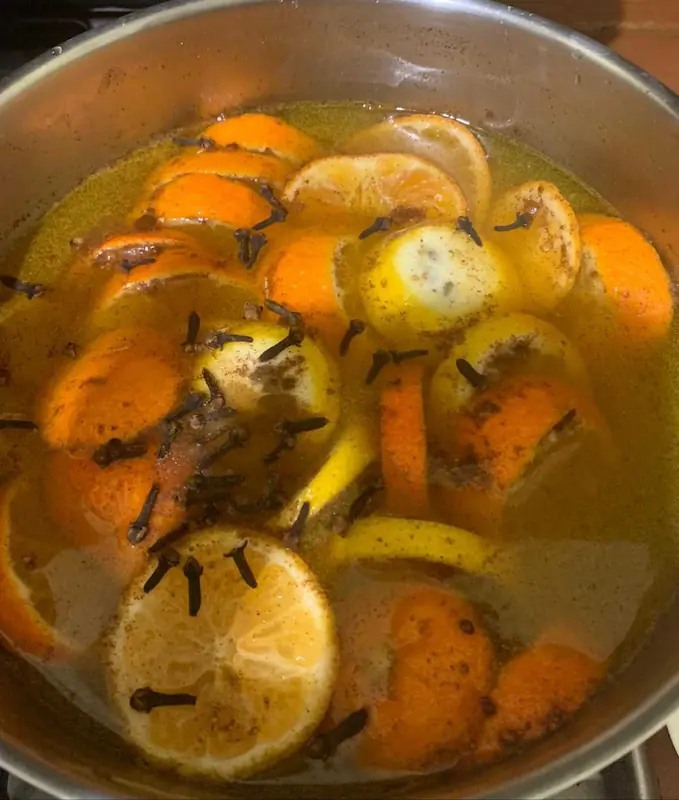 Let cool for 5 minutes, then use a strainer to pour into a teapot or a bottle. Enjoy your invigorating herbal tea along with cookies and some Greek yogurt.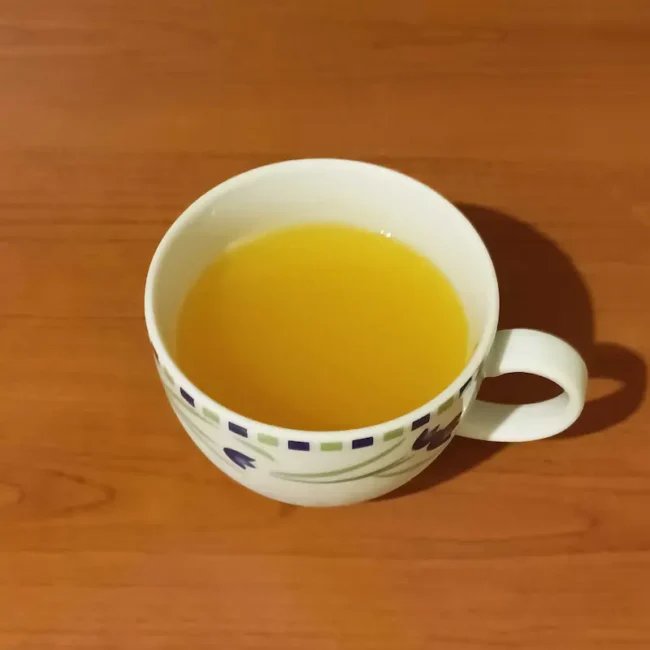 Other best teas to fight cold and flu
I really like this herbal tea for colds and flu, both hot and cold. However, as I was saying, I usually make simpler drinks. And even if they have less ingredients, they're still good herbal remedies, so it's worth spending a few words about them. If you don't like my recipe, here are a few alternatives with a lighter taste that you might like.
Green and white tea: when you're looking for natural remedies against cold and flu, a hot cup of tea is by itself a good idea. It won't make miracles, but it will help you soothe the symptoms and relax. As for black tea, my advice is to prefer loose-leaf tea. Store-bought teabags are often made with low-quality tea dust that won't give you the benefits you seek.
Lemon tea & Peppermint tea: when talking about soothing teas, these two are very common choices. They're simple and effective. Just make sure to pick good quality ingredients for the best results.
Garlic tea: This is the one I make more often. No, I have not gone crazy. Although it may not be as famous as the other home remedies we have seen so far, garlic tea is a powerful ally against nasal congestion. It has all the health benefits of garlic. And contrary to what you might think it has a mild flavor that can be sweetened by other ingredients.
I often use garlic as a home remedy for its natural antibacterial, antifungal, and antiseptic properties. I usually make this tea with 4 cloves of garlic cut in half and sometimes a teaspoon of cloves. If you want, you can also add 1/2 cup of lemon juice or a bit of honey.
Ginger tea: We have already seen all the health benefits of ginger. If you want to use it for a light-tasting drink, boil it in water along with a slice of lemon or orange.
Chamomile tea: chamomile is an ancient natural remedy against many types of pain, as well as fever, inflammation, and menstrual disorders. As for tea, prefer actual chamomile flowers over the bags they sell in most shops. You'll see the difference.
Licorice tea: I'm not a fan of licorice, but its medicinal properties are undeniable. Like ginger, licorice root has been used in traditional Chinese medicine for centuries. It has anti-inflammatory and antimicrobial properties and is a powerful home remedy against sore throats and cold symptoms. It is also very useful when you are having nausea or an upset stomach.
To make a good tea, boil 1 tbsp of licorice root for each cup of water you use, along with a teaspoon of honey and a few slices of ginger.


Conclusion & Recipe Card
This herbal tea will help you boost your immune system and soothe your flu symptoms. Get some sunlight, have plenty of rest, and you'll be able to prevent most common colds, flu viruses, and bacterial infections.
You're ready to go through this flu season. Let me know if you try this recipe in the comments, or if you have any favorite medicinal tea.
Print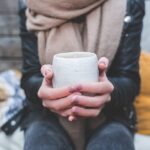 Herbal tea for colds and flu
---
Author:

Total Time:

22 minutes

Yield:

1

0

1

x
1 lemon

3 clementines

3 slices of ginger

1 cinnamon stick

2 tsp turmeric powder

1 tsp cloves

2 tbsp honey

3 tbsp black tea leaves

9 cups water
---
Slice the oranges and lemons.
Add them to a pot with warm water and the other ingredients, except the black tea leaves.
Boil for 15 minutes.
Take away from the heat and add the tea leaves.
Let cool for 5 minutes, then use a strainer to pour into a teapot or a bottle.
Enjoy your invigorating herbal tea along with cookies and some Greek yogurt.
Prep Time:

2

Cook Time:

20

Category:

Teas