Featured photo by @BatsonRiverMaine on Instagram
If there's any city in New England that gives off the most quintessential feeling, it's without a doubt Portland.
I absolutely love that city. The art community is thriving and the coastal vibes are unmatched. There's so much to see and do; from modern nightlife to historical sightseeing.
Even living in a city like Boston, there's something about Portland that is so unique and refreshing to me. I make sure to get up there at least once a month. My best friend lives there, which makes it easy for me when I'm traveling.
I had only really ever started venturing out toward that area during my senior year of college.
My roommate invited us all to her house, which was in the Portland area, and had us try many of the local places. I'll never forget the feeling that I had when I first walked into a Portland brewery. It was everything I hoped it would be and more.
Crisp, homemade beers, a nice homey atmosphere, and plenty of people enjoying the ambiance. Even though the breweries are primarily in the city, I felt like each had their own independent charm and weren't overcrowded.
It was something that I honestly found was lacking in a lot of the Boston area breweries, and a lot of other breweries around the United States.
These are places that you can stick around all day, playing games and chatting with your friends. A lot of these Portland breweries have full food menus and food trucks on site too, so you can have the best of the best of Portland's offerings.
No matter what you're looking for, I guarantee that there's a Portland brewery for you.
Here are all of the best breweries in the Portland Maine area.
Allagash Brewing Company
View this post on Instagram
This Belgian style brewery is a New England favorite, with beers in stores all across the region. When I get to go to Allagash, I view it as a treat. The selection of beers is just so diverse that I can try a new one whenever I want, but can also stick to my favorite local selections that are available year round on draft.
One of their most common beers is Allagash White. It's sold almost everywhere in New England that sells craft beer, and never disappoints—especially when on draft.
Come stop by for a visit!
Apres
View this post on Instagram
So this technically isn't a craft beer brewery, but they do make homemade seltzers, which is enough for me to include me on this list.
And how could I not?
This is one of the best places that Maine has to offer, and that's besides the delicious seltzer.
This great place is filled to the brim with old fashioned board games, a food truck, and events to keep the visitor engaged. The last time I was here, I think I spent 5 hours just hanging out and enjoying the wonderful ambiance. Occasionally, they'll have live music too, so be sure to check out their events calendar for that!
I recommend trying any of the frozen cocktails. They're just so unique and different, and you're guaranteed to enjoy them.
Austin Street Brewing
View this post on Instagram
Right on Fox Street is the famous Austin Street Brewery and Tasting Room.
Since early 2014, Jake Austin and Will Fisher have maintained sole ownership of their startup brewery to maintain creative liberties and freedoms among their beers.
The result?
Tons and tons of flavors and styles that everyone knows and loves.
I recommend trying the Florens American IPA, at 6.9% ABV.
Battery Steele Brewing
View this post on Instagram
From an old Portland farmhouse to their new spot on Industrial Way, owners Jacob Condon and Shane Noble have brought 25 years of experience to their community oriented brewery.
The two bring craftsmanship, creativity, and taste into the craft brewing field of Portland.
If you go, I highly recommend trying out their Endless Ride kettle sour if it's on draft. It's truly incredible.
Batson River Brewery and Distillery
View this post on Instagram
If Santa's Village was encompassed into a brewery and distillery, it would be Batson River.
This is one of my favorite places in Portland.​​ The decorations, ambiance, and overall vibe; all are just unmatched.
During the holiday season, they feature a wide array of holiday style beer, spiked hot chocolate, and other cocktails.
The Portland location is stocked with different games and activities for you to enjoy, so you can spend the day living your best life right inside of the taproom.
I recommend trying the Cafe Porpoise pilsner if it's available.
Belleflower Brewing
Named after their iconic family farm, Belleflower is the passion project of Nick, Zach, Melissa, and Katie.
Nick and Zach bring 15+ years of experience in the craft brewing industry with major names to the table, along with Melissa's experience as a registered dietitian and Katie's as a creative voice.
Together, the four of them have brought a new light and meaning to craft beer in Portland.
If available, I recommend the Clad In Black IPA, with a 6.6% ABV.
Bissell Brothers Brewing Company
View this post on Instagram
You might recognize Bissell Brothers Brewing from their iconic logo.
Since 2013, these guys have been dominating Portland's craft beer scene. With a taproom opened weekly and a 5 day kitchen, this is the perfect place to go when you're looking to spend time with friends, relax and unwind, or just enjoy a cold one after a long day.
Their beer is "brewed with a purpose", and is a crowd favorite for many.
I recommend trying out the Lux mosaic pale ale.
Brickyard Hollow
View this post on Instagram
I try not to pick favorites, but Brickyard Hollow makes it pretty damn hard.
Ever since I walked through the doors a few years ago, this has been one of my most favorite Portland locations. Their craft beer is just delectable, and their food is just as good.
Enjoy a home brewed beer alongside a massive mashed potato pizza, potstickers, or one of their creative salads or grain bowls. This is somewhere everyone should be visiting.
In terms of beer, I'd be remiss if I didn't recommend the West Side Trail Ale if available.
Bunker Brewing Co
View this post on Instagram
This nano-brewery in Portland is doing everything right.
It's kid friendly when with adults, and has ample patio and indoor seating, which is perfect for those warmer months when you just wanna get away for a bit. 
My favorite beer offering is the Terrarium IPA, at 6% ABV.
Definitive Brewing Company
View this post on Instagram
No matter the time of year, Definitive Brewing's Portland tasting room is the place you want to be.
Stocked full of all of your favorite beers and menu offerings, this industrial style brewery has plenty of draft beers and to-go options to go around.
Their mission is to serve great beer and to provide a wonderful experience for their guests, and if you're asking me, I'll say they are succeeding greatly.
When visiting, try out the Camp Beer session ale.
Foulmouthed Brewing
View this post on Instagram
This laid back brewpub nestled in the heart of South Portland is actually nestled within a converted garage!
That's right, Foulmouthed Brewing is proving that any space can be a great brewery.
Aside from their unique location and distinctive branding that makes their beers both known and popular around the state of Maine, Foulmouthed Brewing is also known for serving modern versions of your favorite comfort food.
I recommend trying out their Blue Balls dark saison.
Foundation Brewing Company
View this post on Instagram
Founders Joel, John, Christie and Tina followed their passion of creating amazing craft beer, and have ended up with one of Maine's most popular and successful spots.
Beer, as they say, is their calling. Right from their individual starts in homebrewing, they all knew that they had a passion for creating an amazing product for amazing people.
The result is a popular and fast growing brand that Portland is lucky to host.
I highly recommend trying out their Afterglow American IPA at 7% ABV.
Geary Brewing Co
View this post on Instagram
Tasting room? Check.
Beer garden? Check.
Their tasting room constantly features 8 rotating beers, with constant appearances from their line of pilot beers.
What's extra cool about this place is that it marked the very beginning of an era.
Yep, Geary Brewing Co was New England's VERY FIRST craft brewery. They've been doing it right for years, and are a must stop on your Portland, Maine brewery tour.
If available, I recommend checking out the one that started it all, their Original Pale Ale.
Goodfire Brewing Company
View this post on Instagram
This full service, independently owned craft brewery has been the talk of the town, with most of their beers distributed and on sale in the New England area.
In addition to their tasting room on the second floor of the Rockland Building, they also have a wide array of food trucks on site.
They are located right behind Lone Pine, and are central to the hub of craft beer in Maine.
When you visit, one of the main beers that I recommend trying is their Watt Pale Ale.
Liquid Riot
View this post on Instagram
Founded on the belief that everyone has the right to drink what they choose, Liquid Riot Bottling Co was originally inspired by Chicago's Lager Beer Riot in 1855.
Aside from brewing all of their beer on site, they also double as a distillery, distilling and bottling their own spirits as well.
A great beer to try here is the Spiritus Sancti, a "trappist inspired quad."
Lone Pine Brewing Company
View this post on Instagram
When it comes to homemade beers, these guys are doing it right.
Situated in a low-key tasting room, Lone Pine is a local haven for anything and everything craft beer. These guys make their own unique brews, and love sharing it with the local community. Best of all, on the weekends, there are various local food trucks that are parked outside for everyone to try.
If available, try the Oh-J IPA at 8.1% ABV.
Maine Beer Company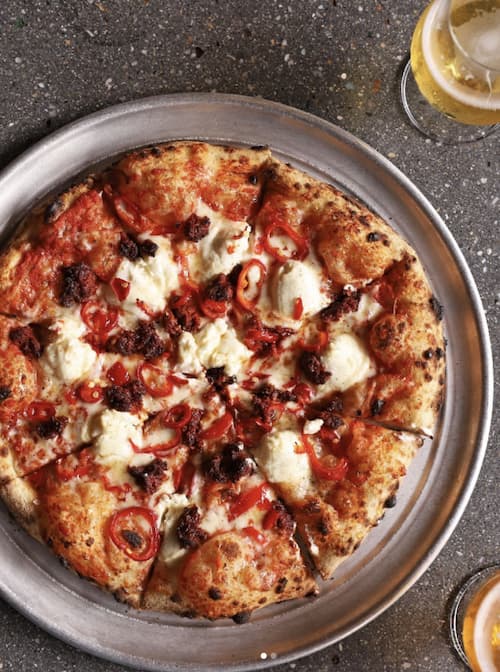 Founded in 2009 by brothers David and Daniel, Maine Beer Company has been known to "do what's right" for the entire Portland community.
The motto is at the forefront of their business, and it's evident in the high quality beer that they serve each and every day.
Maine Beer Company is home of the famous "Lunch" India Pale Ale. At 7% ABV and available year round, it's a right of passage to order at least one of these guys when visiting.
Oxbow Blending and Bottling
View this post on Instagram
Located in Portland's East End, Oxbow Blending and Bottling is the home of a bunch of delicious aged beers. 
Aside from brewing all beer on site, Oxbow features a very large urban bar and event space that's home to many community wide events. They've also partnered with the popular local restaurant Duckfat for their in house food program.
Be sure to check out their Grizacca, their dry hopped grisette.
Rising Tide Brewing Company
View this post on Instagram
This independent, family owned, craft brewery offers all of the best local beers, right in the heart of Portland's East Bayside neighborhood.
They've recently opened up a brand new onsite kitchen, which contains many delicious bites and options for those post-beer munchies. Their tasting room is open 7 days a week, so no matter what, you can always count on them to give you a wonderful beer and a wonderful time.
Try their "Fireside" hoppy amber ale. It tastes just like you're sitting around a warm campfire. It's a favorite among beer lovers!
Sea Dog Brewing Company
View this post on Instagram
A classic New England staple, Sea Dog Brewing has planted its stakes in Portland, and it's incredible.
In addition to many beers and bites from the brewpub, the Portland location of Sea Dog Brewing also features a bowling alley. Yep, you can hang out at this location all day if you want, and bring the little ones along with you.
This is one of those places where you just have to order a flight if available—the beer is just that good. When you do, make sure that whatever you order includes their Bluepaw Wild Blueberry Ale.
Shipyard Brewing Company
View this post on Instagram
No matter where you're from, odds are you know Shipyard Brewing from their iconic logo: Mr. Pumpkin Man.
I often say that he might be one of the only people in my life who's never let me down.
If the shoe fits.
But even if you're visiting in the off season, there are many different seasonal beers for you to try that have gained popularity and traction across the New England area.
In addition to the iconic Pumpkinhead Ale, I recommend trying their Blue Fin stout or Smashed Blueberry scotch ale.
Urban Farm Fermentory
View this post on Instagram
Let's get gruity!
Urban Farm Fermentory is Portland's hub for all things beer, gruit, cidah, kombucha, vinegar, you name it!
Everything is brewed right on site, ensuring the freshest quality for everything in the facility. All drinks are made with a wide range of hops, from extremely hoppy beer to beer without any hops, so there's something for everyone to enjoy.
Their Portland location features indoor and outdoor seating, so everyone can kick back, relax, and enjoy a beautiful fermented beverage.
Their beer selection is constantly rotating, but my rule of thumb here is always the hoppier the better!