featured picture by  @jordansplace on Instagram
I'll never forget my first time trying sushi.
I was about 14 when my dad ordered it when we were at a popular Japanese restaurant. I thought he was disgusting for choosing the maki rolls, out of all of the delicious menu items there were.
Who the hell would ever eat raw seafood?
Seemingly against my will, he forced me to try one of his California rolls. And right away, I knew I had been missing out.
This seriously was one of the most delicious foods I have ever tasted.
Fast forward about ten years, and delicious sushi is in my top three favorite foods. I seriously can't eat enough maki rolls, and would love to try every single one of the sashimi options offered at any sushi restaurant.
One might call it an obsession. I call it a good thing. It's all about balance.
One of my favorite things to do with my friends is going out for sushi, especially in the Boston area. We're all about finding a great restaurant on a Saturday night, and seeing what their main sushi chef recommends to us.
(By the way, my favorite will always be a spicy tuna roll. You have to try it!)
We've spent so long looking for the best places to try, that I've put together this list for you so you'll never miss out.
What I love the most about this list, is that most of these places offer all you can eat sushi to some degree (which is a must, I might add, because 6 pieces of a shrimp tempura roll tend to disappear fast around here).
These places are doing it right.
Whether you're looking for a laid back sushi bar, bustling Asian restaurant, or just a top spot to enjoy some sushi rolls, I have no doubt that this list is going to transform your whole entire Boston sushi experience.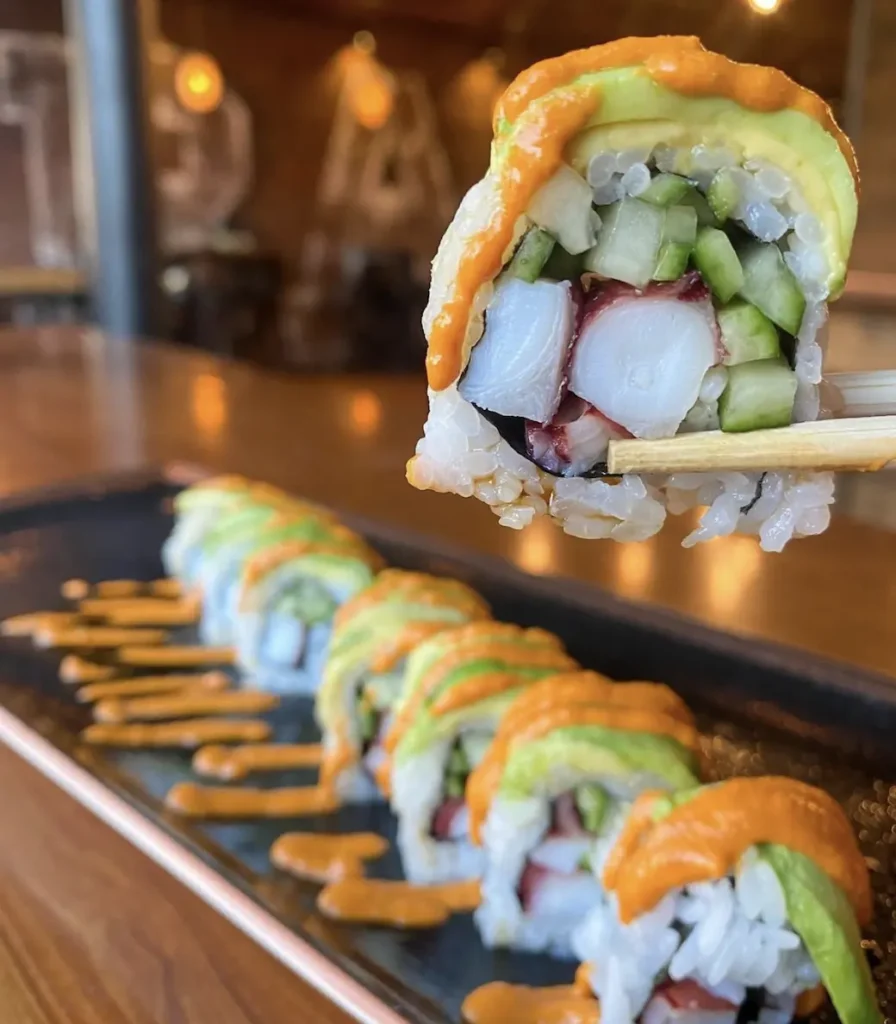 If you live in Boston this listing shouldn't have come to that much of a surprise to you, because this is arguably one of the most popular sushi restaurants in the city.
Which, I can understand why. Just look at that fresh sushi.
Located on Dorchester St. in Southie, Fat Baby is known for incredible cocktails, delicious sushi, and karaoke (also one of the best karaoke bars in Boston, for anyone with a hidden talent).
All-you-can-eat sushi is held on none other than Maki Monday, where every Monday from 4-10 you can house unlimited Maki for only $27! If that's not an amazing deal, I don't know what is.
My favorite Google review: "Every food item here is amazing— Brussels sprouts, sliders, lo mein, spicy tuna roll. Cocktail and great and obviously they have saki bombs. Also Pat is the goat please promote that mf" -Dillon O'Brien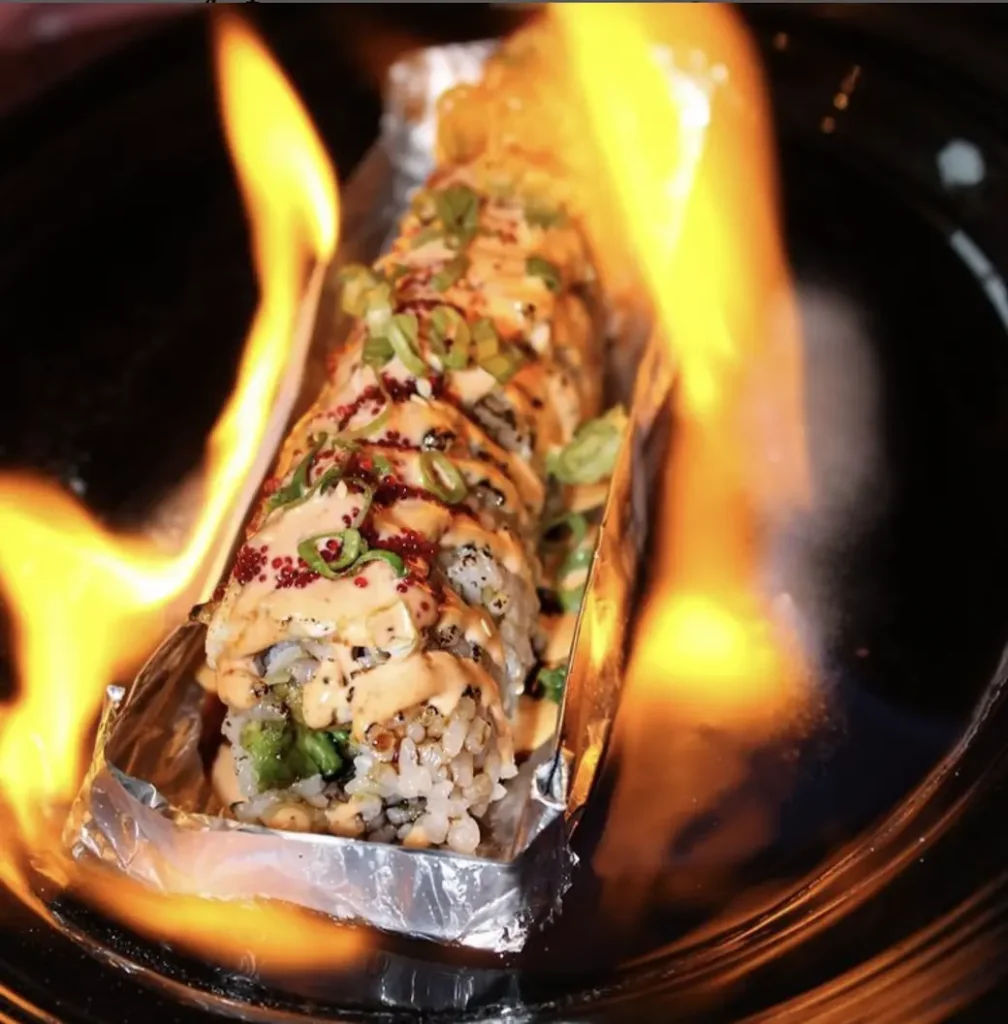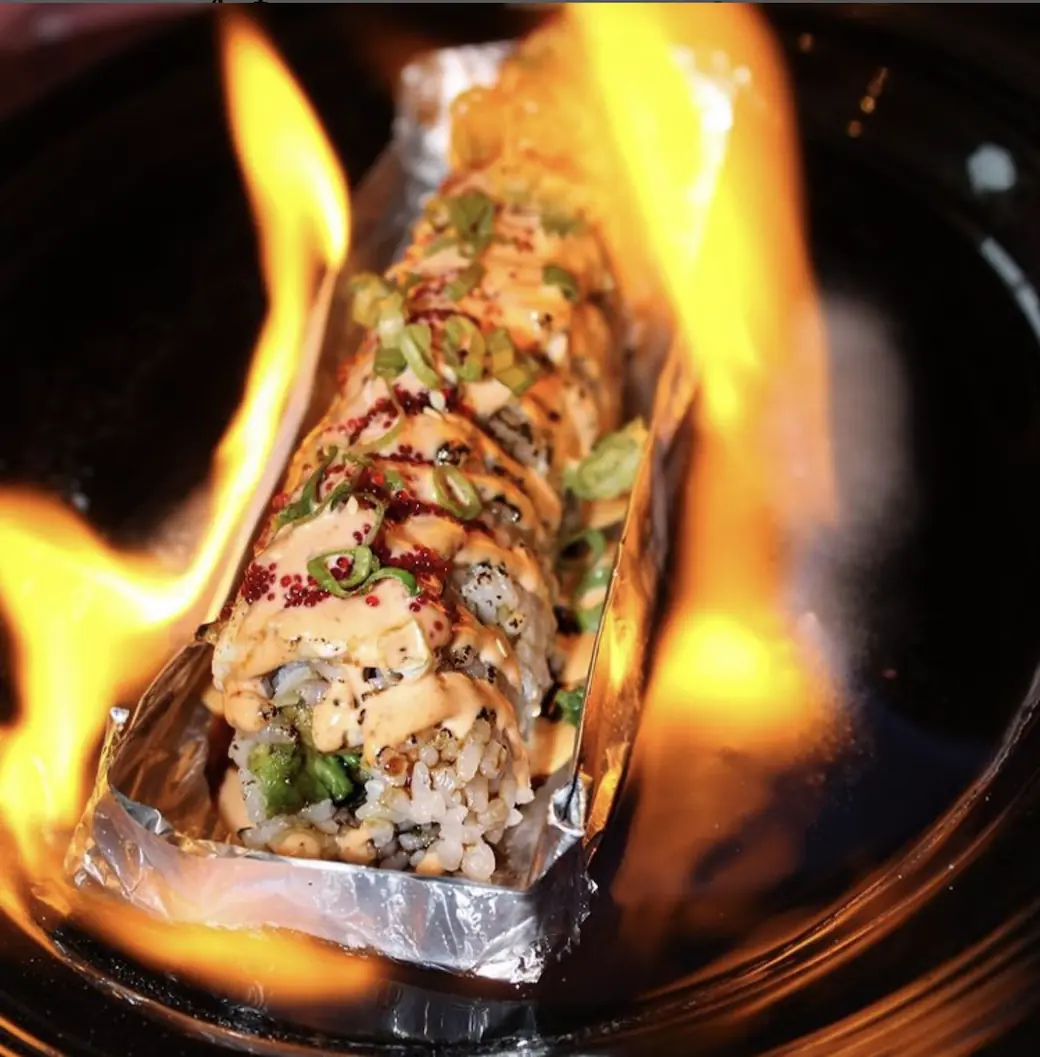 This one's in Boston's Allston neighborhood and is the crown jewel of sushi in that area.
Oppa is somewhere everyone has seen before and has been interested in, without even realizing it. I even bet you've seen that picture before and wondered where you could get such cool, amazing sushi.
I mean where else could your sushi rolls be lit on fire? Oppa has changed the game when it comes to sushi, and you'd be doing it wrong if you didn't pay them a visit.
Aside from their specialty rolls, I HIGHLY recommend checking out their Korean food. Their bibimbap especially is to die for.
My favorite Google review: "One of my favorite sushi places in the Allston area. It's almost underground and they've recently expanded so it's not tight and uncomfortable. Staff is always very friendly and it's a great place to go as a group. You can try multiple rolls. Without breaking the bank. Also, if you do go alone the rolls are reasonably priced as well. I've tried most of their menu and they never disappoint. Ask for the flaming sushi, it's great for show! Fresh fish and hot sake = great time and happy bellies." -Simonne Valdez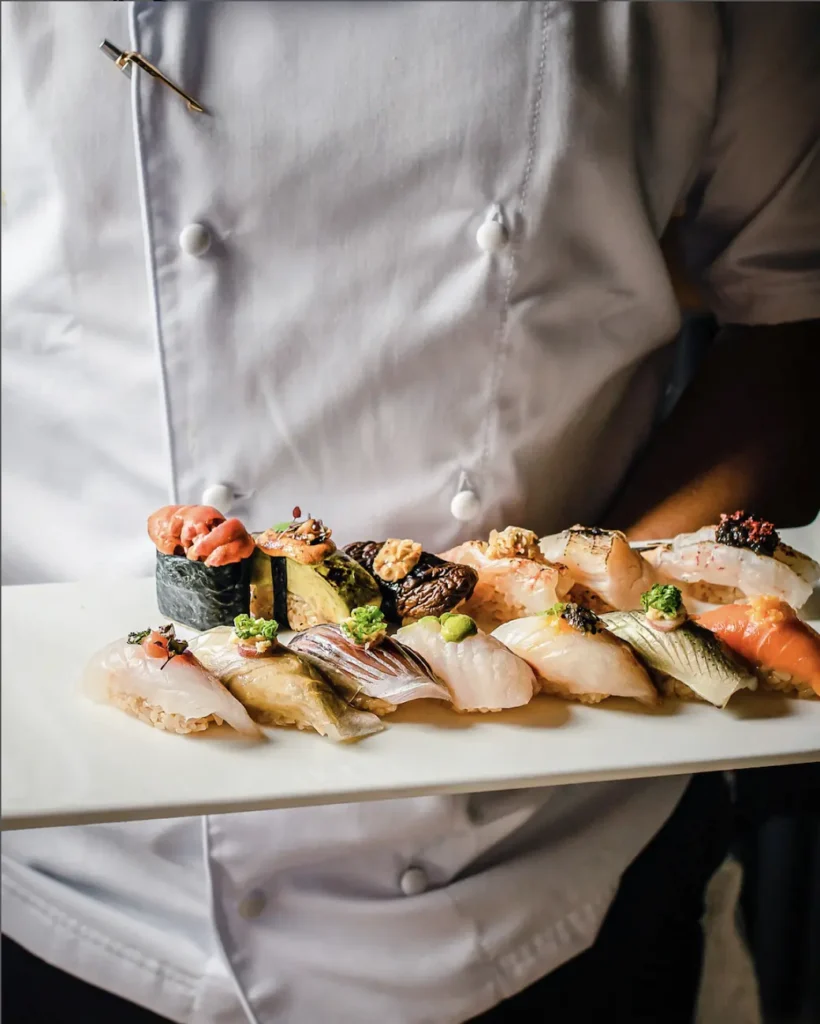 Chef Colin Lynch of Bar Mezzana has done it again with this high-end oasis in the heart of the South End of Boston.
Just look at that nigiri, guys.
Shore Leave uses only the freshest ingredients to stock their menu full of the freshest fish for their modern Japanese cuisine. And though the food is extremely high-end, it won't break the bank.
This place is also a gold mine for your stubborn friends who won't try sushi too, as their large menu also has traditional American food like burgers on it.
So everyone can enjoy it.
Sounds like a win-win to me.
My favorite Google review: "Super fun and carefree place! The street entrance is a Simone door that leads down several stairs but then opens up into a beautiful room that is a cross between the inside of an old boat and a classy Polynesian bar. Staff is bubbly, nice and professional. The food – lots of delicious sharing apps, excellent sushi and a variety of burgers is excellent and sure to please for a nibble or a big meal with plenty of variety. The drinks – many served in cool pottery mugs are really good and we tried several of the most popular. The crowd is young and hip for the most part – not a tourist place at all. This is really worth a visit. It's in the Ink Block area and owned by the folks who own Bar Mezzana so you know they know what they're doing : )) Check it out. We will definitely be back soon." -Ted Saunders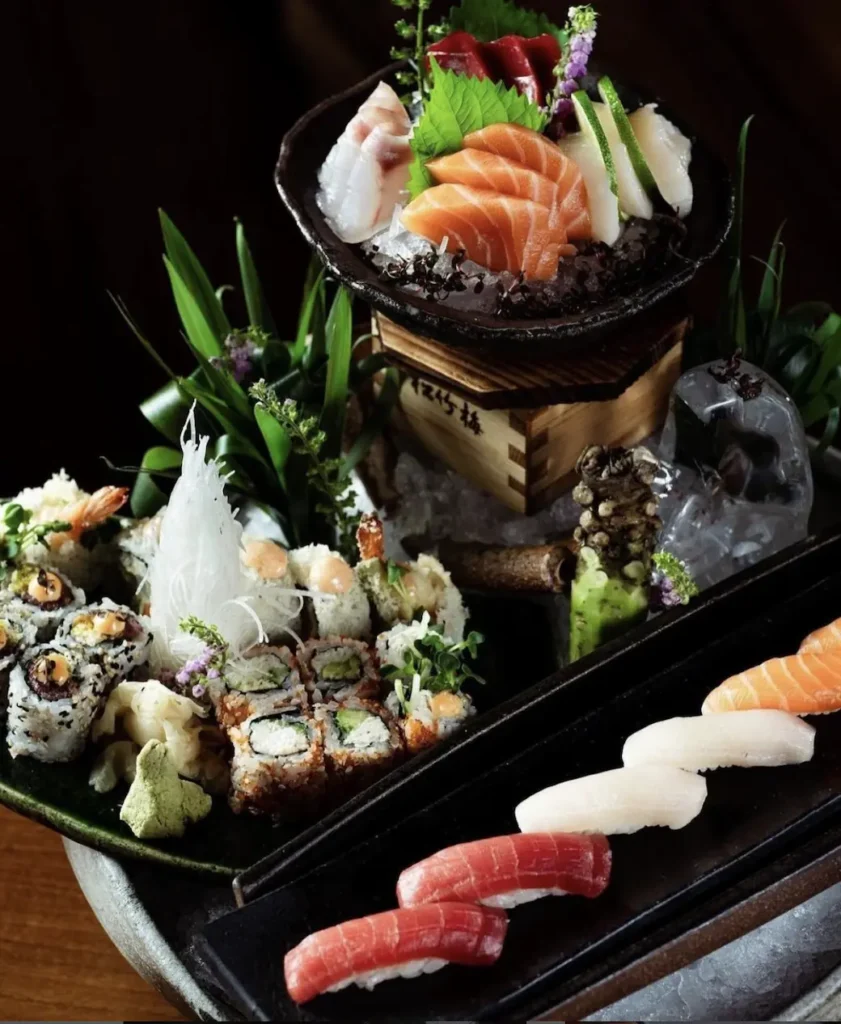 Sushi so pretty, you don't even want to eat it.
I'll have to be honest, I'm hard to please when it comes to chain locations. So when I recommend one, you know it's the real deal.
This high-end bar is one of the most unique sushi experiences you could have in Boston.
Located in the Four Seasons Hotel right off of Commonwealth Avenue, this fancy bar can also make you some MEAN sushi.
I mean, where else could you get a sea bass sashimi roll, wagyu beef sushi, and Japanese sea urchin?
Their contemporary Japanese cuisine is truly one of a kind, and their nightlife is like no other. I highly recommend stopping by if you're looking for a night to remember in the city.
My favorite Google review: "I was very well served and the decorations quite pleasant. The food in general was extremely flavorful yet balanced. The scallop nigiri was just what I needed to take this night by. The drinks were also refined and well thought. I would like to thank the service for a wonderful night. It was by far my favorite sushi place in Boston and I struggle to think of a better restaurant experience anywhere else." -Gabe Rez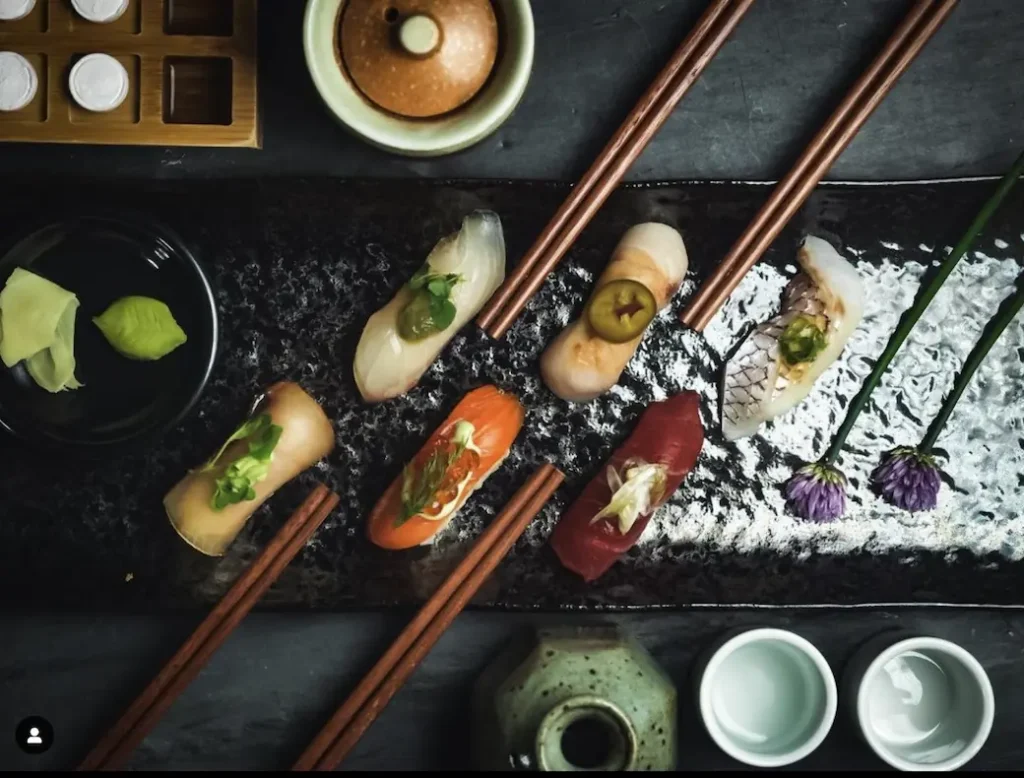 I so badly wish I could reach through my screen and grab that jalapeño sashimi right now.
Ken Oringer of Little Donkey and David Bazirgan opened this place right on Commonwealth Ave in 2016, and it has quickly become one of the most popular sushi restaurants in the city.
What's special about this one is the small plates.
Uni does a remarkable job of combining traditional Japanese and globally inspired plates into small, tapa-style dishes. And these dishes could not be more original.
I'm talking about four different types of tuna nigiri.
Octopus sashimi.
Banana pepper in their maki rolls (my stomach is growling as I'm writing this).
These guys are truly innovative when it comes to sushi and other tapas, and we're lucky enough to have it right here in the middle of the city (and in the Eliot hotel, where you can order room service!).
My favorite Google review: "Went to Uni for a special occasion recently and it was such a wonderful experience! Food was not only beautiful but absolutely delicious. The staff was very knowledgeable as well. Our waitress guided us through the menu and coordinated our choices to arrive from smaller to largest bites etc. Depending on where you sit you can also watch the chefs plating the nigiri/ sashimi/ makimono menu items which we really enjoyed. Overall If you're looking for a curated experience, great food, and an overall wonderful evening out this is the place!" -Jessica Ramos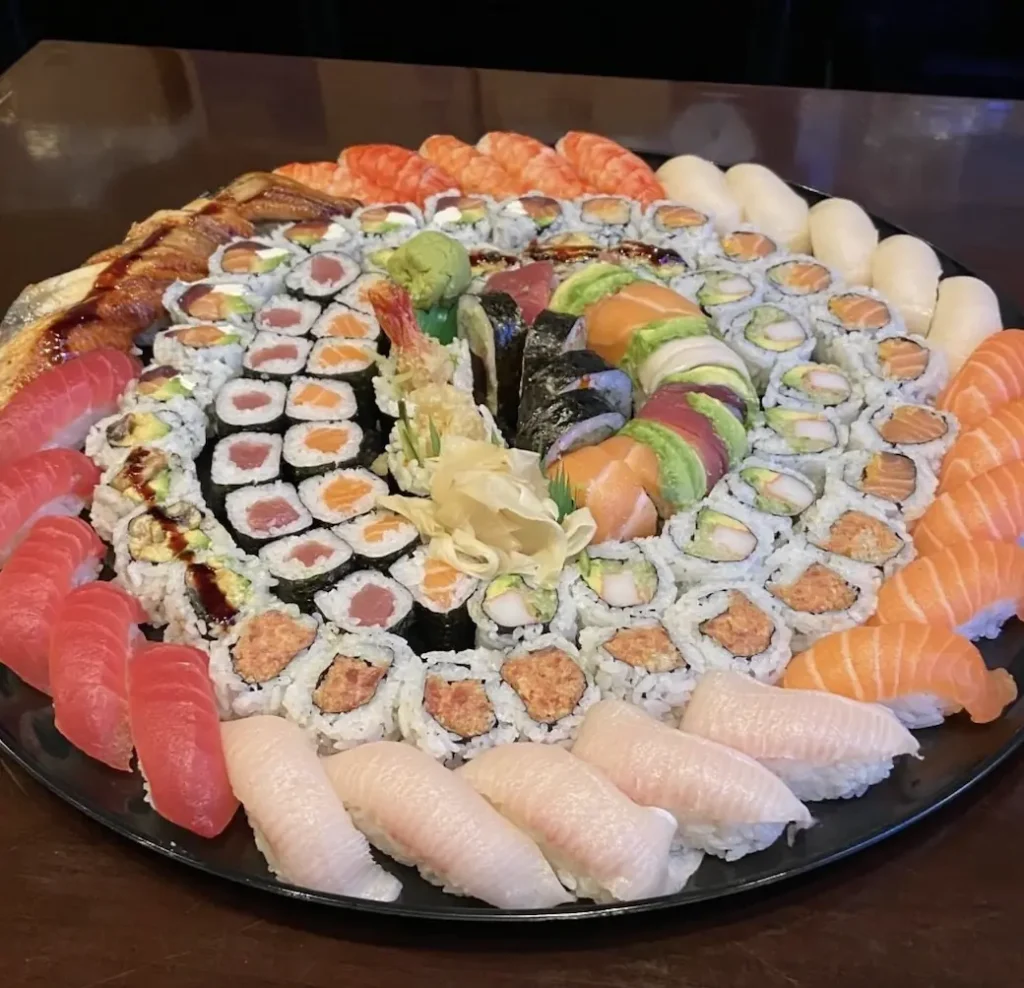 Remember earlier when I talked about the timid, sushi fearing child I used to be?
Genki Ya was one of the places where I first tested the waters outside of my father's California rolls. This place bred the person I am today.
Genki Ya is so popular, they have 4 locations in the Boston area alone.
What makes this place unique is their organic ingredients. They offer gluten free, vegetarian, and vegan sushi upon request. They also can substitute their white rice with brown rice or multigrain rice.
So everyone can enjoy everything they have to offer!
Sounds like another win-win to me.
My favorite Google review: "This is hands down my favorite sushi restaurant in all of Boston/Cambridge area. We've ordered from here (mostly delivery, but sometimes in person as well) more times than I can count. The fish here is the best and freshest I've ever tasted! The sashimi appetizer is amazing (salmon literally tastes like butter) and the avocado salad is the best of all restaurants in the area.
For rolls, my favorite is the healthy ichiban, followed closely by salmon avocado and double spicy salmon. The vegetable rolls at first seem a bit strange, but are actually good- especially anything with sweet potato and banana (who knew??). The twins rolls is also very good, as is the Hawaii.
A good tip for ordering out is to use their website to accumulate points, especially taking advantage of their 2/3 sushi roll combo deal." -Olga Shestopalova