5 Things you must eat in Syracuse
With its history, art and breathtaking sights, Syracuse is a wonderful choice for a trip to Italy. As for many other seaside places in Italy, this ancient city on the coast of Sicily has had cultural exchanges with the rest of the Mediterranean nations all throughout its history, thus developing unique traditions. If you're one of our regular readers, you know what this means: a huge lot of exquisite meals. As usual, I don't want you to go unprepared on what to taste, so here's my list of 5 foods to eat in Syracuse.
Baked Ziti
Ziti are a tubular type of durum wheat pasta. They remind the shape of
bucatini
, but have a bigger diameter. If you go to a restaurant in Syracuse, ask for baked ziti. It's a dish made of ziti, sausages,
basil
and scamorza, which are baked together in large quantities. They're a perfect choice for a Sunday lunch. In southern Italian dialects,
zito
and
zita
can mean "bachelor", "spinster" or simply "boyfriend/girlfriend".
Ziti
probably own their name to another food which brides used to cook for their wedding lunch in Naples:
maccheroni alla zita
.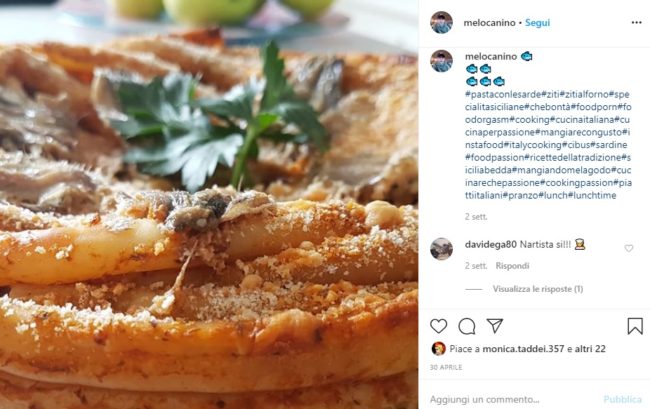 Pur petti di tonno da zà Cicca
This typical Sicilian food has a very long name, which literally means: "Aunt Cicca's tuna meatballs". These meatballs are made with tuna, pecorino
cheese
, breadcrumbs, garlic,
parsley
, eggs and cloves. You should eat them in Syracuse because, in that city, tuna is traditionally cooked
alla siracusana
, which gives it a very special taste. This method consists of seasoning tuna with sliced onions and then frying it. When fried, the tuna is mixed with white
wine
and flavoured with
tomato
. All these ingredients and flavors make this food a real treat. Aunt Cicca was definitely a genius.
Caciocavallo and local cheeses
Syracuse and the nearby Iblei Mountains are famous for their excellent dairy products. There are lots of cheeses to taste: provole, ricottas, pecorino (
but not pecorino romano
)… however, among them all,
caciocavallo
is the one you should try first. Caciocavallo is a raw stretched hard cheese with a rounded shape and an aromatic, spicy taste. It's made with cow's
milk
and salted in brine. It was one of the first cheeses to be produced in Sicily, and now is one of the region's most cherished delicacies. In Syracuse and in the nearby province of Ragusa, there's a special
caciocavallo
called Ragusano. Unlike other
caciocavalli
, the Ragusano has a brick-like shape. It's also the only
caciocavallo
with a
PDO status
. If you want to try good cheeses in Syracuse, you should go visit
Caseificio Borderi
. This family-run dairy has been producing top-quality cheeses for 90 years and has received many awards, including 4 Tripadvisor's Certificates of Excellence.
Arancina/Arancino
You can't visit Sicily without tasting one of its most famous food: the arancina. It's a little ball of rice, ragù, peas and
caciocavallo,
which are stuffed together, breaded and then fried. It's called
arancina
or
arancino
because it resembles an orange. In some parts of Sicily, however, it can have a conic shape.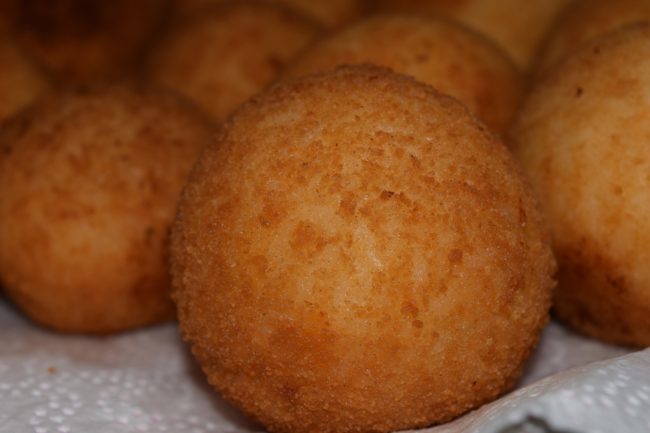 There's a fierce debate about the correct way to name this food. In the province of Palermo, it's called
arancina
or
arancine
(plural). In the province of Catania, people call it
arancino
or
arancini
. The difference lies in a single vowel, but that vowel marks a geographic distinction better than road signs. In Syracuse, people use both names, so you can ask for it without being afraid of making a mistake.
Caponata modicana
The caponata is one of Sicily's most famous traditional foods. It's a vegetarian dish made with aubergines,
tomatoes
, raisins, capers and pine nuts. Its name could be derived from the only ingredient which is not part of its recipe anymore: dolphinfish ("
caponi
" in some Sicilian dialects). Long ago, in noble families,
caponata
was served with dolphinfish. Common people were too poor to afford dolphinfish, so they exchanged it with aubergines, which became part of the traditional recipe for
caponata
. If you are in Syracuse and want to eat a good
caponata
, you can find it at
Fratelli Burgio
. Their caponata has been awarded as the best preserve in Italy. Now you're ready to go and appreciate all the foods you can eat in Syracuse. Let me know which one is your favorite in the comments!