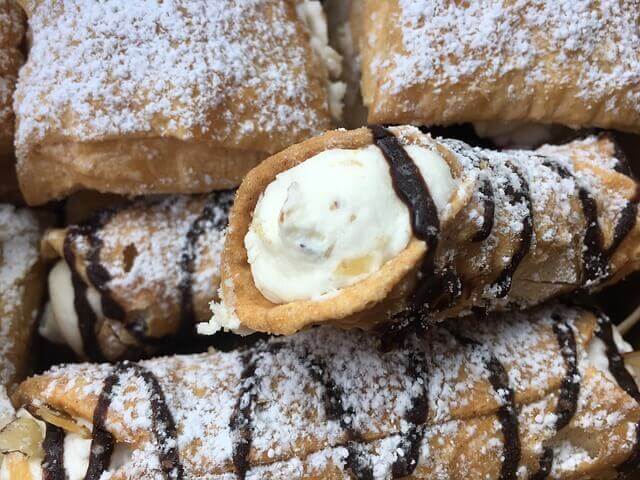 We previously taught you that dessert can be an all-day affair in Italy. From breakfast to dinner, you have plenty of options to get your daily treat. But how will you choose from the vast array of sweets you're presented with? Today we're breaking down some typical Italian desserts so you know just exactly what to order the next time your sweet tooth starts ringing.
Cannoli – Quite possibly the most recognized Italian dessert in the US, a cannoli is properly known as a "cannoli siciliani" in Italy. A cannoli is a tube-shaped, fried pastry dough that is filled with a sweet ricotta cream. It can be garnished with chocolate chips, pistachios, or candied fruit.
Cassata – Another Sicilian dessert, cassata is originally from the Palermo area of Italy. This dessert is a sponge cake that has been soaked in rum or fruit juices, with layers of ricotta cream filling and candied fruits. The entire cake is covered by a thick layer of marzipan and colorful sugar icing. It's a real treat!
Gelato – Tourists in Italy go nuts for this ice-cream like treat. Though it is similar, gelato tends to be lighter than ice cream. The lighter consistency comes from a minimum of 3.5% butterfat and less air than regular ice cream. The texture is smooth, and delicate, and simply delicious.
Granita – Did you grow up with slushy treats? So did the Italians. Granita, another Sicilian favorite, is a semi-frozen slush made from sugar, water, and a variety of flavors. Favorite include lemon, orange, mint, and coffee.
Marzipan – By far the most artistic dessert, marzipan is a brightly colored, fruit-shaped sweet, particularly eaten during the Christmas season. It is made from sugar, honey, and almond paste.
Panettone – Another holiday favorite, panettone is a sweet yeast bread studded with candied fruits and reasons. The bread has a round dome shape and weighs around two pounds! Got leftovers after Christmas? Use it for bread pudding!
Panna Cotta – In the mood for something creamy? Panna Cotta will be your go-to dessert. A mixture of cream, egg whites, and gelatin is cooked at a very low temperature. Literally meaning "cooked cream," it is often served with macerated berries, a chocolate drizzle, or a caramel sauce.
Pizzelle – If you're a waffle lover, you'll go nuts for these Italian cookie. They're made from flour, eggs, and butter and flavored with vanilla, orange, lemon, or anise. They are often made to look like snowflakes and dusted with powder sugar.
Spumoni – This Italian dessert is made of  three flavors of ice cream — strawberry, pistachio, and chocolate — with chopped cherries and nuts mixed in. Sometimes the chocolate ice cream is replaced by vanilla, simulating the Italian flag colors of red, white, and green.
Tiramisu – Literally meaning "pick me up," – tiramisu consists of Ladyfingers that have been soaked in espresso and layered with a mixture of mascarpone cheese, eggs, and sugar. The entire dessert is covered with powdered cocoa, so those in need of a chocolate fix will love this too. Eat your tiramisu with a spoon!
Zabaglione – This Italian dessert is made from egg yolks, sugar, and Marsala wine. The ingredients are whipped over a low flame until very light and fluffy. While it can be eaten on its own, we surely recommend zabaglione served over a cake or with fresh berries.
Zeppole – Deep-fried dough topped with powdered sugar? Yes, please. Zeppole is a staple for fairs and celebrations in Italy. They can also be served with custard cream for an even more delectable delight.